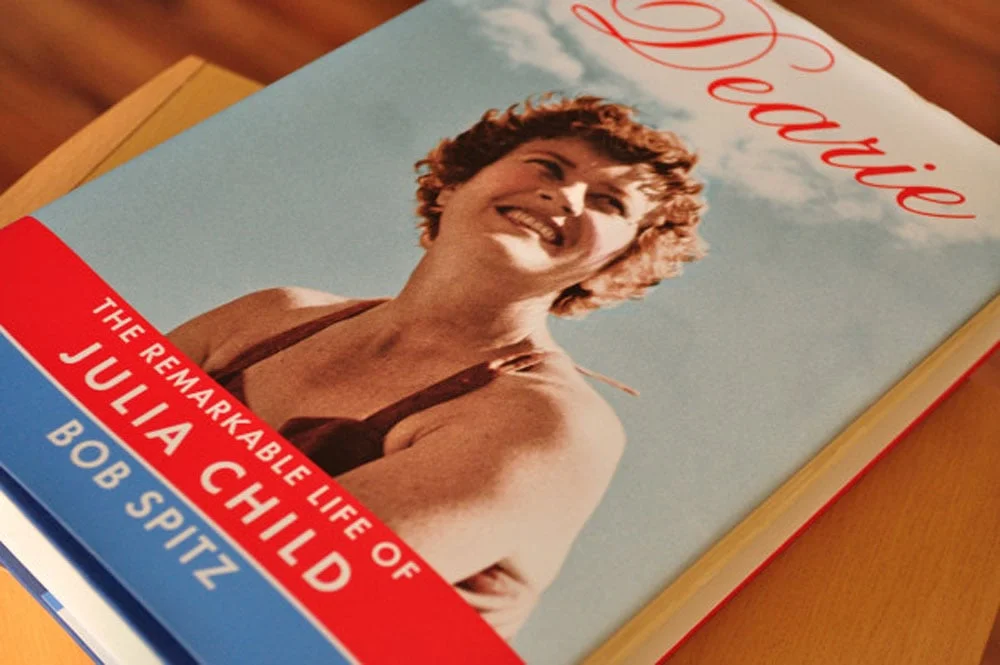 Dearie: The Remarkable Life of Julia Child by Bob Spitz – Book Reveiw
Before there was Stewart, Lawson or Oliver, before anyone had heard of Morimoto or Batali, there was Child. No one, not even Julia Child herself, could have predicted the impact and legacy that has been spawned as a result of television's first superstar food maven.
In 1952 television was a budding novelty as Child, Simone Beck and Louisette Bertholle worked on the cookbook that would become "Mastering the Art of French Cooking." In a letter from Paris to her sister-in-law, Freddie, Julia inquires about a "newfangled sensation" making itself at home in living rooms across America "How much do you really use it?" she asks. A delightful nugget of irony in a life of unbridled enthusiasm, captured in a marvelous book.
In "Dearie: The Remarkable Life of Julia Child", author Bob Spitz takes us into a her life with care and humanity in a nearly 600 page volume that is, in a word: daunting. This is the latest in-depth, extraordinarily detailed, biography by Spitz which debuted last week to celebrate to celebrate Child's centennial. I felt I had a pretty good grasp of the subject at hand, like many I grew up watching Child banter and bake. I've soaked up cookbooks, watched "Julie & Julia" over and over, and Child's own memoir, "My Life in France," is among my favorite reads of all time. I pondered as I flipped through page after page of text when "Dearie" arrived; was there was anything left worth knowing about Julia Child?
What I quickly found was a portrait of the woman most us don't know. A restless, inquisitive youth, born into money in California, she led a privileged Pasadena country club lifestyle, who choose to pursue education and a career instead of marrying well. She later joined the OSS (which later became the CIA) some say she was a spy, maybe in her time in Ceylon (now Sri Lanka) working for the intelligence community as a file clerk, she was. (Nothing is so inconspicuous in Eurasia as a six-two white woman.) It was in that time abroad, spreading her wings, when she met the man who would be her husband, Paul Child.
Photographer Paul Child was a career diplomat much her senior. He loved food but very famously married a woman who, by her own admission, couldn't cook. In his first posting after the war they relocated to Paris, where he first introduced her to French Cuisine. Within hours of setting foot on French soil she was forever changed. Born in her was a hunger for more that lead her transformation from the aimless wife of a diplomat, to a student of cuisine and pastry in halls of the Cordon Bleu, much to the surprise and delight of her husband.
To my mind, this was a great renascence of Child's life, a life-changing experience of food so deeply satisfying and intricate, and yet at it's core, is pure simplicity. It was an experience that awakened in her, what I call a "need to feed". Be it food or knowledge, there exists in some of us a burning desire to learn, and to then share that knowledge with as many as are willing to listen. It is this quality that makes for great students and truly great teachers.
Julia gobbled down every morsel she could find, producing large quantities of food; bouillabaisse, quiche Lorraine, mayonnaise, coq au vin, and bourguignon, shifting her focus until it was an all consuming passion. It takes passion to write and recipe test a 684 page encyclopedic-style cookbook for "servant-less American cooks". It takes drive and guts to stick with it, year after year, rejection letter after rejection letter, revision after revision until "Mastering the Art of French Cooking," was finally published by Alfred A. Knopf in 1961.
Its those years that are the hardest, the years of following your passion with little reward and no recognition. Its those years that test our metal and forge our character. Fortunately for Julia, she had Paul and fortunately for Paul, he had Julia. It was Paul who coached, supported and championed her, going so far as to script her first three episodes of "The French Chef", and it was Paul who lovingly consumed the efforts of her relentlessness pursuit of perfection.
This is the Julia so many of us feel we know, Julia the Titan, Julia the invincible, Julia the unflappable, Julia the teacher. Julia who, as Spitz puts it, "tapped into a housewife's desire to expand the boundaries of her own world." Julia who flipped omelets on live TV, Julia who changed the way we eat and how we see food in North America. While today's celebrity chefs have teams of people primping and preening, editing and food styling; Julia had her skills, her wit and her husband.
The Julia that Spitz reveals is the uncertain young woman who, in her own coming of age, changed us all – with glass of wine in one hand and a whisk in the other. A woman of humor and humility, a woman who is so reassuringly — real. A woman who helped shape a world in which is is now possible for me, some 50 years later, to live a dream and carry the touch of my passion; to attend Le Cordon Bleu and fall in love with a French man (who just so happens to be a chef) and write about food, life and love.
Julia Child was far from perfect, but she was above all, greatly loved. Here's to Julia, and 536 pages of uncomplicated honesty and wise storytelling that is "Dearie" – hers was a truly remarkable life. That we should all live so well.