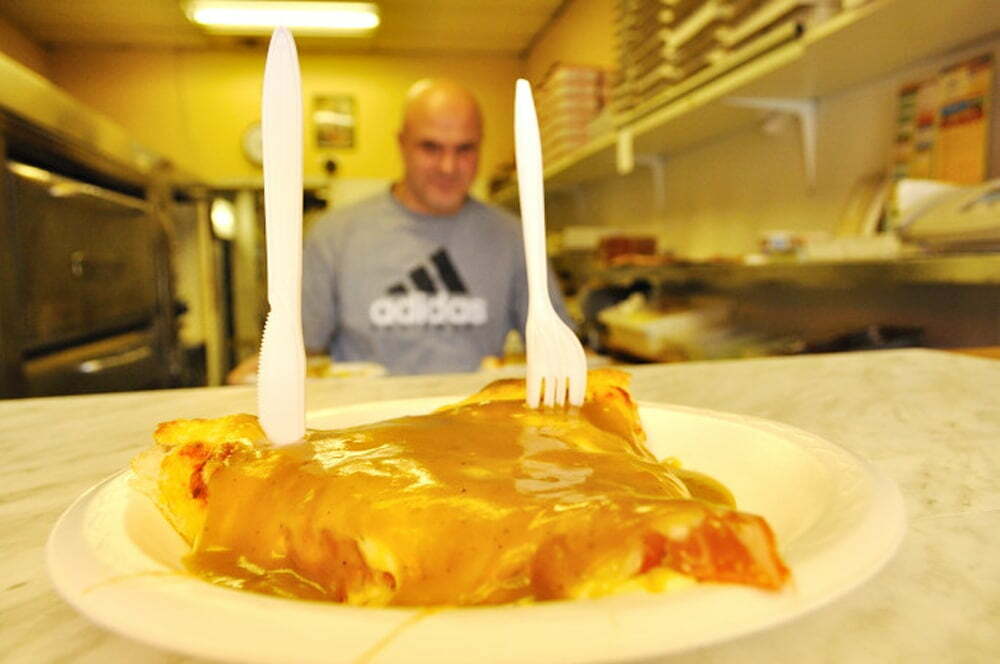 House of Georgie Pizzeria… home of pizza & gravy
There are some things that are uniquely Canadian. We call a wool hat a 'toque'; we like our beer above 5% alcohol by volume and then… there's gravy. Gravy (along with Maple Syrup) would be considered our 'Mother Sauce(s)'. We put that stuff on everything.
For years we were smothering our french fries (which we call "chips" by-the-way) in it until some clever fellow in Quebec added a layer of cheese curds underneath said gravy and thus… Poutine was born.
We're not a complicated lot. Gravy and beer and hang the flag the right way and we're a jovial bunch of (polite) people.
But pizza with gravy? Really? An Ottawa-nian delicacy… or rather debauchery… only available at the House of Georgie & Sorento's Pizzeria (on Gilmore at Elgin).
Investigation was clearly required, and for this assignment I felt that my taste buds were insufficient, so I called upon the gravy expert in my life – Brenda Cook (aka: Special Agent Gravy). Brenda comes from Winnipeg, where it's very, very cold, and she is the only person I know who prefers gravy to… well… pretty much anything. I've seen her dip burgers in the stuff.
Also along for this field trip, Inspector Cupcake (Danica Guibourd) because she always carries sparkly pens and has a fine eye for technique as well as a good appetite for pizza.
Both are students of Cuisine at Le Cordon Bleu Ottawa, just entering their superior session. I take it upon myself to broaden their culinary horizons; they don't cover this stuff at the Halls of Butter.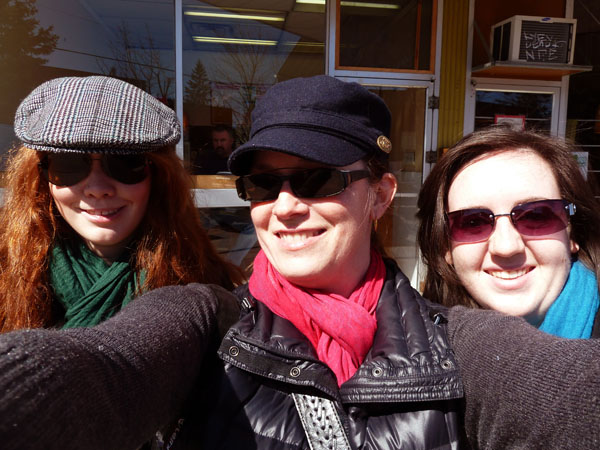 The way I heard it… House of Georgie's Pizza & Gravy began when a regular (read: drunk) patron came in to order a slice of pizza, fries, and a side of gravy. Onlookers watched, in horror, as he dunked his slice into the gravy. And the rest (as they say) is history.
Which is pretty darn close. According to House of Georgie Manager, Mike Tabaja and his cousin, Adolph (Georgie's is a family business and well, they're family)…

It was indeed a boozed-up regular, named Bob, who originally ordered pizza and gravy (pepperoni to be exact) and he ordered it the next time annnnnd the next time and the time after that and soon it was on the menu as the "Bob Special".
God bless Bob, thanks to his culinary vision, now countless more boozed-up regulars eat their pizza & gravy at 3AM at the House of Georgie where there is often a line up out the door and down the street on a Friday night. It's an Ottawa right of passage and hungover cure/prevention. (There is some variance on this, cure vs. prevention thing, I believe this calls for more 'research'.)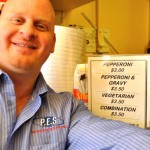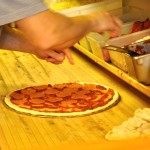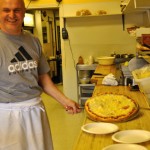 This little field trip is all about the combo. Does pizza & gravy work? Is it better the drunker you are, or can sober people eat their slab smothered in brown sauce in the light of day and enjoy it too?
Let's start with the dough… made in-house. So is the sauce. The toppings are cut fresh and the gravy is made from scratch.
Just what kind of gravy are we talking about here? Theirs is a mixed meat gravy; part chicken, part beef at House of Georgie. It kind of reminds me of Kentucky Fried Chicken gravy but without the chemically aftertaste (due to the fact that it does not contain chemicals.) It's rich and flavorful, slightly peppery and just the perfect amount of salt.
Coincidentally… the gravy is also a secret family recipe. Just what you'd expect from an unassuming store front with a couple of stools for eat-in, a busy back-door for delivery and huge smiles behind the counter.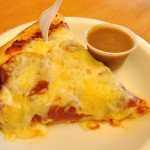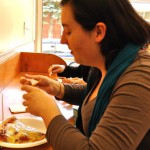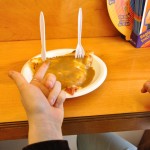 What's our slice? Pepperoni of course, it's the classic – and for the purposes of pizza & gravy, Mike makes us a fresh pizza, with less cheese than their usual pizza.

"Having less cheese on the pizza is very important for the pizza & gravy, otherwise all you taste is cheese" says Mike.
Yes, the delicate balance of crust, tomato sauce, pepperoni, cheese AND gravy would be thrown off by the slightest variance. I see why the less cheese thing is so important.
The gravy clings to the cheese, like an insecure lover as if to say "will we ever be together again?". It has a sexy sheen, a mark of appropriate fat content and in it, you see flecks of black pepper.
And… is this pizza/gravy pairing good? Oh hell yea! In fact, we liked it so much we came up with a new grading system on the spot (Michelin has 'stars' at Food Gypsy we have 'forks') as well as our very own 'seal of approval' (written in sparkly pen on a paper napkin – thank you Inspector Cupcake).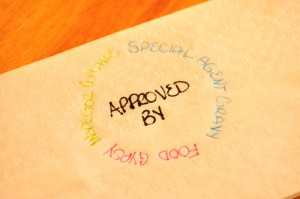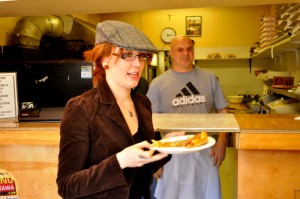 Special Agent Gravy went in for seconds. There was some discussion on gravy shooters but that did not materialize (I blame the early hour, had we been juiced at Georgie's at 3AM, I fear there would have been whole new levels of gravy indulgence. But I'm old and my bunions act up after midnight, so I'll have to leave that to the youth in question.)
There was a dangerous dabble with hot sauce, which was nixed by Special Agent Gravy as she felt it "killed the gravy deliciousness". Noted. (Don't try this at home… we are trained professionals. You should see us with plastic spoons.)
The reviews from each agent:
Inspector Cupcake: 4 out of 5 Forks. "If only there was bacon."
Food Gypsy: 4 out of 5 Forks. "Inspector Cupcake stole my bacon line and well, I am trying to be more of a hard-ass."
Special Agent Gravy: 41/4 out of 5 Forks. "The extra 1/4 fork is for Bob, because I think he's a genius!"
Mike swore he'd wear our seal close to his heart. I fear that is relatively the same place I will wear this pizza Mike.
For the record, Georgie's serves more than just pizza (with or without gravy) for instance their Poutine is very popular, but here again, they just have to be different, so instead of cheese curds they use pizza cheese. Oh my. Pass the defibrillator.
There you have it. Proudly Canadian.
House of Georgie's Pizza & Gravy… we like you guys SO much, we used sparkly pen.
House of Georgie & Sorento's Pizzeria
211 Gilmour St.,
Ottawa, Ontario, (Canada)
Phone: 613-283-3333
Delivery Hours:
Monday to Thursday 10:30am – 1:00am
Friday to Saturday 10:30am – 3:00am
Sunday & Holidays 2:00pm – Midnight
Pizzaeria Hours:
Monday to Thusday 10:30am – 01:00am
Friday to Saturday 10:30am – 04:00am
Sunday 2:00pm – Midnight