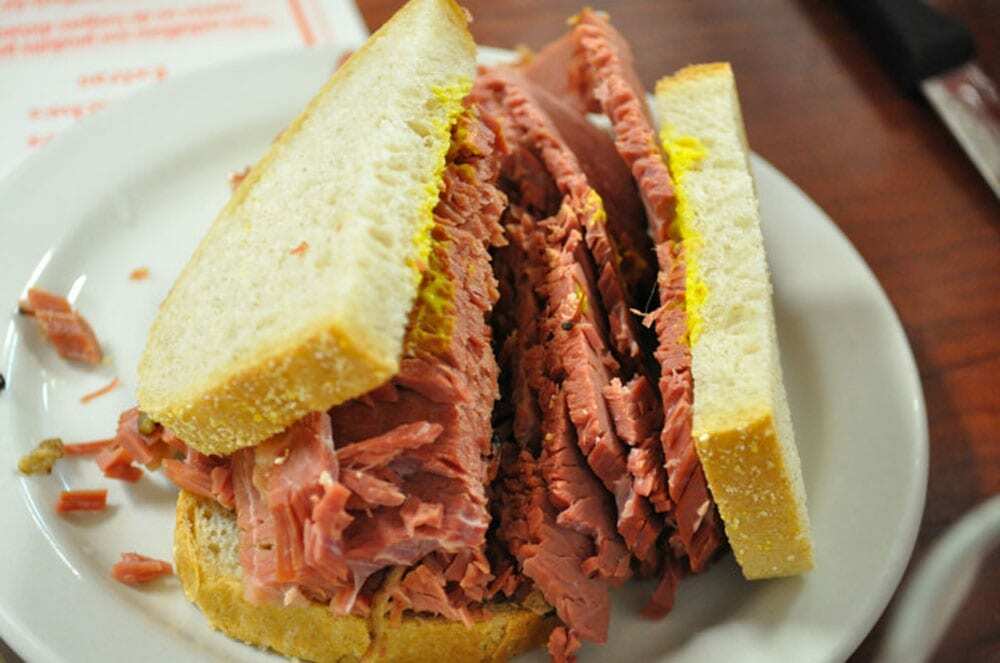 Montreal's Deli Religion – Schwartz's & Chenoy's
It smells of meat. The steam of 80 years of smoked meat permeates the walls in Montreal's landmark deli; Schwartz's Montreal Hebrew Delicatessen.
It ain't fancy. It's likely the the same tables and chairs have graced the tiny space on Saint-Laurent Blvd for the last 20 of those years. It's simple back-lit menu covers deli classics but most go there for one thing and one thing only— Montreal Smoked Meat piled high between two pieces of light rye bread with Heinz yellow mustard and your choice of sides.
That's it. Simple. Classic. Order it lean, medium or fatty… up to you.
Fans the world over call it the "best smoked meat sandwich in the world".

As you walk through the door you pass mounds of brisket. Some, like myself take it to go… under strict orders from those we love. "A half pound, medium. And you have to have a Cott's Cherry Soda, it's the Jewish Dr. Pepper."
This was my first official smoked meat experience in the city of the Habs and what I came to understand is that Montrealer's (and smoked meat lovers everywhere) have very strong opinions about the meat they love and they will defend their choices with great conviction.
Some revere Schwartz's, other's Lester's, Reuben's, Dunn's, Chenoy's or Pete's Smoked Meat.
Each with their own spicing, smoking and steaming techniques it's like arguing which temple to worship at. Everybody has their favourite rabbi. Little did I know that a day trip to Montreal would take me deep into the heart of Canadian deli tradition… first stop Schwartz's for lunch.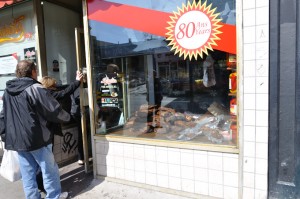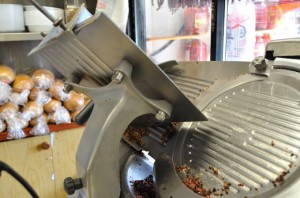 Often lined up down the street, you never know who you'll be sitting beside in Schwartz's at the family-style tables seated – first come first serve. Rock stars, politicians, actors and famous foodies sit beside us regular folk, a request of "pass the ketchup" might be answered by someone who looks strangely familiar.
Newspaper clippings and photos line the meat permeated walls, my lunch was supervised by Anthony Bourdain, the framed 2D version (I fear he would not have approved of my fries "wasted real estate" less room for meat.)
Yes, I had the Cott's soda, it really got me in the mood. One sip and I was high enough on sugar to jump on the table to declare myself a shiksa goddess. Oy Vey, distracted kosher pickles.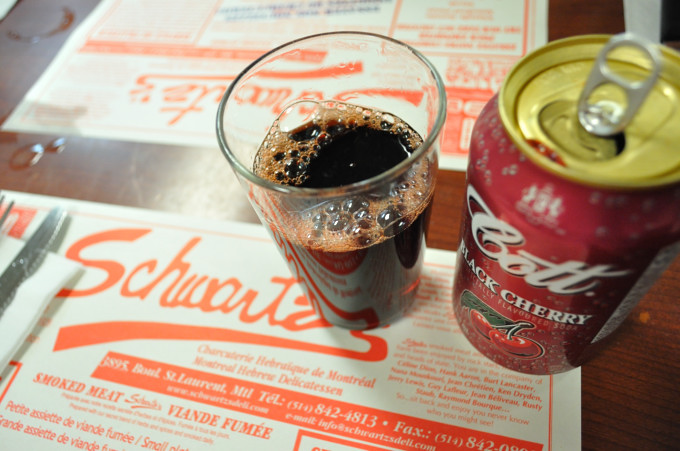 Dam I love a good sour pickle. In fact, you can put that on my tombstone: "Here lies Gypsy she loved a good pickle." Crisp. A good pickle should crunch and snap, juice should run down your arm as you eat it. It should be a requirement that you eat it over the sink.
Coleslaw. What, you thought I was going to have a nice Hebrew sandwich without the coleslaw? P-lease. Enough already. Schwartz's slaw is vinaigrette based, light and refreshing which was good because I had to have fries. Crisp on the outside, fluffy on the inside: the perfect deli fries to go with one a BIG meat sandwich.
A proper Montreal smoked meat sandwich is just short of a half pound of sliced, steaming meat. I chose medium… a balance of meat and fat to really get that big, meaty, smoky taste and enough moisture to make it juicy. My friend, Diane Meagher, went lean.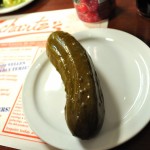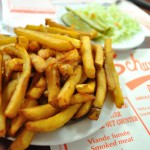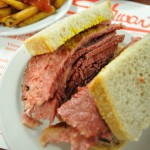 Wet-cured in brine for 1-2 days, Montreal smoked meat is then rubbed in seasonings and marinaded for 8-10 days, smoke-cooked for 6-8 hours, which is what gives it that dry, dark crust or bark – then steamed for 2-3 hours.
That first bite at Schwartz's was a surprise; sweet, slightly peppery, the smoked favour only permeating the bark, giving way to pure delicate, juicy brisket. I expected that same peppery spicy, smokey flavor to penetrate the meat, like a New York pastrami and this… is when I learned about the differences that Montrealer's hold dear in their deli.
I quite fell in love with Schwartz's Deli. From the all cash till to the yellowing photo of Neil Young on the wall. I understand why it's spawned it's own musical. I could write a sonnet, perhaps a brief ode. I left much verklempt, needing to call my mother, with a half pound (medium) packed to go for the French Chef in my life, who would surly pout had I forgotten.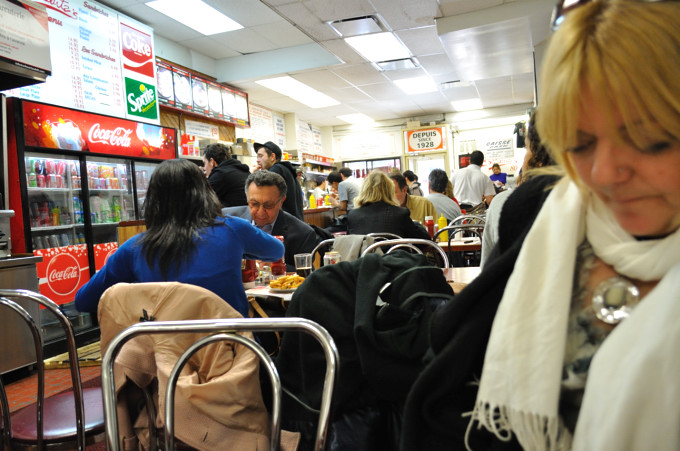 But my lunch date Diane, who worked in and out of Montreal for years, a dyed-in-the-wool Chenoy's gal's response was: "Meh, no flavour." Her tastes lean to a more robust spice, a deeper bark and a stronger smoke so… after lunch at Schwartz's it was dinner at Chenoy's.
Chenoy's has several locations verses the single location of Schwartz's and is a relative newcomer in business for 65 years. It has the look of a Jewish Denny's, big and bright with a long deli counter, dine-in or take-out and it too smells of meat.
Among the Chenoy's delicacies on the five page menu… smoked meat poutine, smoked meat pizza and smoked meat spaghetti. Thank you, we'll stick to the meat-bread-mustard combo.
Diane, again, ordered lean. Indeed a more intense brine flavor that completely penetrates the meat and a sharp bark, hand cut, it is a beautiful sandwich. The slaw is creamy with a light caraway flavour and the pickle… might just be from the same pickle jar.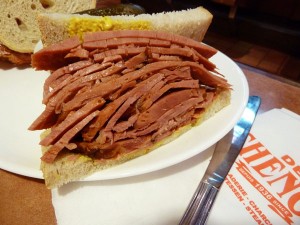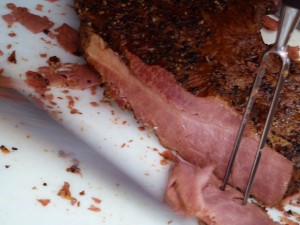 I had the cheese cake. Baked, gooey, so rich with cream-cheese I thought I might sing passages from Yentl. But that's probably not Kosher.
One must choose one's own temple of smoked meat, freedom of meat religion applies.
I like Chenoy's but I'm still a Schwartz's gal, next time maybe Celine Dion will be in town and she can pass the ketchup while she explains several of her song choices over the last decade. Mazel Tov.
Schwartz's
3895 Saint-Laurent Boulevard
Montreal, Quebec, Canada
http://www.schwartzsdeli.com/index2.html
Chenoy's Deli
Six locations – Quebec, Canada
http://www.chenoys.com/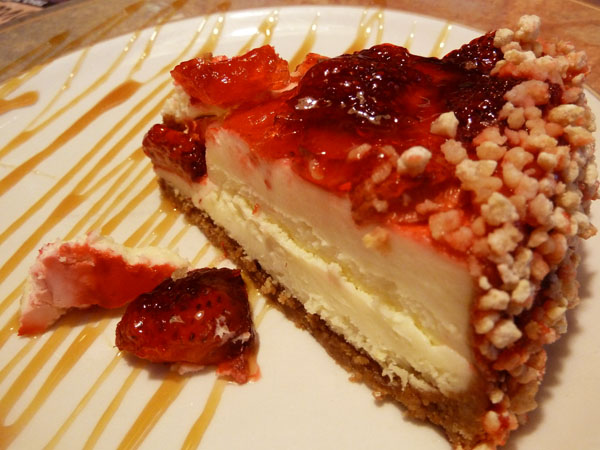 Gypsy Note: The guilt overwhelms: OK, OK… not all of that half pound of Schwartz's medium made it to my favorite chef. (shhhhhh… it will be our little secret!) What? I called my Mother.