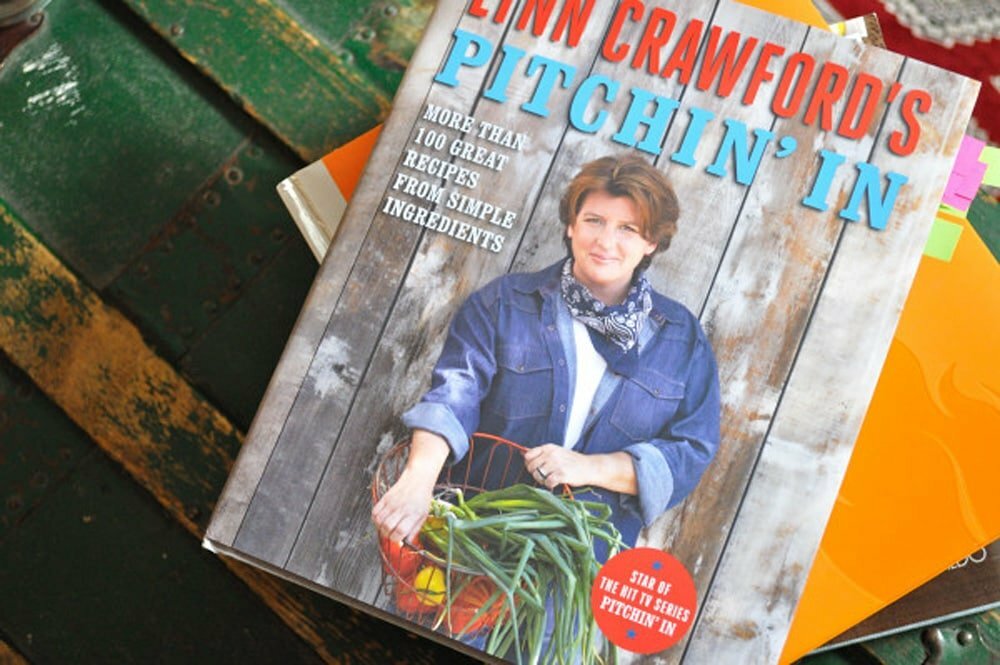 Lynn Crawford's Pitchin' In – Cookbook Review
Chef Lynn Crawford's Pitchin' In, 100 Great Recipes From Simple Ingredients, is a refreshingly, simple take on food that is at once personal, conversational and very well informed.
The Chef in my life has shelves filled with the likes of Thomas Keller, Peter Gilmore, and Ferran Adrià. His cookbooks are on a whole different level than mine. This makes perfect sense, he has been in the kitchen for 25 years, and his skills are such that he can actually execute the plates that inspire him. It is rare for him to pick up a book from the shelves of the Gypsy Kitchen and get excited, and I have never seen him ask for stickies to mark the pages of ideas he wants to try.
I cannot think of a higher compliment for a chef to say another chef loves her book. (The pink markers are for him).
I am quite enamoured with Lynn Crawford's first cookbook, chronicling the first three seasons of her hit Food Network show Pitchin' In. The photography is beautifully executed, it's not boxed and styled to death, the lighting is natural and soft. In some shots the play of dappled shade complements the food so playfully; like the leg of lamb placed on a picnic table, ready to carve and share with friends.
The copy is straight from Chef Lynn herself, it's chatty and conversational and punctuated with her signature passion. The liberal use of exclamation marks makes it all the more real, because when she speaks about food, Crawford's speech is peppered with them. Each recipe is carefully thought out, with instructions not only on how to cook it, but also on timing and preparation: "While this cooks, do this, while that is cooling, start this…".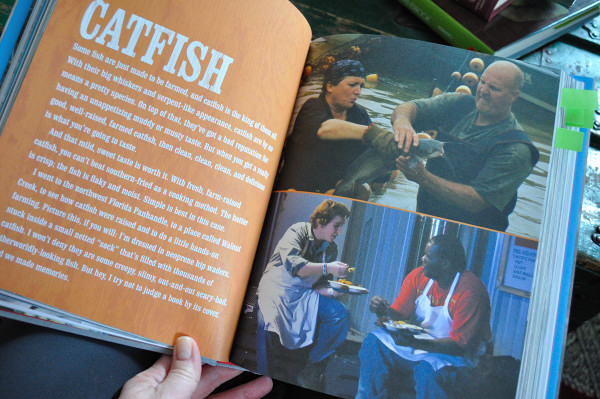 Chapters start with a colourful introduction based on her travels on land and water, both fresh and salt and an introduction to each ingredient as well as candid shots from the production of Pitchin' In, the series. Between these pages, Chef Lynn covers everything, from lamb to berries, from catfish to lobster from avocados to pork.
"Not many people make pork belly at home, and I want to change that. Step away from the chops and roasts you're so used to and take a chance on a cut that has long been ignored. Simply rubbed with a spiced salt then braised over sliced Gala apples with apple cider and maple syrup, these are teh most heavenly bites you will ever put in your mouth. " ~ Chef Lynn Crawford's, Pitchin' In (page 161)

Long live pork belly… people we be braisin' more pork belly on Food Gypsy, this is a cause I can get behind!
We have several recipes bookmarked, mine include: Apple Cider Pork Belly (hel-lo, like yea!), Tomato & Goat Cheese Quiche (wail till you see it), Bacon Wrapped Duck with Cranberries (double yum) and Potato Crusted Halibut (so pretty). I've never crusted anything with potatoes before, new kitchen challenge for this Gypsy.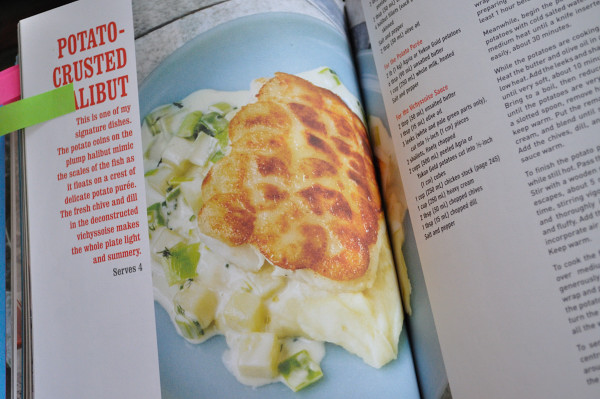 Chef B's bookmarks include: Lobster Rolls, Microwave Lobster (it is truly amazing, trust me… and Chef Crawford), Crawfish Beignets, Crispy fried oysters with Salsa and his favorite, Shallot Creme Brulee with Smoked Trout which he proclaimed as "super sexy".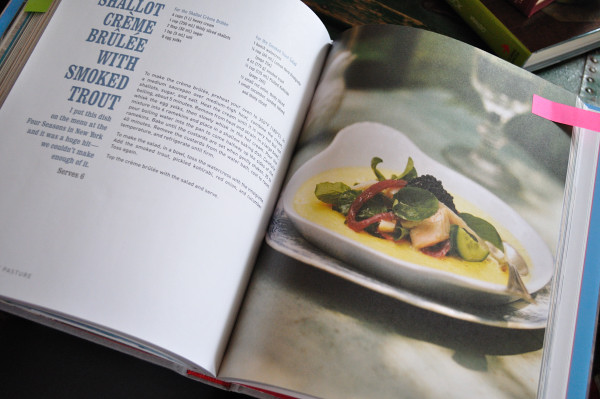 If you've ever thought you might like to take a course in cuisine, or if a member of the family has suddenly started using every pot in the house, this is a must have book. My favorite section is Chef Lynn's Basics; in it you'll find a primer on everything from basic stocks and sauces to rubs and marinades. It is a short course in technique, simple and easy to follow.
To my mind it's this section that makes Lynn Crawford's Pitchin' In such an excellent resource in the kitchen. A book that a home cook can refer to over and over again, and be grateful that someone had the forethought of printing it on a satin finish paper, which will easily wipe should it get splashed or splattered on. Something tells me Chef Crawford would like that, very much.
Like Crawford herself, Pitchin' In, 100 Great Recipes From Simple Ingredients is not afraid to get dirty.