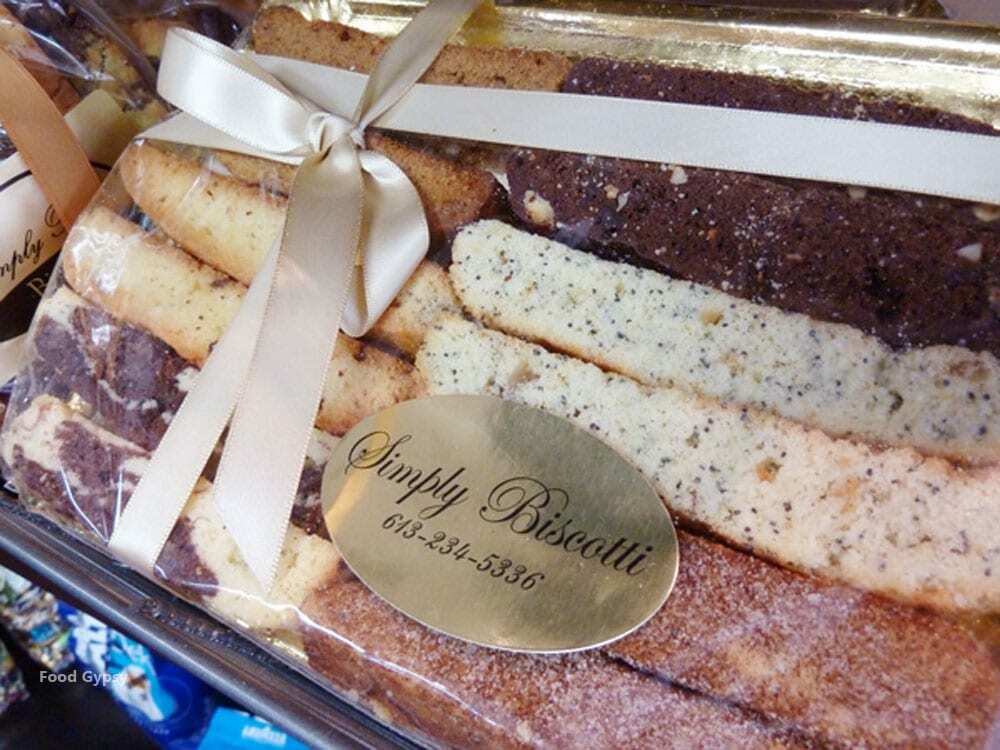 Simply Biscotti – "Leave the gun take the cannoli"
Italy. Just that one word alone conjures up a whole world of magic. Art, culture, fashion, design, language, design, history… FOOD… WINE… and a people so generous and so willing to feed, they are completely captivating.
I have this… Italian "thing".
It includes all of the above and a healthy measure of Italian leather. Generally in the form of shoes. Don't tell the French, I'm quite certain that being an "Italophile" in a French cooking school is strictly forbidden. I could be expelled from the halls of butter.
But there you have it… I have a deep, passionate love of Italy and her people. This explains why, upon moving to Ottawa, I sought out – first and foremost – all things Italian. First stop; Little Italy, Preston Street.
Which is surprisingly "non-Italian" in its present incarnation. I counted three shawarma shops, four Vietnamese Pho restaurants and two Irish pubs; Little Italy has been invaded. Where is the Corleone family when you need them?
Not to worry. These Gypsy feet traipsed in and out of every café, restaurant and store front, finding several places to go back and explore, but Simply Biscotti stopped me in my tracks.
I'm a sucker for a good bakery.
Shelves lined with cookies and coffee paraphernalia and tiny front shop jammed with customers gripping steamy cups of cappuccino, drooling over the pastry display; Simply Biscotti is a must stop in Ottawa's little Italy. In fact, it was so impossibly packed it was difficult to take pictures.
It was my good fortune to be in line behind a darling older couple hosting a dinner party that evening. They came for dessert. Simply Biscotti's mini pies and cakes make the perfect dessert assortment. Like employing your own pastry chef.
They painstakingly agonized over each choice, breaking occasionally to bicker good naturedly at each other, him holding her hand and I could not help but think what fun it might be to sit over a cup of coffee and something sweet after a great meal and much wine and listen to the tale of how they met.
"Make sure we get the fruit pie Dear, our daughter loved those last time…" she says to the young woman behind the counter filling her box of goodies.

"No, it was the chocolate pecan…" he interjects.

"No, it was the fruit tart… oh and a tiramisu… can't leave without that."

"No, it was the chocolate pecan…"

"And… a chocolate pecan…" she shoots him a look and laughs "and two cannoli…" she lowers to a whisper "… they're for us Dear, don't wrap them!"

I have nothing but respect for people willing to have cannoli for lunch before entertaining.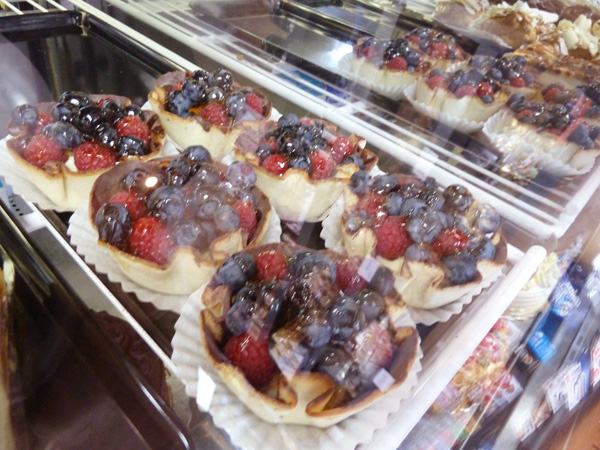 That settled it, along with a dozen assorted biscotti – including flavors like, cayenne & chocolate, poppy seed, cranberry and of course almond, crisp and delicately flavoured – had to have cannoli.
Among the (many) things I love about Italian food… is it's simplicity. Among the biscotti the classic almond became my favourite. Simple. Easy. A little bite with coffee in the morning. Nutty. Not too sweet. Double baked perfection.
The cannoli on the other hand; rich and creamy, crisp cookie shells, creamy, cheesy center filling, covered me in a fine dust of icing sugar right down my shirt (like I care), was joyfully consumed on the spot! Coupled with a fine Italian coffee. Heaven.
Cue angels singing.
It took me back to my very first cannoli on my first solo journey, a month shy of my 16th birthday in a little café in Palermo, Sicily. Long before I knew what ricotta cheese was, I sat surrounded by older, smartly dressed gentlemen who thought it brave of me to try espresso. Laughing and cheering when I made a face, violently shook my head and asked for more, in my crappy Italian.
I missed my tour of the catacombs.
Not much has changed, I still choose cannoli, espresso and laughter over dead people… any day.
Vito would be so proud.
Location update 2020:
Simply Biscotti
5-107 Colonnade Road, Nepean, ON 613-224-1001
WEBSITE: https://simplybiscotticafe.com