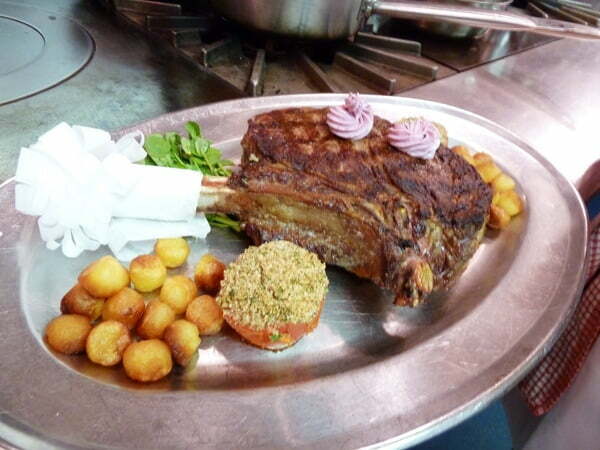 Le Cordon Bleu, Week VI – Crackin' the Books
Le Cote de Boeuf – looks pretty good – right? Nope. Meat – undercooked, starch – overcooked and too salty. In a rush to serve I forgot the Papillote (paper hat for the meat) AND the butter. 'Stop RUSHING' I tell myself, 'you can do better than "average"'.
The daily walk to school through the city's core – over the Rideau Canal, past the campus of Ottawa U to the big yellow mansion that is Le Cordon Bleu – is my solace.
I focus on the classes ahead and leave behind any unfinished business that is anything other than my culinary studies and dive headlong into the plan of the day.
Lately, even that has failed to soothe. A series of confidence shaking days in the kitchen has caused me to have doubt about my direction… my ability… even my sanity (which proves that I'm sane because truly crazy people think they're sane, according to my shrink). Days so bad even wine couldn't help. Nothing but tears and sleep could bring me comfort.
Then I remember that this is an adventure; one of many that has carried me along in this lifetime. On this adventure, the impetus is on me. I colour my own experience. I get to choose.
Will I allow myself to fail or will I give myself permission to succeed? Will I dig deeper or will I slide by and say that it was too much for me? I am… halfway. Coming soon, written exams.
What's it gonna' be?!
I choose to study. I choose to practice. I choose to engage.
I choose to know all that I came here to learn, all that I hunger for, all that I spent nights yearning for, years hoping for. It's all here… now. This is not a time to quit. This is a time to dig deeper and say…
"Go ahead, turn up the heat. Crank it up to 350° and I'll bake something!"
I have not been happy with my plates. I have not been happy with my performance. I have not been… happy… and that is about to change.
I prefer happy. It's kind of my religion! So… letting go of perfection… just aim for "HAPPY". That I can do. Just be happy. A few things are just going to have to take care of themselves…
I have a course to finish, with a smile on my face.