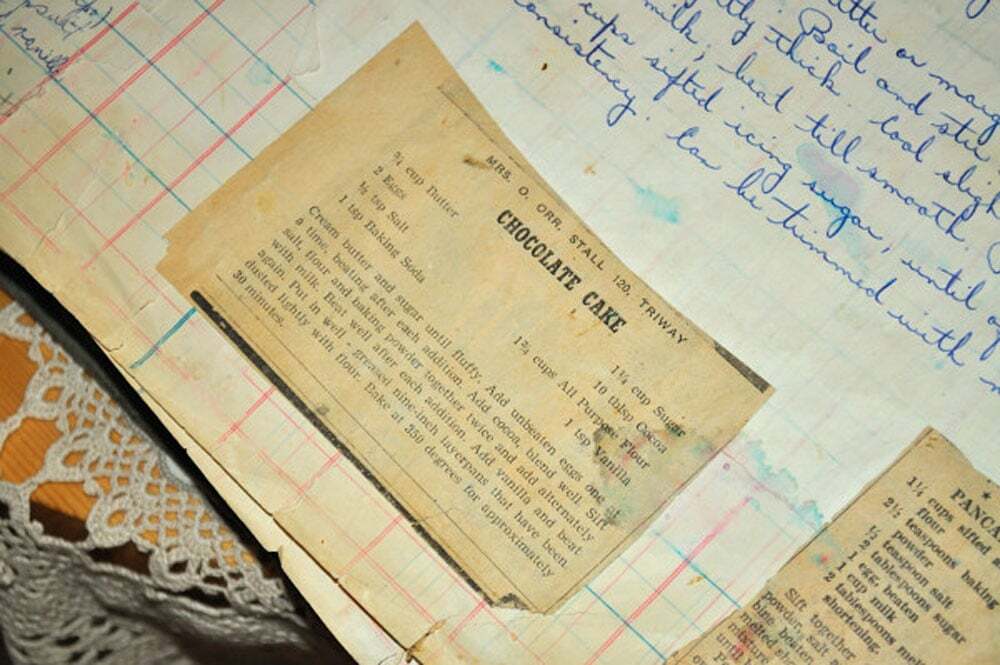 The Gospel of Gert – A Family History of Food
As technology reaches deeper into our lives and processed everything threatens to consume us, we seek comfort in the simplicity of what once was. The return of slow food, our appetite for organics, farm to fork concepts, and the rising of Food Network personalities that epitomize our ideal food culture to iconic rock-star status .
Food is our connection to one another, to family and home, to birthdays, weddings and family picnics; the intertwining of our lives as told at the family table.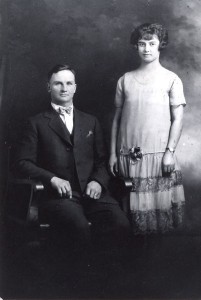 Gertrude Cameron (nee Flannigan) was born in Pilot Mound, Manitoba on July 12, 1906. Ross Cameron was born in Maple Creek, Saskatchewan on Dec 29, 1900. They were married on Dec 15, 1926 and moved to the family farm in Cutknife, Saskatchewan (Home of the World's Largest Tomahawk) where they raised seven children: Betty, Glenn, Fern, Arnold, Ellen, Sharon and Diane.
Gertrude (Gertie/Gert) learned to cook as most of us do, from her mother and the women in her community; neighbors, family and friends. Over a wood stove pioneer women made everything from bread to beans, three meals a day, long before the advent of frozen pizza. Theirs was a friendly competition to see who could out-do whom at local fairs and church suppers.
Working on the farm burns calories, this is why breakfast on the prairies starts with toast and ends with pie. No prairie woman worth her lard would send men into the field on less.
Lunch was called "dinner" and featured whole hams, entire loaves of bread, vegetables straight from the garden and… pie. At the end of the day, after the dirt of the land was scraped from under finger nails and washed from behind necks, there was supper. A larger version of "dinner", finished with cake or pudding or (dare I say it) more pie.
How Gertie Cameron managed in her busy day (hand scrubbing laundry, chasing children, chopping wood, tending her garden and plucking chickens) to make individual desserts for each of the seven children around the table I have no idea. I can barely manage a scratch together a batch of cookies between IMing, there's Gertrude making little cakes and puddings and the most precious of all things; homemade ice cream with ice chipped from the family ice-house.
This was a tradition she maintained for much of the family's time together as they moved from Cutknife, Saskatchewan (Home of the World's Largest Tomahawk) to Dawson Creek, British Columbia in 1947, where husband Ross went to work at the town hall.
Is it any wonder that the Cameron Family's most treasured possession is Gertrude Cameron's family recipe book, lovingly referred to as "The Gospel of Gert".
Great Grandson, Kris Johnson, trotted me down the hall at "Nana & Poppa's" after a breakfast of waffles and eggs and toast and bacon and sausages and fruit (and constant threats of more) to the table where The Gospel of Gert is kept.
As an only child I freely adopt, thus extending my tribe over many lands, Kris is among my tribe. He came to me a wide-eyed broadcast student in the 90's, I believe may have corrupted him on many levels. After years stories of the infamous Nana & Poppa, I was treated like family in their home and permitted to thumb the cherished pages of their family Gospel.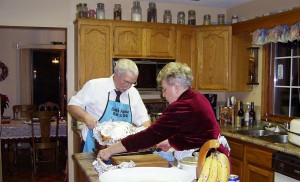 Gertrude's recipe collection, clipped from magazines and newspapers or transcribed from the radio show "Kathy's Kitchen", are held between the pages of an accounting ledger from the Village of Dawson Creek. Yellowed and watermarked from years use, stuck to the lined paper with bits of glue and cellophane tape, they document family history.
An intimate tale told over the stove, in the cool hours of the morning when the ladies did their canning and made pancakes.
Times of struggle, tales of resolution and sagas of celebration, togetherness, tenderness and individual desserts. So sayeth The Gospel of Gert.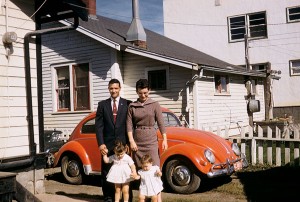 Passed from Gertrude's kitchen to the fourth eldest; Arnold Cameron and his wife Bernice (AKA: "Ace & Bunny" or "Poppa & Nana") after Gertrude's passing in 1982; this humble collection of family pride is the link to the heart of the home, the many meals shared therein and a passion for good food passed through four generations.
Recipes still in use in Ace & Bunny's kitchen (Home of The Endless Waffle) include Gertie's salad dressing (eggs, sugar & vinegar- a family favorite), mustard pickles, hand-churned ice cream as well as the unwritten secret of "how to freeze beans without them goin' all rubbery".
As we traipsed through the family property, in Coldstream BC, with its half acre garden and chicken coop, Kris and I reminisced over our similar upbringing. Families of hardworking people with a respect for the land and what it provides, and the grounded nature that this has lent us in life.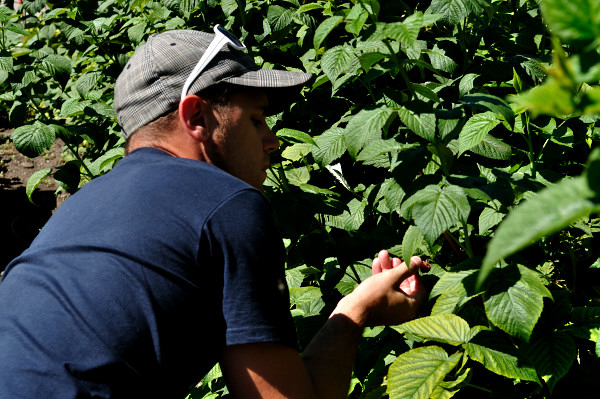 "We're not really a religious family," Kris observes, between mouthfuls of raspberries from the garden "so Great Grandma's recipe book is kind of like the family bible. It's the thing that binds us, the religion of food."
Walking back into the cool house on a that hot summer day, we pass a sink full of cucumbers ready for pickling and find Ace, returned from his chores, in rubber boots and shorts.
"It's too hot for pants" he claims.
"He's always in those dam boots," says Bunny, smiling and shaking her head "sometimes he wears them into town!"
Ace takes his boots off and relaxes in his wool socks, legs tanned from just above the knee to mid calf, his eyes filled with mischief. Must be the epiphany of a lifetime of "homemade" that makes for a family of such beautiful souls.
Long live The Gospel of Gert.
*Archive photos compliments of the Cameron Family, with much thanks.*
As a (pinot noir soaked) aside: Besides his work as a hand-model here on Food Gypsy, Kris Johnson's passion for good grape can be explored on his blog: World of Winecraft at www.wowinecraft.com. (Make wine, not war! )