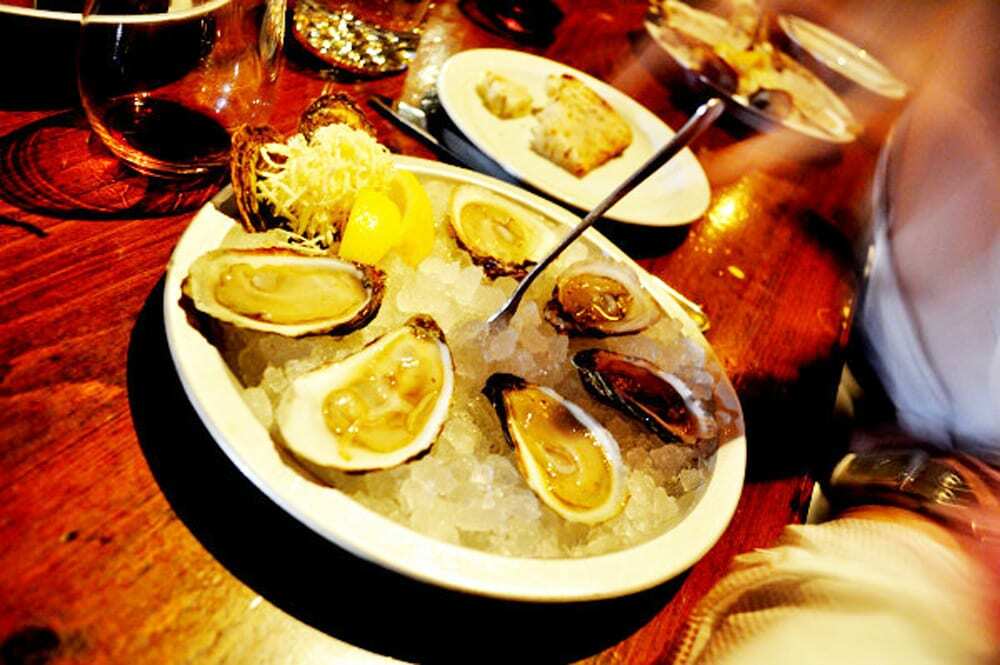 The Whalesbone Oyster House – "Surprise!"
Known in Ottawa as THE maritime-hillbilly, loud and rowdy, tiny postage-stamp-sized place with the morals of a sailor and the ethics of a librarian; The Whalesbone Oyster House is a downtown haven for seafood lovers with a heart.
The all Canadian, sustainably sourced, Ocean Wise approved menu is tight and lean; four appetizers, four mains. The ambiance is rustic maritime with a hint of redneck; bare brick walls and a touch of tin, a bike hangs in the corner, the art is relaxed and casual. The lighting is low and the kitchen is open concept; like a picture window at the back of the narrow room. The Whalesbone seats maybe thirty-five covers, on utilitarian chairs and long benches, that look as if they hose down easily.
The wine list is sensible, the beer list is plentiful and behind the bar you'll find not an ounce of green apple liqueur; "we don't have those fancy liquors here". That's right. It's hard liquor and oysters baby, ain't no frou-frou umbrella girly drinks, that would ruin it. The Whalesbone Oyster House focuses on noble ingredients, served with a dash of sass and a giant measure of real world values.
I walked in with my best friend, visiting from Calgary, on a what had suddenly become a girl's night out, as my better-half had bowed out of the evening at the last minute. "He's going to feel REALLY BAD later" said my BFF Astrid in her typical French style, one eyebrow up. As I walked though the door of The Whalesbone on a cold February night, I quickly understood what she meant as a cheer of "SURPRISE!" met me, quickly followed by a corus of questions pertaining to the whereabouts of my betrothed.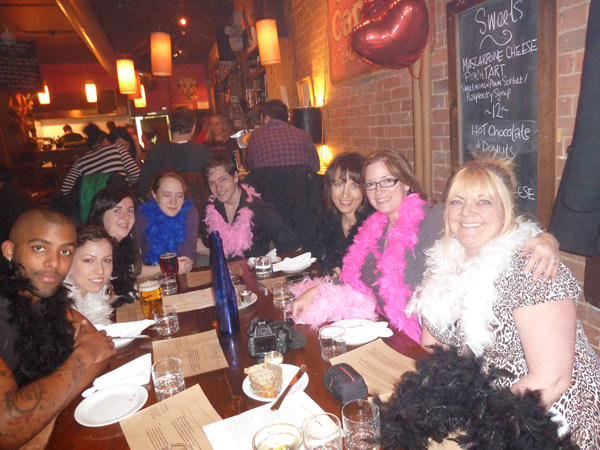 Yes, my beloved Chef B, had backed out of a surprise engagement party organized, at a distance by my best gal Astrid, and on the ground by my darling Diane. (Surprise!) They spent MONTHS lying to me, pumping me for restaurants on my wish list and scoping me on Facebook. (Seriously, what are friends for?!) Around the table was a gathering of some of our favorite people and he… stayed home.
Now, any couple will tell you this is not a tragedy but an opportunity for a little guilt. One phone call and he was on the road, breaking speed limits and deeply apologetic, all night long. We can safely say he'll never do that again.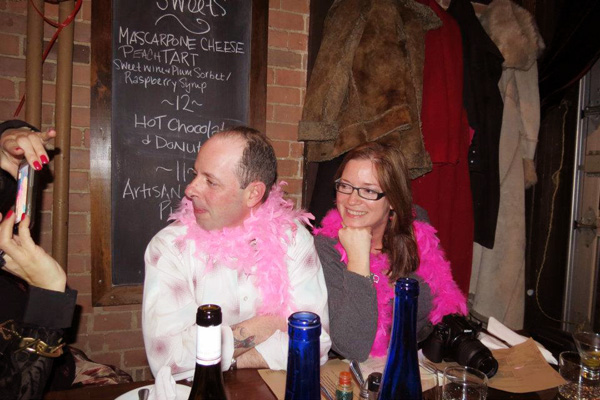 As we settled in, it quickly came out that I was an oyster first-timer and there was an immediate need to remedy the situation. Our server, Meryl, guided us through the choices;
"Tonight we have Raspberrypoints from PEI, Malagash Thrumcaps from Nova Scotia and one west coast choice; Marina's Gold, all choice size ($3.15/shell). And the St. Simone, from New Brunswick in the cocktail size ($2.95/ shell). "
The St. Simone being the smallest, I opted for that variety. As a general rule; the smaller the oyster, the sweeter the taste. I'm not known for overt pickiness at the table, but I'm not fond of certain textures and "slime" is one texture that has never appealed.
"They look like snot…" I protested. Meryl agreed "luggies of the sea my Dad calls them." I like Meryl's Dad, but I am nothing, if not willing. When in Rome…

I had plenty of encouragement from those around the table:
"Loosen it with your fork."
"Do I use lemon before or after? Is this like tequila?"
"Before, just a squeeze. Then you chase it with scotch. It's like reverse tequila…"
"What's this cheesy looking stuff ?" (referring to what could be mistaken for shredded cheese on the side)
"Careful with that, its fresh horseradish and it's hot!"
Condiment options included a sweet cocktail sauce, malt vinegar, an in-house hot sauce (that will melt your socks), Tabasco Red, Worcestershire sauce, Tabasco Green, a Caribbean hot sauce that is sweet-hot and last, a vinegar bottle filled with scotch.
Why mess with nature's perfection? I went classic; a squeeze of lemon and a quick chase of scotch. I was forced to chew, and I'm glad I did because it was that burst of salty, briny flavour that helped me understand what all the fuss is about. Cold and clean, like brisk breeze off the Atlantic with the tide out and the mudflats exposed; salty, windy and wild. Still not my favorite texture, but in small doses (with boozy chasers) I could grow to like oysters. (Surprise!)
As the evening progressed there were multiple empty shells on beds of ice, as we slurped and sucked our way though photo ops wearing mandatory feather boas. We were loud and a touch obnoxious and, we fit right in.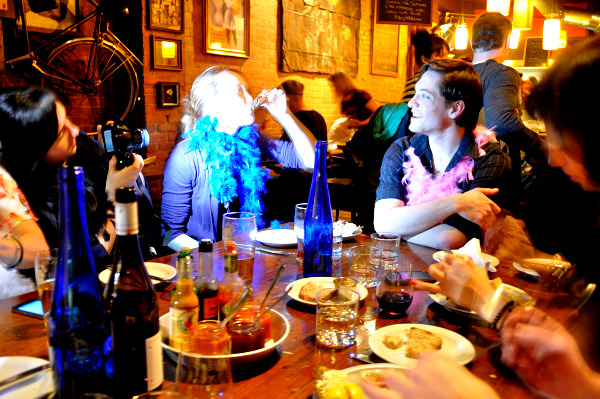 It was a busy night, the place was packed. The kitchen did exactly what I would have done, pump out plates to the two deuces (that arrived and ordered after us) so they could concentrate on our table of nine. Perfectly acceptable and appropriate. If the Whalesbone itself is a shoe box, the kitchen is a matchbox, tight and efficient. So I was not surprised to see our food come out in stages, over the course of several minutes, in fact I expected it.
What I did not expect, in a restaurant that hinges on seafood, was to have to send my Sockeye Steak Frites with Arugula, Truffle Mayo and Red Wine Reduction ($33.00 ) back to the kitchen — twice. (Surprise!) It happens, no biggie, but at $33 I expect my fish to be cooked to pink (as requested). First it was over-cooked, then it was under-cooked but when it returned the third time, it was perfect.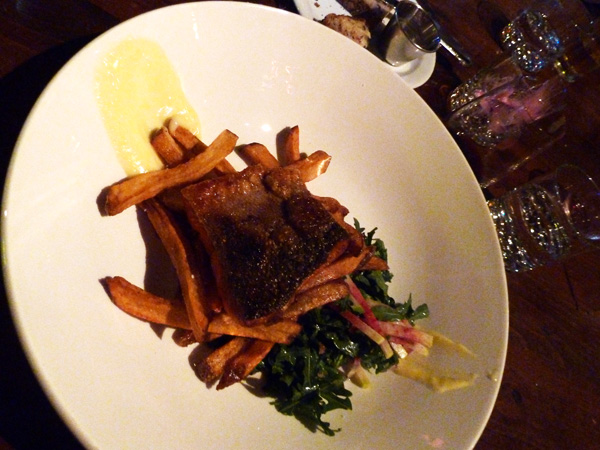 I'll admit that put a damper on my evening and not because it's the first time I've sent a meal back to the kitchen but because I really didn't want to have to dish on anything negative on a such a lovely (surprising) evening and a venue that exudes such charm. Our server apologized profusely. It pays to mention that on the night in question, Chef Chloe Berlanga (who moved up the line, taking over from Chef Charlotte Langley last December) did not appear to be in the kitchen.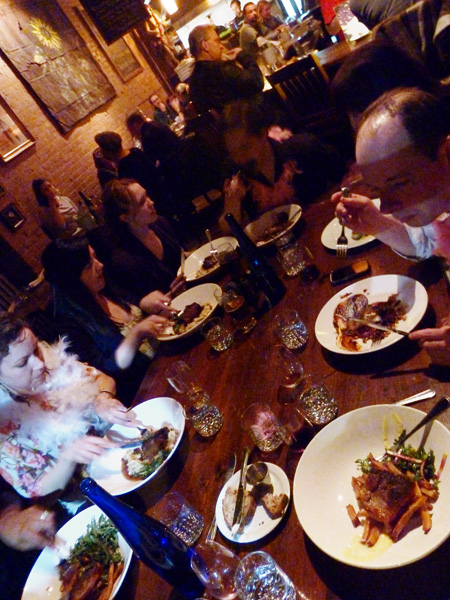 The good news is, this gave me ample time to get feedback on everyone's meals:
"The scallops are PERFECT… I've got squash and plum and hazelnuts… there's a lot going on here!" said Astrid, of the Seared Scallop with Fois Gras, Squash Puree and Hazelnuts ($19) appetizer she enjoyed as her main. I would agree, it was my option as an appetizer and the scallops were seasoned and seared to absolute perfection, translucent and juicy with the taste of the Bay of Fundy still evident.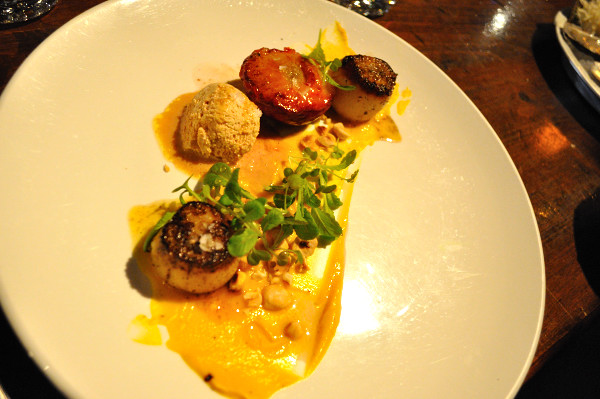 "The lobster mashed ROCKS, it's got BACON in it" reported Brenda at the other end of the table and that was heartily echoed by Lisanne and Sean. Braised Beef Short Rib on Lobster Scallion Bacon Mashed Potatoes, with Rabini, Jus and Gremolada ($37). "The short rib is fall-off-the-bone tender" gushed Diane, through her feathers. (Gremolada: a condiment made with lemon zest, garlic, and parsley.)
"Perfect walleye, great balance of flavour and I even like the [chipotle] barbecue sauce…" said Chef B, my loving fiancé. Hold the phone, he LIKED a barbecue sauce?! Honey, take that one to the bank. He's not a fan of savory and sweet but he downed the Walleye with Calypso Beans, Chipotle, Sour Cream, Lime and Toasted Almonds ($30) in record time.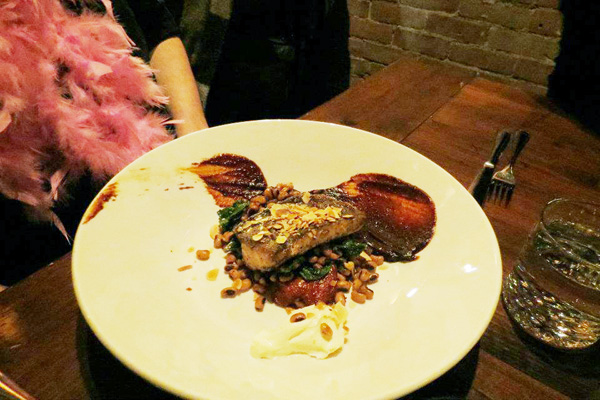 Following our meal there were shots… of scotch. What!? Your engagement party didn't include shooting hard liquor? (Surprise!) And a selection of sweets around the table. There was a general consensus that the Hot Chocolate with Fresh Cinnamon Doughnuts ($11.00) was "the bomb".
Will my little fish hiccup stop me from returning to The Whalesbone? No, not in a million years. I love a place with a raunchy vibe that doesn't take itself too seriously. Is The Whalesbone Oyster House menu pricey? Yes it is, but my friends, that's the price you pay for sustainable seafood, line-caught, farmed in sound conditions and approved by the watchers of the sea at Ocean Wise.
Is The Whalesbone a setting for a quiet, romantic evening for two? No. It's a place for a hedonistic pleasure cruise without guilt, punctuated by shots and empty shells, after which you return home to tear each other's clothes off. Well, that's my interpretation anyway.
Bottoms up. (Surprise!)
Thank you to Astrid, Diane, Danica, Brenda, Pat, Lisanne & Sean for a wonderful evening!
Additional photo credit: Danica Guibord
The Whalesbone Oyster House
430 Bank Street, Ottawa, ON
(613) 231-8569 ‎
thewhalesbone.com