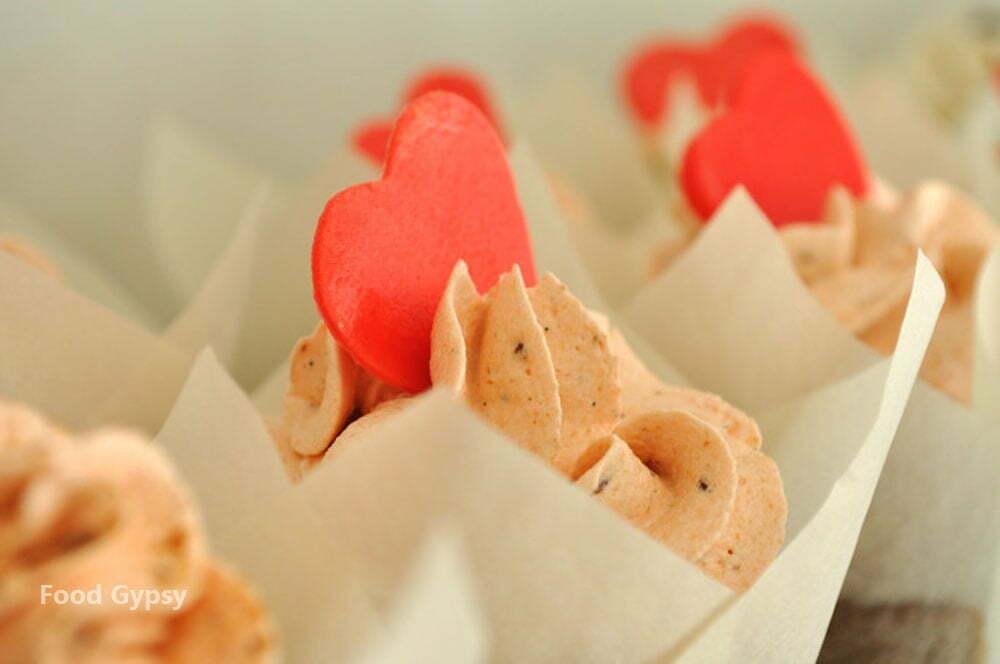 Thimble Cakes – Ottawa's Newest Couture Cupcakery
From humble beginnings to elevated haute cuisine status, cupcakes have become booming business in North America. What before was just for children's birthday parties has now become the 'in' thing in baked goods.
Imagine my squeals of delight when a small store front in my downtown Ottawa neighbourhood stripped back the paper on the windows just weeks ago to reveal an exquisite line of cupcake beauties in a deliciously vintage setting. Robin's egg blue walls, eclectic furnishings and sparkling chandeliers entice but the product in the window stopped me dead in my tracks.
Welcome Thimble Cakes Cupcakery & Cafe!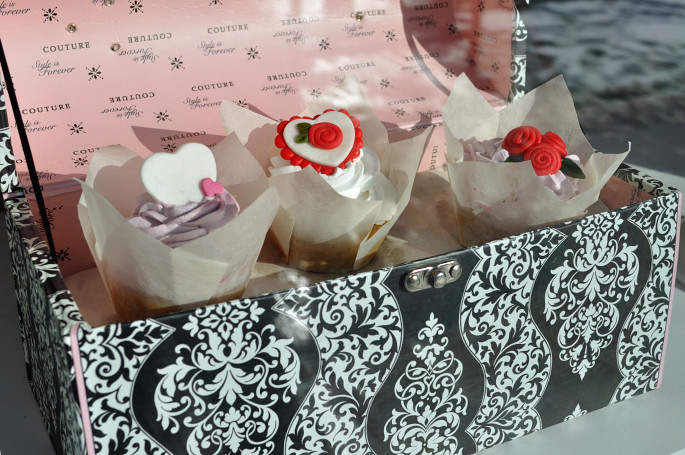 Eco-friendly. Nut free. As local and as organic as a commercial bakery can be, they compost, they recycle they use environmentally friendly papers and cleaning products and monthly they host a charity day where proceeds go to a local animal rescue shelter.
What's not to love?!
Offering gluten free cakes, egg/dairy free cakes, sugar free cakes and of course traditional cakes filled with butter and sugar and gluten available daily… Thimble Cakes rotates their flavor offerings daily.
A clever idea to keep regulars coming back.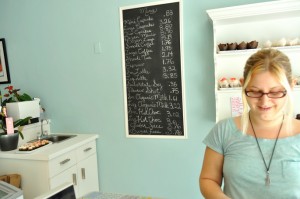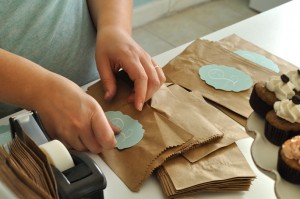 The schedule is posted on the Thimble Cakes website; Thursday's offering included Chocolate Loves Chocolate, Spicy Chai, Strawberry Cheesecake, No Foam Latte, Gluten Free Chocolate Coconut, Splendid Triple Chocolate (sugar free). All gorgeous in their Valentine's Day finery… Thimble Cakes has a cake for every taste and diary requirement.
Snack in or take out. Indulge in one or special order hundreds.
Each cake is hand crafted, made in-house and lovingly finished by Owner/Baker (Master Cupcake Creator) Wendy van Velthonven. A home (and YouTube) schooled cook; Wendy began baking (and cooking) as a means of survival when she became a vegan years ago.
She has since dialled back and is now a firm vegetarian, not allowing any animal based products in her kitchen. No lard. No bone based gelatine. Only fruit and vegetable based colouring and flavour additives are found in the kitchen at Thimble Cakes.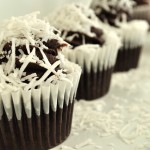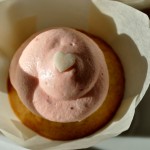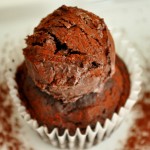 For years van Velthonven sold special occasion cakes from her home kitchen, developing a steady and loyal clientele who actively encouraged her to expand into retail.
Savvy business woman that she is, her due diligence included travel to Toronto, Montreal, San Francisco, Vancouver and multiple trips to New York City sampling new flavours profiles and doing her homework.
van Velthonven's hand written recipes now line the walls of the Thimble Cakes kitchen, Kitchen Aid at the ready, it is a spotless and well organized.
Boxes of her secret ingredient… COCONUT MILK… stack elbow high. Its coconut milk that gives her vegan offerings a velvety smoothness and essential fattiness often missed in vegan baked goods.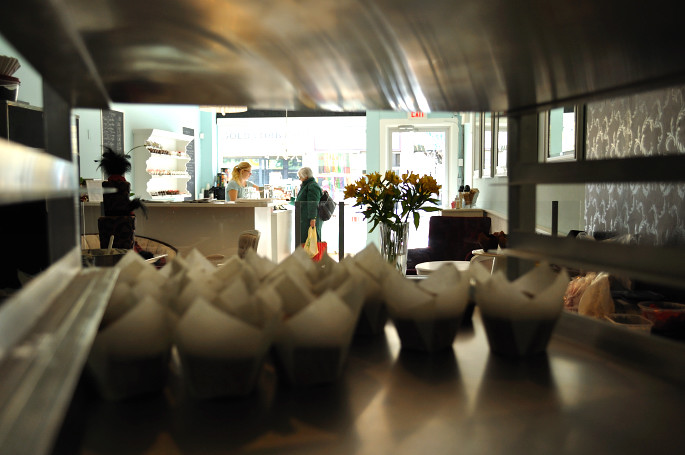 If I tell you anything more I'll have to shoot you… I'm sworn to secrecy and rightfully so. Trade secrets are trade secrets. There was much whispering.
There was also much tasting… reasons why I love what I do.
If I didn't know it was gluten free I never would have suspected that the Gluten Free Chocolate Coconut was so darn good for me. The No Foam Latte cupcake, finished with roasted espresso beans, might be a new favourite and now I'm just dying to try the Chocolate Loves Chocolate cake (that I helped decorate) lying in wait in my kitchen.
I see a Master Cupcake Creator/Gypsy collaboration in the future as we discussed a savoury options… "Cupins" (combination muffin/cupcake) are soon to make a debut at Thimble Cakes. Even went so far as to extend my (not so secret) Parmesan Muffin recipe her way so Wendy could demo it on Sunday when she cuts loose, experimenting in the kitchen with friends.
Certainly something worth going back for!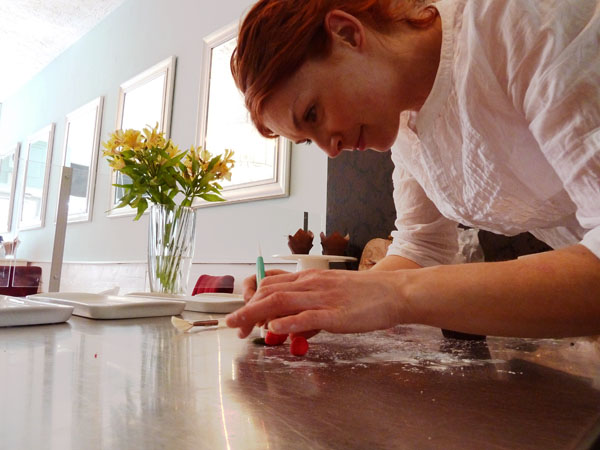 "And where does the name 'Thimble Cakes' come from?" inquires Gypsy.

"My name, Wendy, comes from Peter Pan" smiles van Velthonven's "so I looked for something from the book that fit. When they first meet, Peter has no idea what a kiss is and so Wendy gives him a thimble… for a kiss."

She pauses "Cupcakes are small. A thimble is small. A kiss is small. Thimble Cakes… kiss cakes. It just… worked."

Romance AND cupcakes, don't say I never give you anything!
Happy Valentine's Weekend Foodie Gypsies.
Live, LOVE, Eat… WELL.
ThimbleCakes
369 Bank Street
Ottawa, Ontario
613-695-0109
Gypsy Note: As an added Valentine's Day Bonus Feature; tossing a little pastry technique your way (complements of Wendy from Thimble Cakes) "how to make a fondant rose"… fun in the kitchen.