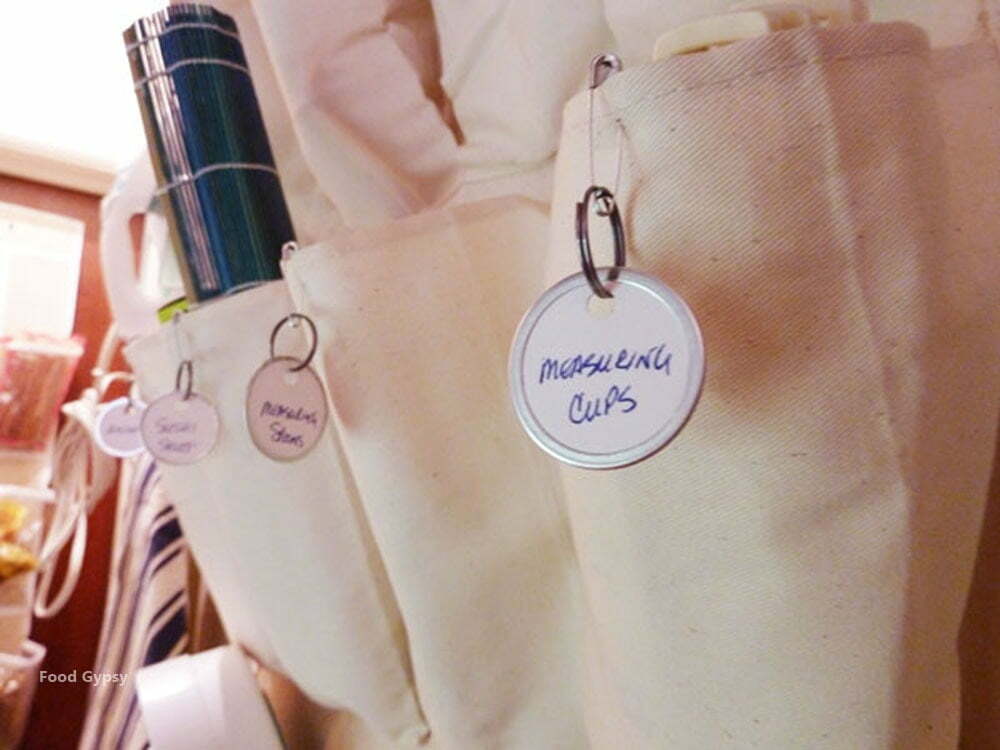 Apartment Therapy – The Organized Kitchen
When downsizing from 5,000 square feet to just over 600 square feet, necessity becomes the mother of invention.
Running a busy kitchen at the Dragonfly Inn taught me a few things about being organized – everything always goes back in the same place. Cooking in the homes of friends who put themselves through school behind the grill taught me more – locate your most used items where you use them. And this last little bit of training at Le Cordon Bleu really nailed it – everything in sight, everything in reach.
I confess to being the proud owner of a storage unit that (currently) houses my books, my BBQ and other (can't possibly part with them) doodads… but the Gypsy Test Kitchen is jammed to the rafters and extraordinarily organized.
Simply put, I refuse to be without my best stuff.
When I discovered (while unpacking my best stuff) that I had no room for food… something had to be done. Utilizing the last remaining closet/pantry space I had – the door – I created a nifty spice rack and hanging drawer putting my most frequently used items at arm's reach but didn't mess with the original 20's deco decor and was fast and easy.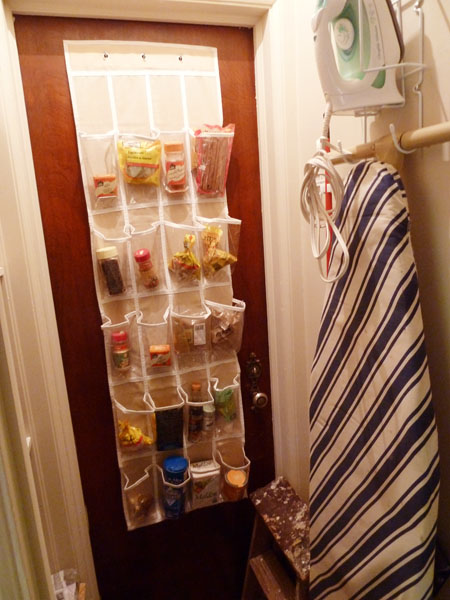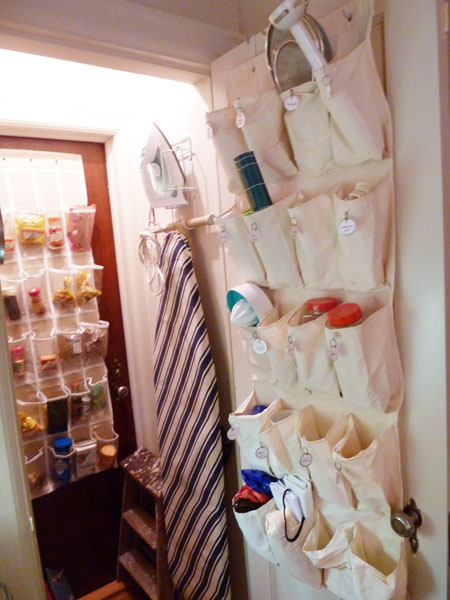 Combining my love for shoes and my love for food; an (unused) see-through hanging shoe organizer was pressed into service as a spice rack. Now my spices are easy to find, shopping lists are a snap to make at a glance and I can group similar spices in one pouch (my collection of pepper for instance).
Yes. My spices are alphabetized… what's your point?!
The other canvas organizer was much heavier and with drawer space being at a premium I took items such as measuring cups, the hand juicer, sieves and the Moulinex as well as most frequently used spices and pastes (basil, oregano, thyme, anchovy & wasabi paste) and loaded them all up – vertical.
Of course I had to label the pouches now didn't I? Using safety pins and paper key tabs (both from the Dollar Store) it was a synch. (My kingdom for a labeller…) I mean, what if something were to be misfiled?! (egads!)
Some might claim a need for medication… me, I just hate to waste my time looking for things. And when I'm done cooking and move into 'hostess' mode, I simply close the door and it's all out of sight. Ahhhhhha. Perfect.
Now I have too many knives and shiny things… solution in the works. Sure to be pure genius.
It's not OCD… It's "ORGANIZED"!
Source: Over the door Canvas Shoe Organiser: Ikea $15.99
Source: Debbie Travis, Over the Door Shoe Compartment: Canadian Tire $14.99