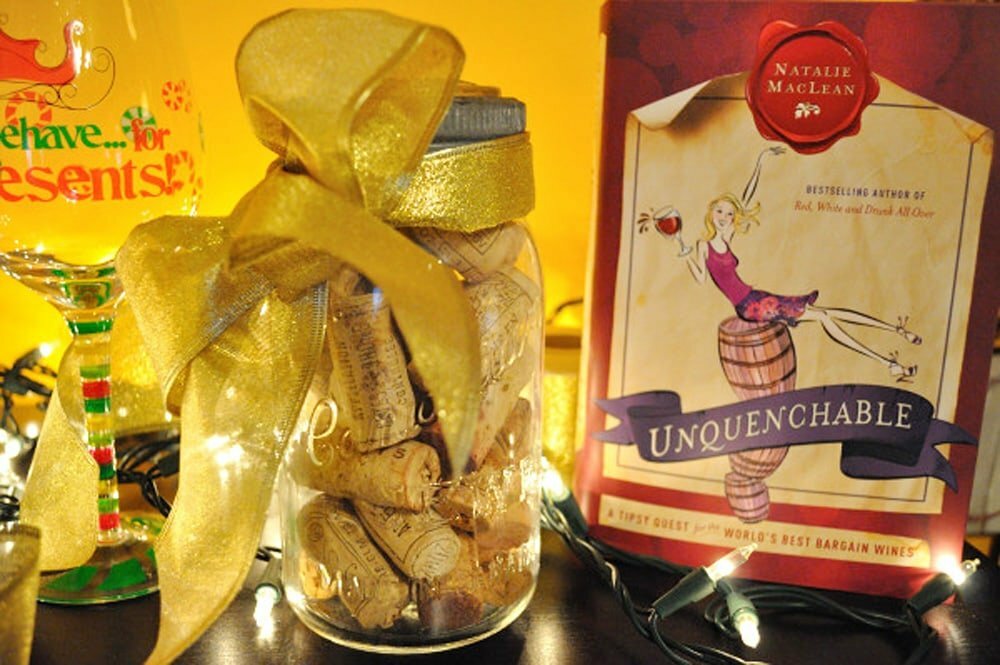 Three gifts for the wine lover on your list this holiday season; one serious, one sentimental and one just for fun.
Let's start with something serious… ish. Quickly making it to the best seller list, the recently released, wine soaked adventures of Canada's Natalie MacLean; Unquenchable, A Tipsy Quest for the World's Best Bargain Wines.
Reading it I realized how under-educated I am on the subject of wine, but not in a bad way. While most wine experts look down their nose and pontificate Natalie MacLean laughs, fills your glass and tells a story that is at once interesting and entertaining. Sharing the personal details that others skim over, punctuated by bits of juicy gossip, she brought me with her into the world of wine making as an invited guest in conversation of some of the greatest wine makers of our time.
We traipse along with MacLean lost on the back roads of Australia, awkwardly cutting potatoes in Germany, grappling with the social climate of South Africa, walking the path of the Cosa Nostra in Sicily, riding through the high plains of Argentina and wandering the fields of Provence; all the while chatting merrily about fermentation, oak barrels and aging processes. How it is that I've learned so much while laughing out loud (at times) as I do?
Her's is a rare gift.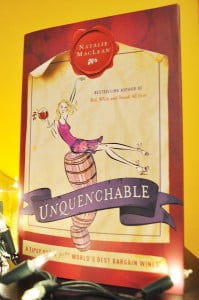 Unquenchable is broken into sections of wines for different days of the week (Monday; the Unbearable Lightness of German Riesling), with solid selections and practical resources in every chapter. Captivating story teller that she is, MacLean winds you through the cellar to peak at the bottles you only see in the glassed-in, climate-controlled rooms of the really fancy liquor stores then presents you with a splashy find, perfectly priced for your pocket book. Was there ever a more timely wine book?
Available on good old fashioned paper ($20 – $15) at your local book store and those new fangled e-books ($14). Unquenchable will be found under the tree of some of my best (able to hold their liquor) girlfriends this holiday season.
Speaking of girlfriends… that brings me to gift number two on our gift list for wine lovers; the sentimental journey of a couple of bottles between friends, lovingly encased in glass.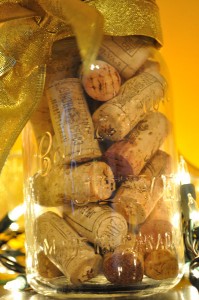 When the wine industry began shifting away from the use of natural cork as stoppers in wine bottles, I started collecting them. Often branded, and stained by the vintage it seals, I have become a keeper of corks. Such is my obsession, that I have been known to rummage through the trash when well meaning friends helped tidy-up, in search of the corks from a memorable evening. (It's best to have a buzz on when digging through the remains of the day, trust me on that.)
Around the same time, I began surreptitiously gathering corks at weddings, birthdays and milestone celebrations, setting them aside and presenting them later, in a well chosen vessel with a cleverly worded card, as a gift to commemorate time spent together. Jars of corks now grace the homes of several friends. If they get tired of the corks, they always have an interesting jar.
The jar you see here was collected during a weeklong birthday "festivas" to mark the passing of my 45th year with one of my dearest friends. (It should be noted that we had not seen each other in several years, and there were more people involved in the drinking of the wine behind these corks than just us girls.) This jar holds memories of drunken Princess Leia impressions, I simply could not part with it. Sometimes the best gift is the one that makes your day… every day.
Jar $5. Corks: free (with wine). Wine fueled memories: priceless.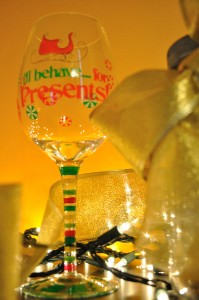 Last on our little holiday list is a sassy glass that was under my tree last year that reads "Will behave… for PRESENTS!"
When I first saw it the snob in me said "Oh good LORD!" but then I discovered that it fashionably holds about a third of a bottle of wine. Short of tying the bottle around my neck, this glass ensures pure, vino driven, happiness.
The holiday season will never be the same.