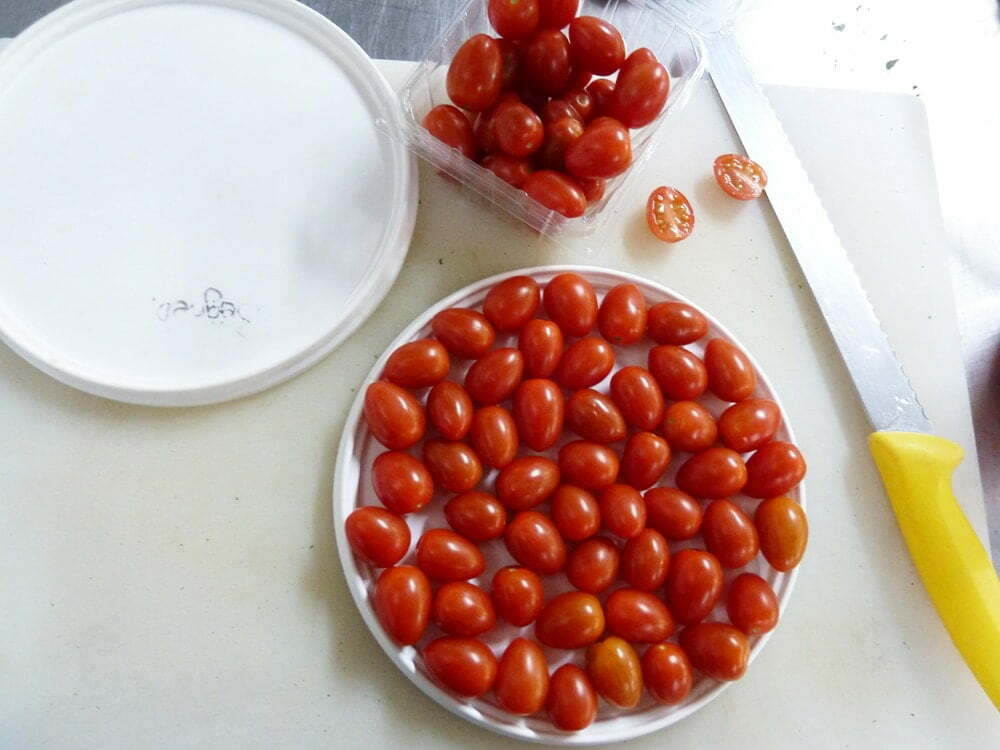 Speedy Kitchen – How To Cut Cherry Tomatoes
When faced with the task of cutting liters of cherry or grape tomatoes in half, it pays to have a time saving trick, or you will be at it a long, long time. Here's a trick from the pro kitchen that can save you hours: how to cut cherry tomatoes… super fast.
One of the things about working in a 'from scratch' commercial kitchen, is that some of the simplest things can take a great deal of time. Time is money and menial tasks, done over a long period of time, fatigue the mind. When faced with a day of doing the same small task over and over again, I find I slow down after about the forth hour or so. That means it takes even longer for me to finish, so I welcome short cuts in my day.
In the big shiny kitchen we make bruschetta, from scratch; buckets and buckets of the stuff. For each liter we cut about two liters of grape tomatoes in half, before we candy them, low and slow, in the oven. Five liters of bruschetta = ten liters of cut grape tomatoes. Done one-by-one this could take a big chunk of my day, but Chef Devin Marhue stepped in with a pro short cut and saved me hours.
Not all pro tips translate well into the home kitchen, I mean when was the last time you made forty liters of soup?! But this is a tip worth sharing, if for no other reason than to get you thinking: 'OH BOY, what can I make with cherry tomatoes?'
You'll need a couple of pieces of equipment for this: a sharp bread knife and two plates or plastic lids, of equal size and depth.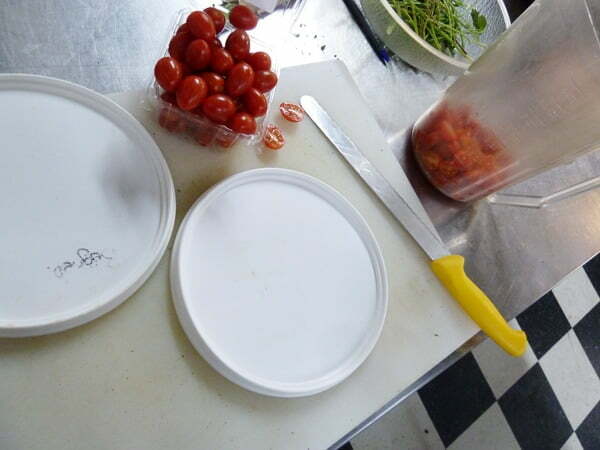 Place one lid/plate, lip side up, on your counter or cutting board. Fill the surface with tomatoes, in a single layer, either either horizontal or vertical, depending on the cut you want. Make sure the surface is full, with no gaps in between (like you see in the top photo), or the tomatoes will shift and the cut will not be clean.
Place the second lid/plate over top of the tomatoes; lip side down, so the tomatoes are held snugly in place. Put your free hand on top, to hold them in place, then pass the bread knife through the space formed between.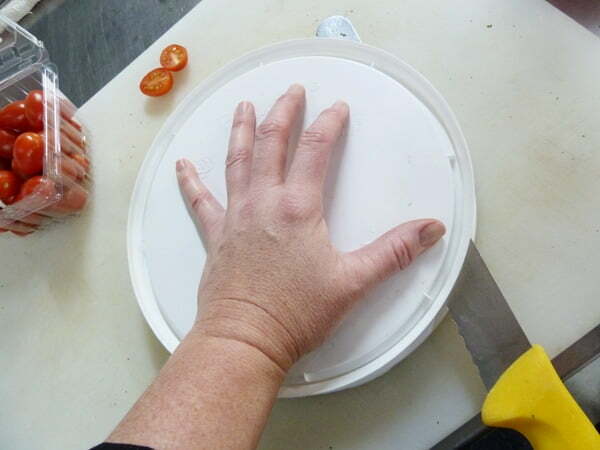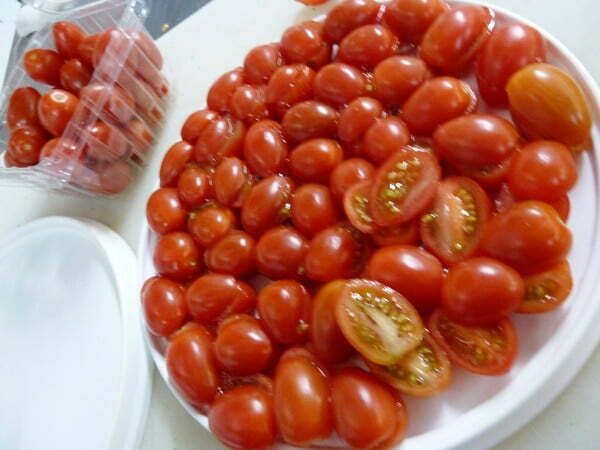 Voila, perfectly halved grape (or cherry) tomatoes – SUPER FAST. You can cut a couple dozen tomatoes in just a few minutes. Perfect for pastas, salads, sauces, burschetta, salsa and any other thing your heart desires.
May this serve you as well as it has served me.
4.
Speedy Kitchen – How To Cut Cherry Tomatoes