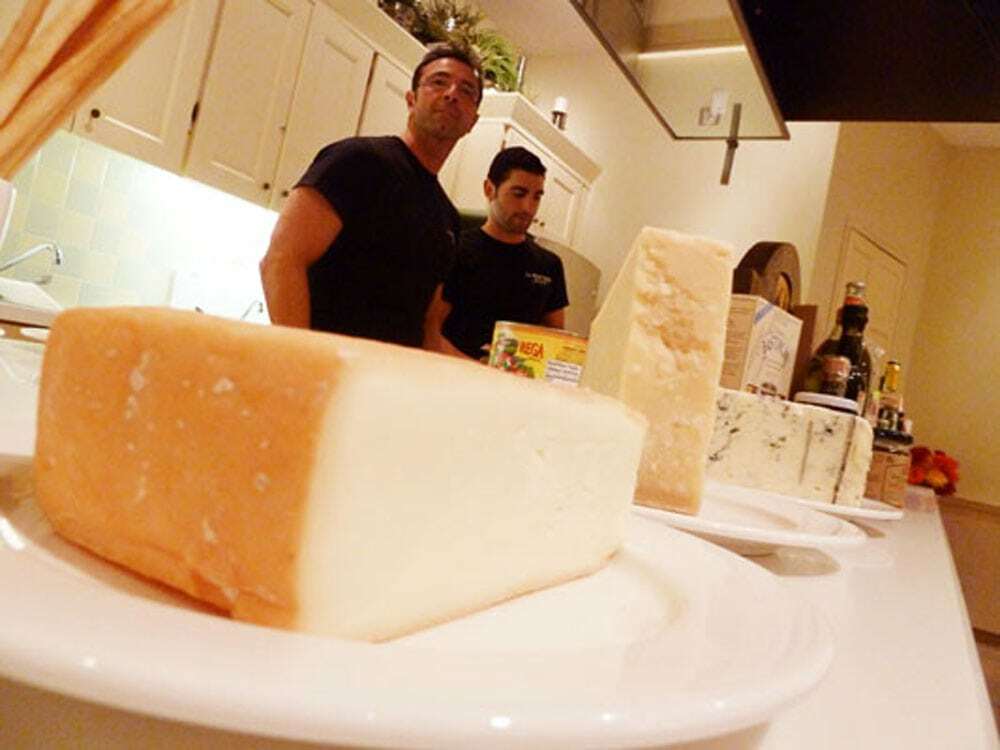 Wine & Cheese – Part 2; Italy, The Passion
Part 2 of our sexy wine & cheese liaison on Food Gypsy; six great bottles, five beautiful cheeses, and one wicked prosciutto in the heart of the Old World – Italy.
In Part 1; The Seduction we looked at artful ways to pair the two (think counterbalance), how to lead the pallet (open the evening with a solid charcuterie) and a few of the basic steps in the tempting tango of lovers matched for power, strength and endurance in the tryst that is wine & cheese.
Italy is a country that revolves around food. It is not simply a necessity, food is the thread of life; family, togtherness, pleasure and culture. This is why I LOVE Italy. Food and wine and naps after lunch followed by arguments about what's REALLY important in life – soccer – all while looking fabulous in your butter-soft, Italian leather shoes.
You'll notice that some of the wines pair well with several cheeses. You didn't think Italian wines were only seeing one cheese, did you?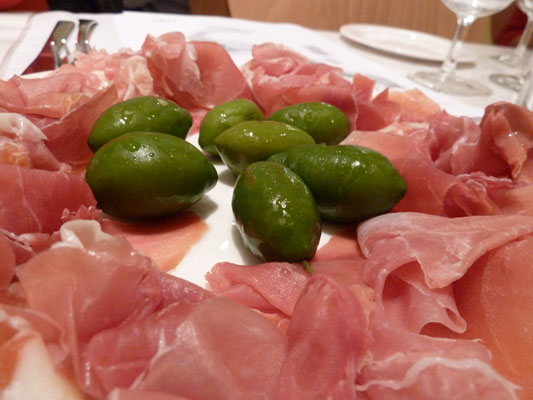 Wine : San Vincenzo 2009, Anselmi, Veneto ($14.95)
Starting with: Prosciutto di San Daniele & assorted olives
Open with a salt cured thinly sliced prosciutto, the "cevice of ham", this particular salt-cured leg of pork is massaged to remove all blood, then dry cured. The result is a firm, dry texture with streaks of warm buttery fat.
The saltiness of the prosciutto and olives is balanced by the fruity freshness of the San Vincenzo. Medium bodied, with hints of pear but sufficiently dry, it's a beautiful opening wine; a casual closeness betwixt these two is often filled with drama.
Frankly, the San Vinchenzo is a very popular grape; chicken, grilled meats, spicy seafood. While Prosciutto is often courted by new world unoaked chardonnay. All's fair in love and food.
Wine: Teanum Alta, Falanghina 2008, Puglia ($15.95)
Cheese: Mozzarella di Bufala & a dam good olive oil
A good Buffalo Mozzarella is still fresh with whey; with a cream that is richer than cow's milk, it makes for a complete mouth experience. Tangy, yet creamy, a drizzle of olive oil gives it a hint of earthy fruitiness.
Hometown sweethearts; the Falanghina grape is native to the Campania region, where much of the Buffalo Mozzarella produced in Italy comes from. This is a stunning white, vibrant and crisp and one of Italy's oldest grapes dating back to the beginning of the empire. Perhaps this is why it highlights this cheese so magnificently, underscoring its creamy texture. These two are familiar lovers, still tender and affectionate despite one being married to another.
The Mozzarella di bufala left Falanghina in favour of a good tomato, and they've been together ever since. Falanghina, is often seen in the company of a variety of seafood and frequently makes the news receiving gold metals, but his heart belongs to his first love – Mozzarella di bufala – and it always will.
Wine: Ca' Dei Mandorli Dei Giari, Moscato D'asti 2009 ($14.95)
Cheese: Savello di Roma & pear ginger and roasted hazelnut compote
Let me introduce you to a sheep's' milk cheese. If you've never tried one swing open the door of the Frigidaire, you're in for a treat. The Savello di Roma is a young firm cheese, aged as little as 60 days, it's creamy and smooth with a hint of tang.
The Moscato is one of those all round cheese wines, with a light, fresh fizziness and juicy fragrance. It is the very definition of 'tiny bubbles' bursting with favour against the pallet. You never know, it might try to pick up the Taneggio or the Pamigiano, it's that kind of wine.
Wine: Gewurztraminer, 2008 Kuhlmann-Platz, Alsace ($17.95)
Cheese : Taleggio & roasted almonds
This is a wine that confuses me, it sounds German, but comes from France and its included here because its Gewurztraminer has roots in Northern Italy. It dances beautifully with this washed rind, full-fat Taleggio. The only one of its kind in Italy, this cheese has a ripe pungency that is the epitome of "barnyard" flavour.
The dry, but not too intense Gewruz favours the Far East with a taste for East Indian and Thai, it likes it spicy. Which is why it plays so nicely against a raunchy, "farmer's daughter" cheese like Taleggio.
Wine : Torre del Falasco, Valpolicella Ripasso, 2007 ($16.95)
Cheese: Pamigiano Reggiano with orange blossom honey
The real treat here is the orange blossom honey, it bounces this high protein, mealy cheese around your mouth in a sensational favour rumba. Among the most strictly controlled cheeses in the world, the Reggiano is made from the milk of cows fed only grass and hay for a higher percentage of fat. Condensed, brined, aged, and tested under government scrutiny, only then is it stamped and shipped. The result is one of the most popular and versatile cheeses in the world.
Mixing it up with the Valpolicella; on its own its fiery and spicy with a serious amount of vitality and a smooth finish. Pamigiano Reggiano is not a cheese to be trifled with, she won't stand for it, so go red. She is the Ferrari of cheeses; one wrong move and you're in the ditch.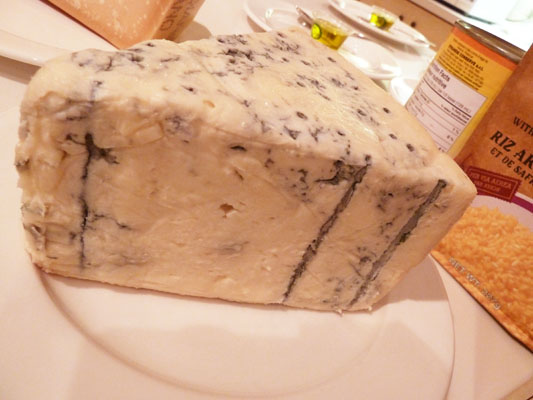 Wine: Recitoto dell Valpolicella 2007, Antolini ($27.95)
Cheese : Gorgonzola with fig spread
Tagged with the adjective "picante" in its home county, this is one saucy cheese. Known for its sharp tongue, it's said to be among the oldest cheeses in Italy. The Gorgonzola is the dominatrix of Italian cheeses. Don't even think about touching her until you've tried your metal with the likes of tart-y cheeses half her age, or she will beat you black and blue. Mostly blue.
To balance her aggression you need sweetness. The Recitoto dell Valpolicella, whose grapes are dried on mats until after January, has a rich, chocolaty finish. This warms her, mellows her and melts her into a creamy, yet intense union of divine equals who refuse to commit.
Gorgonzola is fierce, a trouble maker who will not be tamed and Recitoto is full of body and life, often in the arms of his other lover; semi-sweet dark chocolate.
That chocolate, she'll see any big, fruity, rich red wine! I ain't sayin' she a Gold Digger…
Join us next month for Part 3 of our wine & cheese series – The Romance; a euphoric romp through the epicurean paradise of France.