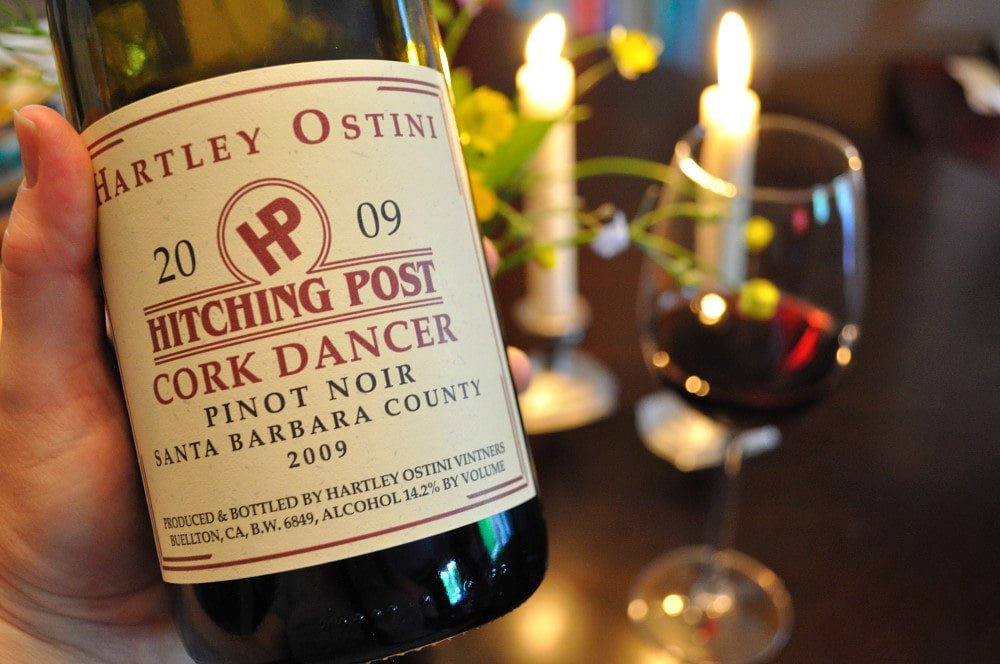 Wino Wednesday – Hitching Post Cork Dancer 2009
Wino Wednesday, a monthly feature on Food Gypsy highlighting our favorite bottle from the past month of wine swilling. If you love pinot like I love pinot – you're going to love Hitching Post, Cork Dancer 2009.
Bottled in Santa Barbara County by Hartley-Ostini, Hitching Post's pinot noirs are legendary for their quality and boldness. Touted by many (including our own Chef B) as some of the finest pinot noirs outside France, Hitching Post can be hard to find and a bit pricey, but worth every penny. In the National Capitol Region you can find them (occasionally) on the shelves at the larger LCBO locations. Lucky for us you can also order though their website.
Hitching Post's Cork Dancer 2009 ($27) is a full, juicy red, balanced and ripe with an elegant, medium finish and refreshing fruitiness. A hint of smoke and sour cherry, the undertone of raspberry and rosemary; it is a new world wine that is filled with flavour. Gypsy Scorecard: 89/100.
Just twist and pour, so well made there's no need to decant. Ready to drink, clean and food friendly, we might suggest Cork Dancer with a tomato based pasta, grilled meats, a garlicky Cesar salad or a citrus and chili laced fatty fish. But don't stop at Cork Dancer while you're shopping for great wines from Hitching Post, check out their flagship: Highliner 2010, or a bottle of The Perfect Set 2008 or their 2009 Bien Nacido for your next wine spurge.
The product of a great friendship between chef Frank Ostini and former fisherman Gray Hartley especially for the Hitching Post Restaurant in Santa Barbara; these wines were blended and build for food.

"It started in 1979 as a lark," says Hartley. "Frank called me and said 'why don't we make some wine? I'd like to bring some wine into the [Hitching Post] restaurant'. We had an old whiskey barrel and away we went – and here we are, nearly thirty years later. Started out having fun and we still have as much fun now as we had then!"
Still producing brilliant wines in relatively small batches (14,000 cases a year), Hartley and Ostini have Hollywood to thank for a bump in popularity when Hitching Post, both the wine and the restaurant, were featured in the Award Winning wine movie 'Sideways'. Among my favorite wine movies of all time – it's my pick for the next dinner & a movie night at your house. Grab a copy of 'Sideways' pull together a simple pasta or try your hand at our Three Pepper Salmon with Lemon Rice and Olive Tomato Relish with a bottle of Hitching Post, Cork Dancer 2009 for a great date night pairing.
Cheers.