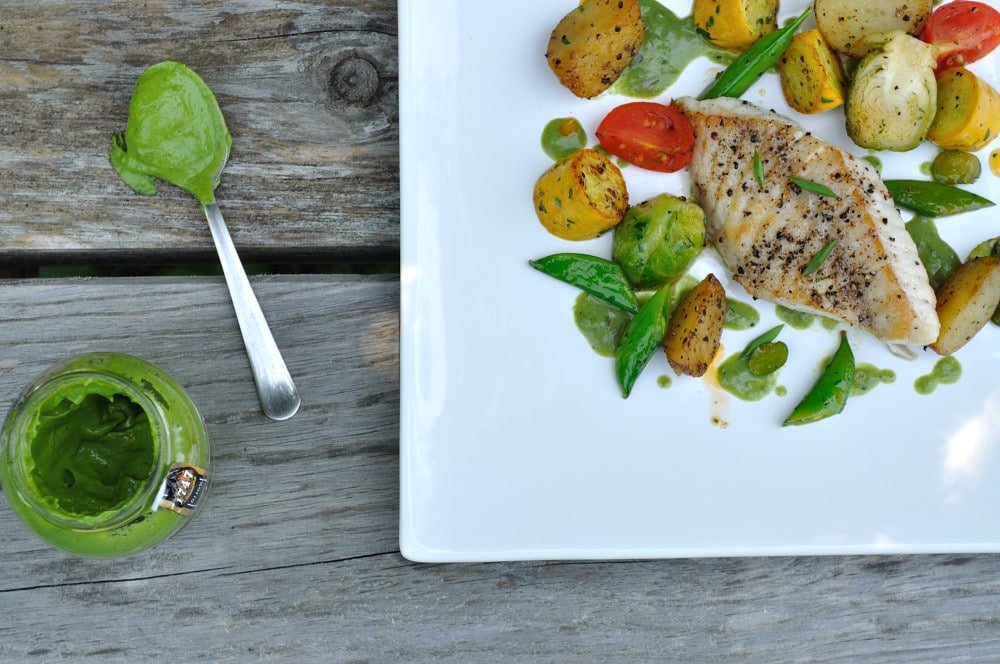 Snapper with Herb Mustard Sauce & Summer Veg
Green mustard, fresh and colourful and perfect with fish. Why does lemon get all the fish action when you have Maille's Fines Herbes Mustard just waiting for you on your grocer's shelves?!
Mustard gets a great deal of play in our kitchen. It may or may not have something to do with the fact that the chef in my life is from France, a little village just outside Dijon no less. While some folks adorn the table with their favorite salsa, steak sauce or *shudder* ketchup, we have jars of Dijon mustard.
Gone are the days when bright yellow ballpark mustard fit the bill, I have now developed a taste for fine (read expensive) condiments which come in a variety of flavours. Traveling in France this past holiday season I beat a path of the flagship Maille Mustard store in the heart of Dijon where I quickly fell in love with their Black Truffle Mustard. (One jar was not enough, we now have it bootlegged in from France every three months to keep up with our appetite for all things truffled.) Break out of the same old mustard and try something from the broad range of flavours to be found at your local store: strong, grainy, white wine, honey and this green beauty; Fines Herbes (fine herbs in English).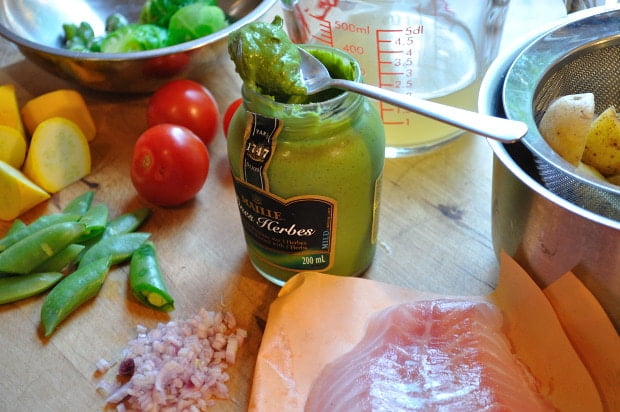 Mixed with parsley, chives and basil, Mustard Fines Herbes thwarts convention with it's bright green colour. When you twist off the lid it fills the room with aromatics, just begging to be spread and consumed. It makes a sharp accompaniment to your favorite ham sandwich, sauces chicken extraordinarily well and with this light, buttery fish, it underscores freshness.
This post is a lesson in a fast sauce for a home cooked meal every bit as good as restaurant food. A good sauce can make a meal, but it doesn't have to be complicated or take a lot of time. It's summer and no one's inclined to be in the kitchen any longer than is absolutely necessary. Keeping it simple is the key, start to finish you should be out of the kitchen in 40 minutes with a little organization.
Cook like a pro, and eat well.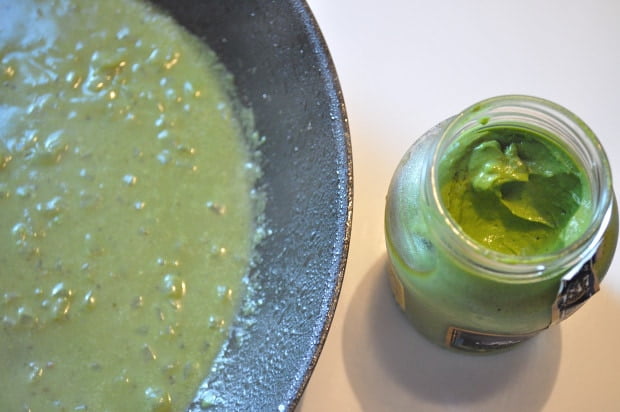 Snapper with Herb Mustard Sauce & Summer Veg
Prep time: 15 minutes
Cooking time: 25 minutes
Yield: four servings
2 large snapper fillets, portioned in half
1 pound new potatoes, cut to bite size
a dozen brussle sprouts, cut in half lengthwise
1/4 cup olive oil, divided
3 small yellow zucchinis, rough cut
1 cup sugar peas, cut in half
1/2 cup cherry tomatoes, cut in quarters
1/4 cup fava beans, shelled, cooked & peeled
1 large shallot, diced fine
3/4 cup of chicken stock
1 large clove of garlic, crushed & chopped fine
1 tablespoon fresh herbs (parsley, chive and/or basil recommended), chopped fine
2 1/2 tablespoons Maille Fines Herbes Mustard
salt & pepper, to taste
1. Wash and cut your vegetables you don't have to use what we've used (listed above) pick the freshest, juiciest looking items you can find then par cook the denser items. Blanch potatoes in a pot of boiling water, brussel sprouts and beans as you first dry then season the fish and finely dice shallots for the sauce. Remove vegetables when cooked through, shock in cold water and reserve.
2. Divide oil in two large pans over medium high heat; add zucchini, potatoes & brussel spouts to one and fish to the other when oil comes to just under the smoking point. Sear fish, about two and a half minutes on each side. As fish cooks, toss veggies with oil, season with salt & pepper then add sugar peas to veg pan as fish finishes and you remove it from the pan to reserve, warm.
3. Toss shallots in pan used to cook your fish, sweating lightly until transparent. In second pan, toss veggies lightly, add tomatoes, garlic and fine herbs (extra oil if needed) and toss to coat reducing heat to low. Add chicken stock to shallots, deglaze pan and reduce stock by approximately half over high heat for about 3 minutes. Reduce heat to low, add mustard and whisk into sauce, heat through but do not boil.
Note: Mustard will naturally thicken the sauce, but if you boil it, it will break and become curdy. Also longer this mustard cooks, the more bright colour you loose, so go easy on the heat. Just heat it through and plate.
Gypsy plating tips: plate your sauce on the bottom and place the balance of the meal artfully on top, this way the herb mustard sauce acts as a background in both flavour and appearance to the meal. Once plated, drizzle with remaining olive oil from the vegetable pan; this creates contrast on the plate and makes the fish look moist and sexy. Last, whenever possible plate hot food on warm plates, this helps to keep your meal warm, especially if you're dining alfresco (or taking pictures of your food for half an hour).
Why go out when you can eat like this at home.