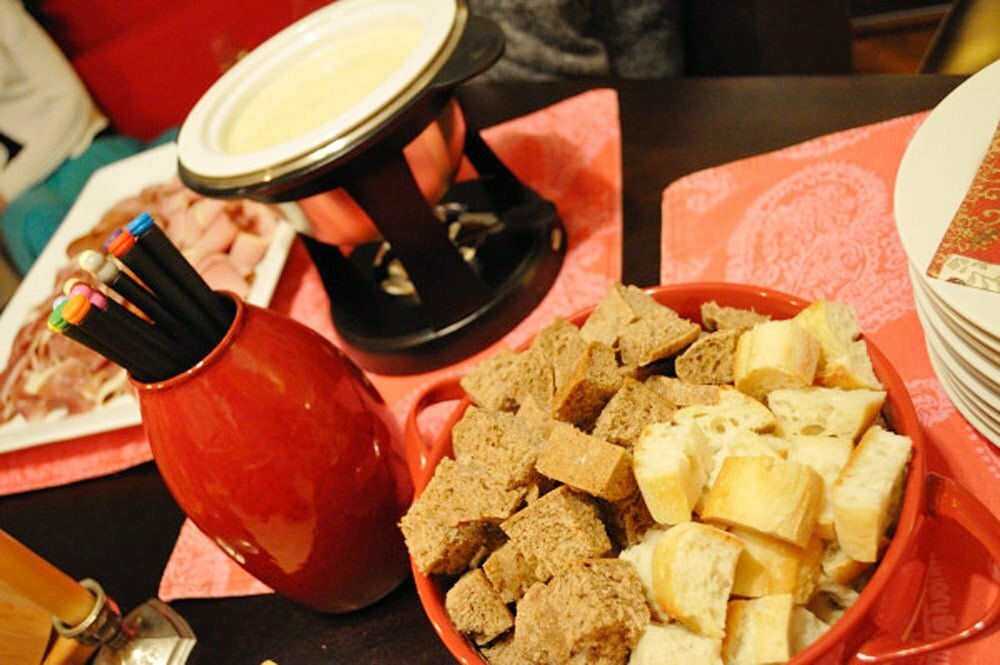 Last weekend we hosted a little foodie-fondue-winey-cheesy soiree. Started with a sexy grilled sandwich, then dipped into a cheesy fondue and ended on a sugar high with a Chipotle Chocolate Soufflé. This is our pimped fondue, super easy, super cheesy and budget friendly.
Planning the party I discovered that doing a traditional cheese fondue can be mighty pricey. Between the cheese, the wine and the kirsch (cherry brandy, only available in 26oz bottles in my neck of the woods); a good pot of cheese fondue can price out at $80 and then you're stuck with ¾ of a bottle of kirsch. Add to that the fact that many fondue makers "break" the fondue by having one ingredient off balance, then the fat from the cheese begins to separate leaving a film of oil across the top and a lumpy goo underneath.
Gypsy to the rescue: A little fondue kit pimpin'. For $12 you can pick up a cheese fondue kit in your local super market. What does it contain? Cheese, wine, garlic and kirsch, no additives or preservatives — just food. Then we pimped it up with more cheese, a clove of garlic, a (generous) splash of white wine, dash of nutmeg and white pepper (all of which you probably have on hand) and… TA DA… pimpin' da' cheese fondue for the low, low price of $35.
(The more money you save on cheese… the more cash you'll have for WINE.)
In North America a traditional fondue is made with a blend of Swiss Emmentaler and Gruyere cheeses. Emmentaler being very mild and a well aged Gruyere being very pungent. Good quality can be found at your favourite cheese haunts.
Cheese fondue is not just a Swiss custom; versions can be found in France, Germany and Austria. Our pimpin' style was inspired by the heart of the French Alps and two French cheeses; a Beaufott , firm and nutty, and a soft, ripened Roblicheon, which is sharp and strong. (They sat in my fridge for three days, every time I opened the door all I could smell was socks.)
The reason our fondue didn't break is because it was already at the right consistency. Adding the cheese then balancing with the acidity of the wine helped to make sure it held. As a final measure, the garlic was added alone to the fondue pot with a ¼ cup of white wine and left over the flame to heat; then topping it off with the thickened pot of fondue that was on the back burner for a smooth, creamy pot of cheese.
A proper cheese fondue should hold well, it should cling to the bread, and be at once tangy and salty with just a hint of sweetness from the kirsch. There was enough kirsch to accent and keep it "traditional" in flavour from the pre-mix.
We served with a platter of stellar charcuterie, two wonderful breads and a simple boiled potato, tossed with parsley and butter. The chef in my life turned the potatoes. He claims this to be "relaxing" clearly, he's a manic… he even demonstrated for our guests. I thought he was kind of rusty so i tossed in a mushroom.
We had several bottels worth noting that night but the hit of the night was the wine Chef B paired with the fondue. A Béthanie, Arbois 2007, pilfered from his father's cellar in France, but also available in Canada ($21.80) . One of our guests, Don Chow from foodieprints.com (fellow food blogger) had a moment of enlightenment.
"Alright, I GET it. Wine and food. One elevates the other. Took http://mypict.me/meoo8 andhttp://mypict.me/meopb
cc@thefoodgypsy"

"You… tweeted during the party, Don!?" "Well, if you're going to serve food this good, I'm gonna' tweet about it." Fair enough.
Cheese, wine, cured meats AND a turning demonstration, ending the evening with Chef B bringing a soufflé back from the dead.
Da' boy gotz skills.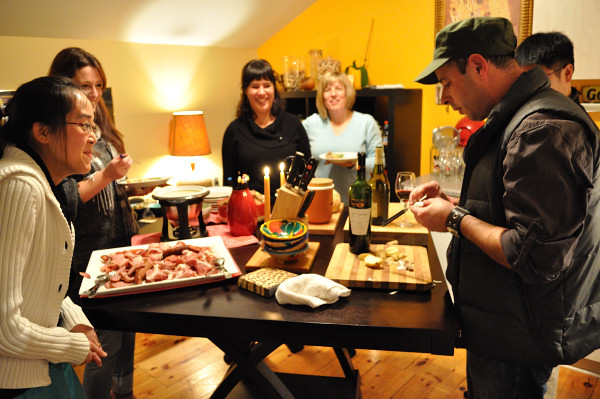 Pimp My (Cheese) Fondue Recipe
Prep time: 30 minutes
Cooking time: 20 minutes
1 12 once fondue kit
1 clove garlic, crushed or pulped on a fine grater
3/4 cups dry, white wine (divided)
8 ounces shredded beaufott cheese
4 ounces reblochon cheese, rind cut away and cut into pieces
1/4 teaspoon white pepper
1/4 teaspoon nutmeg
Method:
Pour the fondue kit package into the saucepan over medium-low heat. Add the cheese to by handfuls alternating with a 1/2 cup of wine, adding approximately 2 tablespoons of wine at a time and stir slowly until the cheese is just melted. Add white pepper and nutmeg and stir until combined. Do not allow fondue to boil.
Crush or pulp garlic directly into the cold ceramic fondue pot. Pour the remaining ¼ cup of white wine into the fondue pot and light fondue burner to warm.
Pour off enough cheese fondue into the white wine and garlic to fill the (now warmed) fondue pot and stir. Serve immediately. Keep fondue warm over a very low flame.
Open wine… dip and nibble will into the night.
Thanks to friends Paola, Natalie, Don, Jen, Rosalie and Remy for making it a memorable evening. Yea, we know how to throw a good party, it won't be our last.
What to do with left over fondue? I see a wicked fondue mac'n'cheese in my future.