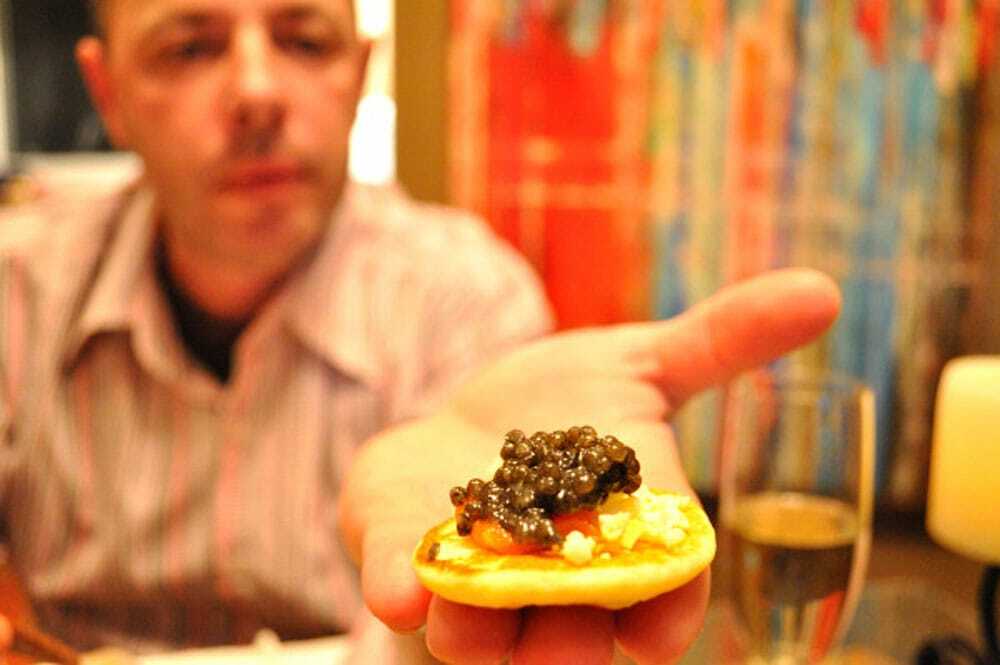 A Beginners Guide to Caviar
Consider this your personal guide to caviar with Chef Benoit Gelinotte's Do's and Dont's or, as I like to call it; The Gospel of Caviar According to Chef B.
Ever try caviar? I'm a new convert myself (where I'm from fish eggs are called bait). Luckily I have a talented Chef de Cuisine in my life to take me by the hand and guide me, and now, so do you. Often we try things without the benefit of good advice and then wonder why we're so underwhelmed. That is the experience many first timers have with caviar; there they stand with a jar of very expensive fish roe in hand saying "what's the big deal?"
It's easy to get something very wrong if you don't know how to do it right.
That was Chef B's first experience with caviar too. On vacation in Argeles Sur Mer, in the south of France as a young chef-in-training and he was staggered by the local fish market. Traveling (regrettably) by train he was determined to drag four 2-pound lobsters, a dozen French sardines, two whole fish and a jar of caviar — on ice — all the way to home to Dijon. "I was 21 years old and wanted to impress, and at the time my general rule was: expensive equals good. So I HAD to have caviar and, I was not impressed."
How did Chef B convert to the caviar aficionado he is today?
"Over the last 25 years working in restaurants [some] with Michelin Star status, you get the occasional sneak-preview of special jars leaving the kitchen; properly iced, perfectly preserved, precisely served. Then you begin to appreciate not only the taste of each, but the different colours, the unique properties and the LUXURY of the time honored tradition that is caviar."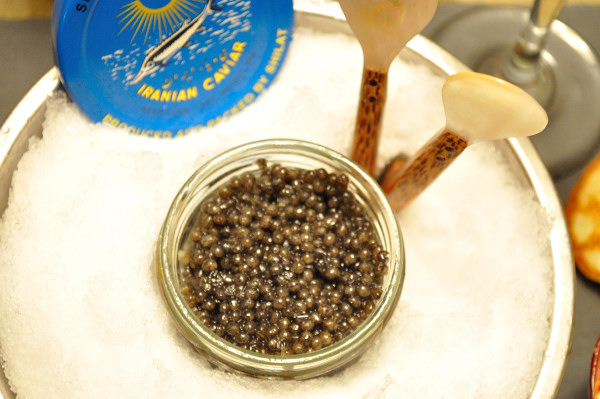 A Brief History of Caviar
There is a tradition surrounding the Caspian Sea for hundreds, if not thousands, of years that has come to represent one of our planet's most luxurious foods. Simply put, caviar is sieved and lightly salted Sturgeon roe. The primary types of caviar are Beluga, Sterlet, Ossetra (Imperial Ossetra & Karaburun Ossetra) and Sevruga.
The rarest and most expensive is the beluga sturgeon caviar, primarily imported from Russia & Iran. Not only is it rare and expensive, it's taboo: beluga is protected as a threatened species under the Endangered Species Act.
Caviar Economics
Where there's trade, there will be enterprise and caviar has welcomed several new producers over the last 25 years; France, the United States and Canada have all stepped up production of caviar. Species of sturgeon can live as long as 100 years, and cannot begin to be caviar harvested until they are ten years old; it will be interesting to see how quality develops as farming continues. Still, good quality local caviar can be enjoyed by those willing to indulge.
Depending on specific national laws (and the liberal misuse of culinary terminology), the name "caviar" may also be used to describe other fish roes such as salmon, steelhead, trout, whitefish and other species of sturgeon such as paddlefish and shortnose. Your local supermarket might also carry something they call lumpfish caviar. These are eggs from unknown providence, ink dyed and then labeled caviar.
Let's do a little caviar cost breakdown:
Imperial Ossetra (Iranian)- $340 /50g (2 oz)
Paddlefish (American) – $80 /50g (2 oz)
Shortnose (Canadian) – $95 /50g (2oz)
Lumpfish (Not known) – $8 /100g (3.5 oz)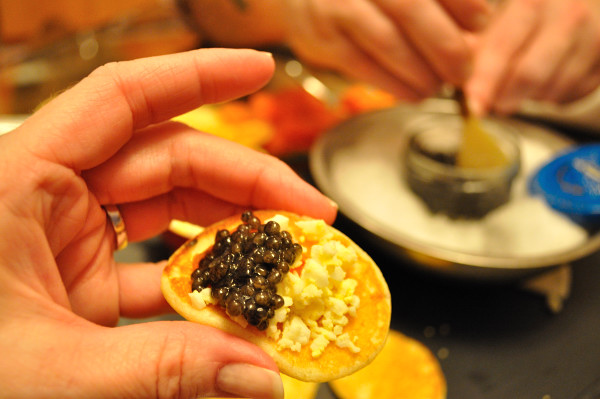 Caviar & Where to Start
"So," I ask Chef B "should the novice start with lumpfish then?"

His eyes get big and buggy "don't even waste your money on lumpfish, it will ruin you for LIFE. Instead, if you're a first time caviar buyer start with a decent local caviar in small quantities. You can get serving sizes as small as 25g (1oz) That way if you don't like it, no big deal" he shrugs.

"Of course if you DO like it, it's a slippery slope!"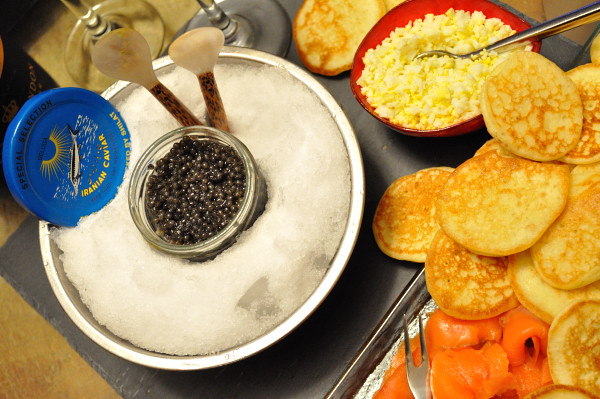 Caviar Do's & Dont's
Classic caviar service is simple and elegant. When in doubt let your keyword be luxury and your watchword be neutral.
DO keep caviar refrigerated until ready to serve. Ideally we nestle the entire jar in a bed of crushed ice, with the lid alongside. This is not only attractive, but also informative to your guests. Chilling the caviar also tones down the salt and keeps it smooth.
DO accompany caviar with fresh Blinis. Tiny, yeast risen pancakes (seen here, recipe for French Blinis on Food Gypsy), they are the perfect foil to caviar; light and delicate "Like tiny little Louis Vuitton caviar pillows" says Chef B. "In a pinch, toast points will do" he makes a face "and boiled fingerling potatoes. Think neutral taste, you don't want to overwhelm the key ingredient."
DO use traditional condiments such as chopped hard boiled egg yolks, egg whites, chives, crème fraiche, sour cream, capers, shallots and smoked sturgeon or salmon. In the case of salmon, Chef recommends smoked Pacific salmon, as when smoked, Pacific holds its moisture and fat content better than Atlantic.
DO serve with the appropriate beverage; ice cold vodka or aquavit (served at 1*C) or perfectly chilled champagne.
"To me, pearls go with pearls so I prefer champagne. Many prefer vodka because when it's chilled it is tasteless and odorless. It's a personal taste thing." "What about aquavit?" "OH MY GOD that is DISGUSTING. I can't stand it, it's just not my thing, but to each their own." This choice is also largely cultural, you find aquavit served with caviar in Scandinavian countries, vodka in the eastern block and champagne in the west, far & middle east. What the heck, experiment.
DON'T (EVER) serve caviar with metal utensils. "EVER!!! Underline that three times" says Chef B and I know he means it.
"Why, what does the metal do to caviar?" (I ask the stupid questions so you don't have to) "Silver oxidizes and makes a huge mess, stainless steel creates an alkaline reaction and makes that $300 jar of caviar taste tinny. The reason you see Mother of Pearl spoons featured with caviar is because they're PH neutral, ceramic is also acceptable as is wood or bamboo." "What about plastic?" (The look I got, you'd think I just taken away Marc Veyrat's Michelin Star myself.) "Well, plastic is neutral" he says patiently "but when I think luxury I don't think plastic."
DON'T cook with it. This is more of a plea than an order. "Please respect the ingredient, it is delicate and perfect just as it is please don't cover it with sauce or sautee it in olive oil," he pauses to shudder "it's best in its purest form." I must interject "I've seen it in omelettes. Thoughts on that?" "I know you're thinking 'well if it goes with boiled egg' but the thing is, when you use egg with caviar you use it as a condiment, when you reverse that you loose the essence of the caviar, it's oil."
DO try it. Just once, at a party on a fancy cruise ship, give it a whirl. Just one bite, live it up.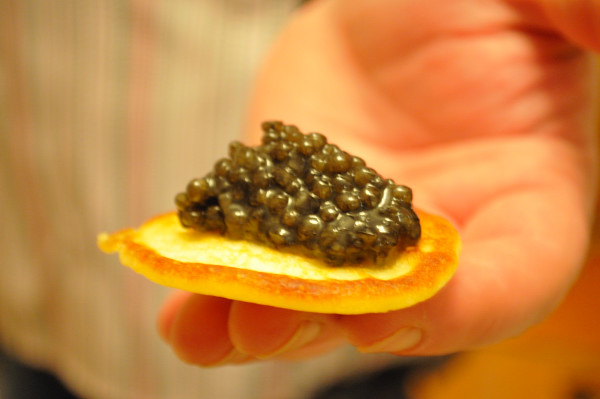 Final Thoughts Novice vs. Expert
The novice would be me, this was my second caviar. My first introduction to caviar, under the watchful tutelage of the chef in my life was a local, Quebec farmed caviar (which we stumbled upon at the Chelsea Smokehouse) . I found it salty and slightly smokey, the texture was smooth and very appealing and I realized instantly how addictive this could be.
The feast you see here was our New Year's celebration, a bottle of Moët & Chandon champagne and a very special jar of Iranian Sevruga Caviar. By comparison, this caviar was in a whole different stratosphere, it was richer, creamier, slightly nutty and more complex in flavour notes. Its fragrance is iodine and ocean breeze and its richness reminds me of butter.
"Caviar, the butter of the sea." ~ Gypsy
This is not how we roll every night, and even if we could I don't think we would, it would take away the opulence of it, the feeling of decadence and indulgence.
Since his first caviar (which he ate with a metal spoon) some 20 odd years ago, Chef B has consumed some of the finest caviar in the world, to great excess. Among his favorite stories is the tale from his time with Le Cordon Bleu as a guest chef abroad Regent Seven Seas Cruises. He was in the kitchen when an untouched 200g (7oz) jar of Iranian Imperial Ossetra caviar was about to be thrown in the trash, and he let out a cry of disbelief (read: pain). "Do you want it?" they asked and Benoit (being Benoit) said "do I want it?! Of course I want it!"
Later that night, he ordered a bottle of Dom Perignon and freshly showered, he sat in his Regent Cruise line bathrobe on the balcony of his suite, alone, with his bottle of champagne and gigantic jar of caviar and watched a school of flying fish skip the waves of the Caribbean.
Two hundred grams of caviar in one sitting, that's FOUR TIMES the size of the jar you see here and he consumed it all by himself. My Chef B is not a big guy, he's about 5'6″ and weighs in at around 160 but when it comes to caviar…
"Towards the end [of that 200 gram jar] I was washing down each mouthful with champagne," he laughs at himself " it truly was a sin of gluttony. That was the night I learned there really is such a thing as TOO MUCH caviar.

It was FANTASTIC." ~ Chef B
So, there really can be too much of a good thing. Good to know.
Resources & links:
International: Caviar Express (FYI: attached is very informative blog)
Canadian: The Caviar Centre