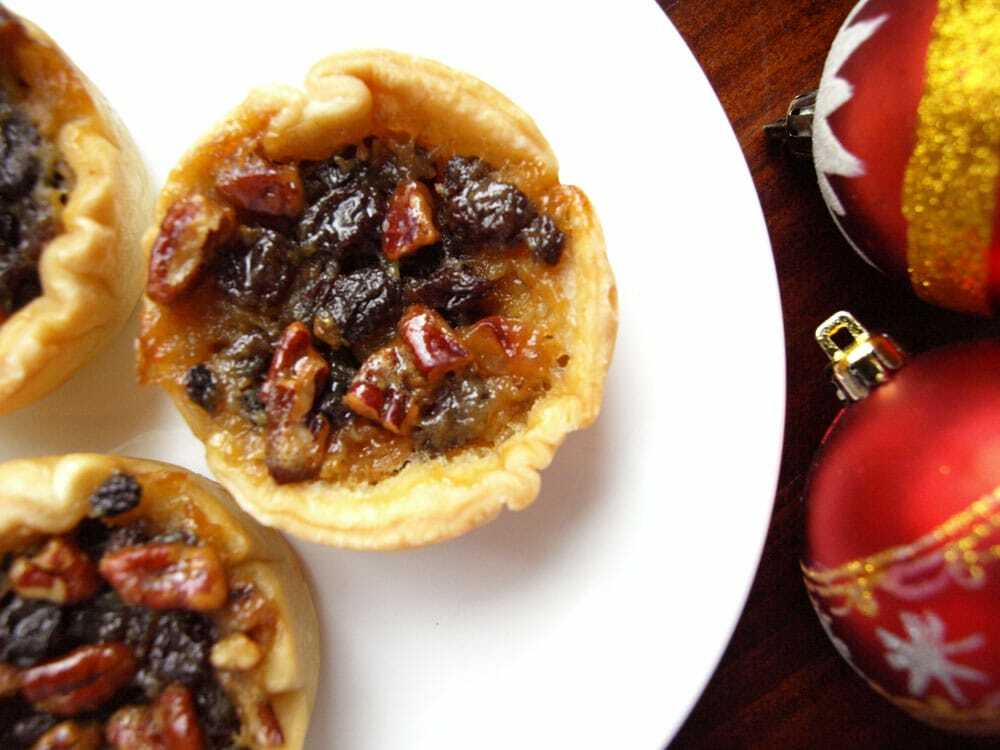 Mom's Famous Butter Tarts
Nothing says Christmas quite like a taste of home. This year I finally weaseled Mom's Famous Butter Tart Recipe out of her. "Well," she says "the first thing you need is a good overproof rum." WOAH… no wonder they're so good!

Anyone who's worked with me over the years will remember the gigantic care package that would arrive from my Mother in December. Delivered to various glass office buildings, packed with baked goods and sappy cards, Mom's Butter Tarts have indeed become famous. Trust me, I've asked for this recipe before, but perhaps I've never been so pitiful, or groveled as well. Or maybe I've just worn her down.
Dearest Mumzy –
Wondering if you might consider releasing your Butter Tart recipe, I'd like to share it with the world… if you're good with that.
Signed, your loving daughter (and only child) who misses you soooooo much,
C.
Dear C –
Butter Tarts you say… hmmm those are somewhat protected and proprietary… but seeing as you are, my sole heir I shall alleviate my guilt at not being there to make them for you, by sending you the recipe so you can make them yourself.

Start by choosing a good overproof rum.

Soak the raisins in just enough rum to cover for at least a day. Usually I do 3 or 4 days ahead adding rum if needed to cover. And be sure to reserve the rum after you've drained the raisins, I sprinkle about a teaspoon over each tart, fresh from the oven, to keep them moist.

I generally at least the double recipe. After all, how far would 20 tarts get anyway?? This recipe is single version, makes about 20 tarts.

Merry Christmas Daughter.
Love,
Mum
No one ever mentioned rum in the butter tarts on Christmases gone by. This does however explain the general feeling of euphoria one gets after their fifth or sixth (boozy) butter tart. Mom swears the rum in her kitchen is 'just for baking'.
We can't say the same in our kitchen. Here we drink the rum, and because we do we have some pretty good rum on hand. While I'm a big fan of rums like Old Sam, Old Havana and Appleton Estates Reserve, I bake almost exclusively with Sailor Jerry's. Sailor Jerry's has a light, spiced flavour that leans vanilla, it's smooth and mellow, and at 49% it's well balanced for baking (or blending with cola should one be so included).
This recipe calls for raisins, Mom often mixes a third of a cup sultanas, thompsons or golden or half raisins half currants, then soaking the dried fruit for three to four days, or at the very least; overnight. Here I've used sultanas, golden raisins and currants plus a quarter cup of pecans.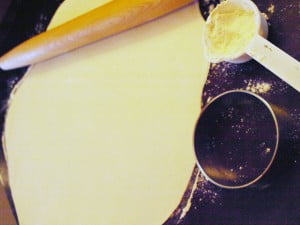 If you're having an A Type personality moment and have the time, you can roll it old school and make the pie dough from scratch. If you do, we suggest a lard or shortening crust, unsweetened. A butter crust would be too flaky and soft to hold the walls of the tart with such a heavy, gooey filling. Here's a link to Chef B's Pate Brisse tutorial (there's a reason he's my technical advisor) simply substitute butter for lard or shortening and omit the sugar, as I did above.
If you're like most of us – pressed for time and just want pretty tarts with no fuss – pick up some frozen unsweetened tart shells and simple fill and bake. One of the benefits of pre-made shells is that they travel well (this is how they would arrive, shipped over many miles every Christmas). So if you're taking Mom's Famous Butter Tarts out partying, they'll arrive intact.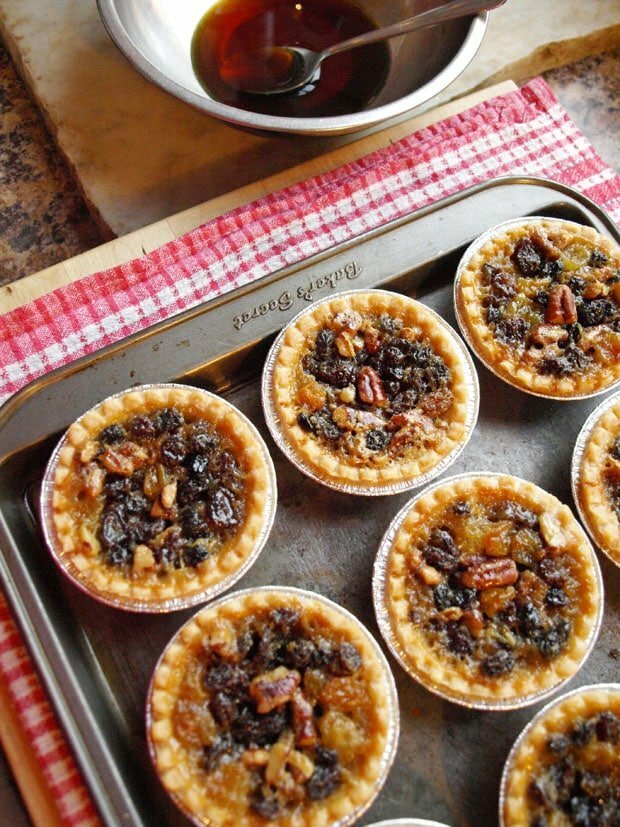 All these years her secret ingredient was… rum. No wonder I jones for these every December. This also explains why Mom's kitchen is such a HAPPY place.
Thanks Mom! Love you.
Mom's Famous Butter Tarts
Prep Time: 15 minutes
Baking time: 25 minutes
Yield: 20 tarts
1 cup raisins (and/or currants)
1 cup good quality rum
1 cup brown sugar
2 extra large eggs – well beaten
1/4 cup butter – melted
1/3 cup dark corn syrup
1 teaspoon vanilla
1/4 cup pecan pieces, chopped (optional)
Method:
Do ahead: Soak raisins in rum in a tightly sealed jar, at room temperature a minimum of 12 hours, or as long as four days. Drain raisins, reserve rum.
Preheat oven to 350°F (175°C).
1) In a large bowl beat the eggs, add sugar, melted butter and mix well. Add corn syrup and vanilla, combine until smooth and creamy. Drain the raisins, saving the extra rum that did not get absorbed. Add raisins (and pecans) to egg mixture, combining well.
2) Fill unsweetened, unbaked tart shells two thirds full and bake 350°F (175°C) for 20-25 minutes. or pastry is golden brown.
3) Remove baked butter tarts from the oven, then pour 1 teaspoon (ish) of rum (reserved from previous raisin soaking) over the hot tart filling. Allow to cool, and consume. Then sing, merrily.
Gypsy Note: We made a batch and a half for this shoot, because like Mom said, how far do twenty tarts go anyway…