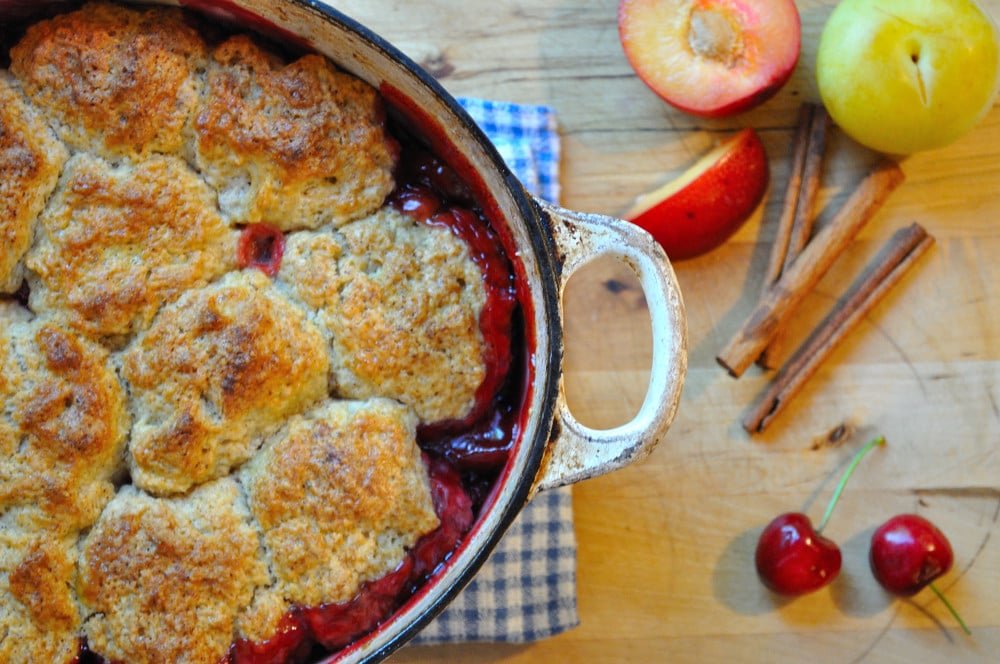 Sweet Summer Fruit Cobbler
We only have three months of summer, and yet natures gives so generously in that short time. As fruit ripens across the country, it's time for a taste of summer, ripe and delicious, and oh so easy to make – Sweet Summer Fruit Cobbler.
Seems I just can't get enough fruit these days. I have an almost unstoppable appetite for it, so much so that it has been suggested that I am purchasing far too much of the stuff. How can that be? I mean it's healthy, can you really have too much of a good thing? Probably, but when it's this good, this ripe, and this fresh; I'm included to ignore my critics.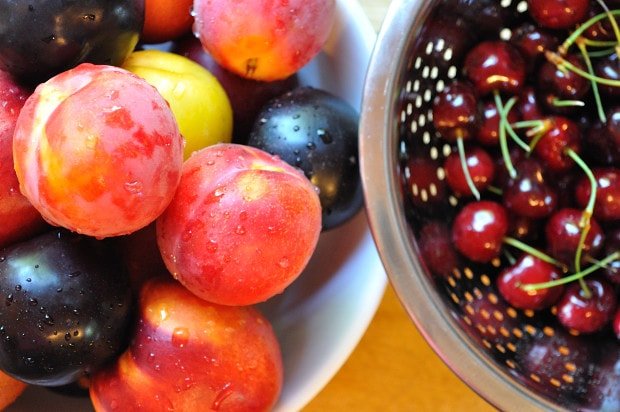 Some people confuse a fruit crisp with a cobbler but they are not the same thing. A crisp has an crumble topping, made with butter, brown sugar, flour and oatmeal (here's a link to our Rhubarb Ginger Crisp Recipe: https://foodgypsy.ca/all-recipes/rhubarb-ginger-crisp/) A fruit cobbler is topped with a biscuit topping, that rises and fills the dish, creating a 'cobbled' appearance. Both are simpler versions of pie, without the finicky crust.
You can use whatever fruit you like for this cobbler, go with single fruit, like peaches, or mix it up for a harmony of flavour. I took a cruise through my local market and came back with about six pounds of fruit; nectarines, plumcots, three different kinds of plums and some beautiful cherries, dark and ripe. At the last minute, before topping the fruit with the biscuit dough, I tossed in some red currents that were lounging at the back of the fridge which lent a sharp twang to the syrupy juices.
Perhaps the best cobbler I've ever made, the balance of fruit to topping was perfect. The fragrance and taste of lemon and spice in the dough well with the simple fruit taste, making this a very popular pot of cobbler (Using an oval baking dish, I had dough leftover which I baked solo into a spiced scone. If you're using a rectangular dish you should have just enough to do the job.)
Gypsy Tip: If you've never pitted raw fruit (like nectarines and plums) before there's an easy way to do it. Simply take a pairing knife and run it along the natural seam of the fruit – deep enough to follow the pit – all the way around. Then gently grasp both sides of the fruit and twist. Both halves should separate, with the pit on one side. Then cut the pitted side in half again, and peel one section off and cut the pit away from the last quarter. The trick here is to apply just the right amount of pressure so as not to mangle the fruit. Cut fruit into beautiful sections and enjoy the natural aesthetic of nature's bounty.
Ain't it pretty?!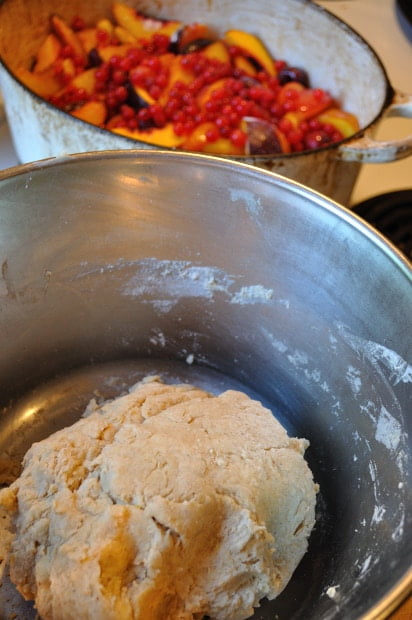 Sweet Summer Fruit Cobbler
Prep time: 20 minutes
Cooking time: 1 hour & 10 minutes
Yield: 8 servings
3 – 4 pounds of fruit, washed pitted and cut
non-stick spray, as needed
1/2 cup sugar
1/2 cup brown sugar
2 1/2 tablespoons corn starch
2 cups flour
5 tablespoons brown sugar
3 teaspoons baking powder
1/2 teaspoon baking soda
1/2 teaspoon salt
1/2 teaspoon cinnamon
1/4 teaspoon nutmeg
zest of one lemon (Mayer preferred)
3/4 cup butter, cold
2/3 cup plain yogurt
2 tablespoons heavy cream (35%) or whipping cream
1 egg yoke
sugar & spice to top
Method:
1. Pre-heat oven to 350°F (175°C). Spray a 9-quart baking dish well with non-stick spray (we used our Le Creuset oval Dutch oven it was the perfect size and deep enough to handle a little 'extra' fruit). Add washed, pitted and cut fruit to dish along with sugar and cornstarch and toss to coat. Place in 350°F oven for 40 minutes or until fruit begins to bubble and juice.
2. While fruit cooks, make your biscuit topping. In a large bowl combine dry ingredients (flour, sugars, baking powder, baking soda, salt, cinnamon & nutmeg) along with lemon zest and whisk to combine. Grate cold butter into flour mixture and then rub with finger tips to combine to a pea meal consistency. Add yogurt and mix lightly with a spatula then finally add heavy cream, mix with spatula until a dough begins to form, then kneed by hand to combine (a minute or so) being careful not to over work the dough. When your timer goes off, remove fruit mixture from oven and increase oven temperature to 400°F (205°C).
3. Pinch off dough into rough pieces about and inch-and-a- half in diameter and place them on the bubbling, hot fruit allowing about a half-inch all the way around for the biscuits to expand. Whisk egg yoke with a fork and a dash of water then brush the tops of the biscuit dough with egg wash. Sprinkle generously with sugar and lightly dust with nutmeg or cinnamon. Place back in oven (now heated to 400°F), and bake for an additional 25 – 30 minutes until biscuits are cooked and fluffy, their tops golden brown and fruit juices are bubbling through.
Cool slightly and serve with ice cream, whipped cream, plain yogurt, lemon creme fresh or a dollop of Devonshire cream. In short, serve with fresh, creamy dairy products and dig in. Best served warm. Leftovers substitute well for breakfast. Whaaaaaat? It's fruit, it's healthy.