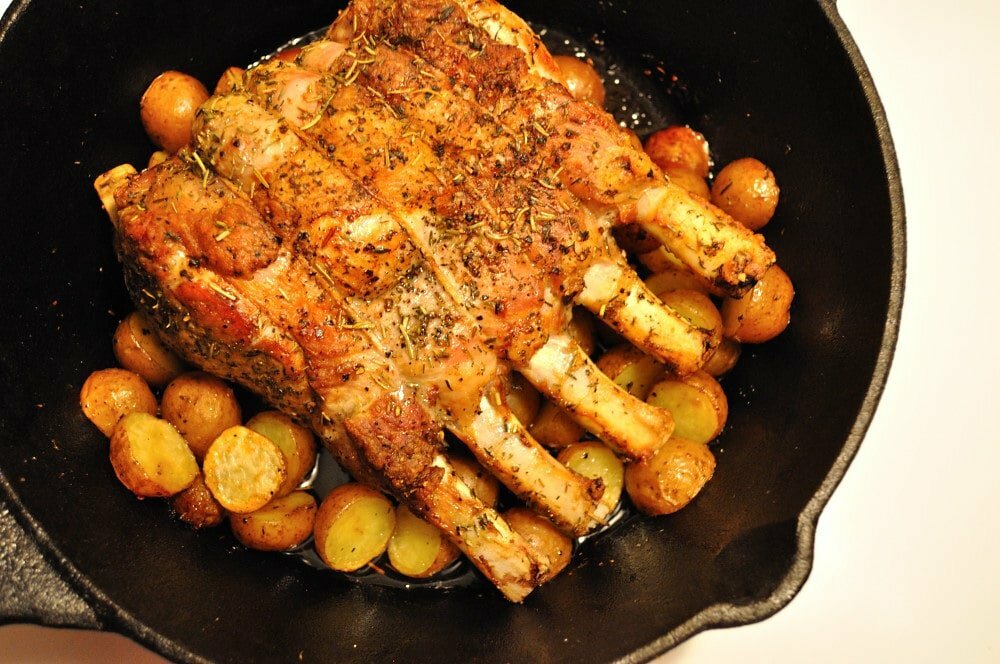 Caring for Cast Iron, Now You're Cookin'!
Cold weather cooking just screams cast iron, with it's superior heat retention and iron friendly health benefits, cast iron is a solid kitchen investment. Caring for cast iron is the key to cooking with it, the perfectly seasoned pan will brown meals to perfection and never stick. Here's a few tips to keep your cast iron, old or new, in tip-top shape.
Grandma really knew what she was doing, with a series of cast iron and carbon steel pots and pans that moved easily from the top of the stove to the oven. They were heavy, deep in colour and usually found warm, living on the back of the wood burning stove. When put into use they worked flawlessly, never sticking, giving everything she cooked in a deep, golden colour. What was her secret? Perfect seasoning and proper care.
If you're new to cast iron, follow the cardinal rules of care:

1) Season your cast iron before use (and re-season if it's been out of use for a while)
2) Never use soap to clean your cast iron
3) Dry well and store dry
These rules apply to griddles, pots, pans and waffle irons, or any cooking surface or vessel made of cast iron (or carbon steel). First, and foremost we need to season our cast iron. Seasoning is a process of treating the metal with a polymerized fat or oil to coat the surface. In layman's terms; we melt fat (cooking oil, lard or shortening), low and slow, all over the metal. This forms a light, fatty film which prevents not just sticking but rust. Rust is the prime enemy of cast iron cookware. Treated well it will last a lifetime, mistreated it will disintegrate, rust and pit and you will never know it's simple pleasures. Caring for cast iron starts with proper seasoning, let's start there.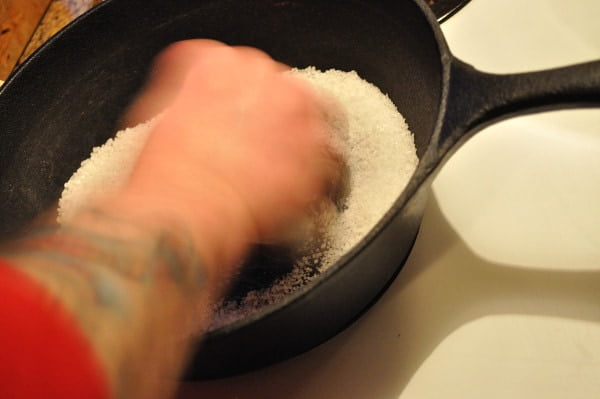 Seasoning Your Cast Iron:
– Rinse your new (or reclaimed) cast iron with boiling water inside and out. Then dry well, inside and out.
– Scrub the entire surface of the pan with coarse salt to remove all dirt, rust and impurities, then wipe well with clean, dry cloth. This is especially important if you're adopting secondhand cast iron, or re-seasoning an old pan.
– Coat cast iron with vegetable shortening, lard or high grade vegetable oil (I.e: corn, safflower or canola), inside and out.
– Place well greased pan in a 300º F (150º C) oven for two hours. To prevent dripping and smoking, place on a cookie sheet.
– Remove hot cast iron from oven, wipe away any excess oil and store in a warm, dry place.
Seasoning your pan will take time. Best rule of thumb, for the first few months use your cast iron for only fatty foods and meats. Personally, I think bacon, and pork in general, is the best seasoning for cast iron. Cook low and let that pork fat soak right in. To get that true, no stick surface, nothing works better than frequent use and proper cleaning.
Cleaning Cast Iron:
– Wash hot cast iron with hot water immediately after use and dry well. After drying, place in a 300ºF oven for 15 – 20 minutes. If surface looks dry and pale, coat with a small amount of oil and return to oven for about 30 minutes then turn oven off and allow pan to remain in the oven until cool.
In our house soap doesn't come anywhere near the cast iron. Ever. 'But what about bacteria?" I can hear you saying. Have no fear, nothing is going to survive a three hundred degree oven. If you find hot water isn't doing the trick use a paste of coarse salt and liquid vegetable oil along with a paper towel (or rag you aren't attached to), and scrub the surface to remove any foreign material until it's smooth.
Salt and oil are cast iron's best buddies while steel wool, soap and kitchen cleansers of any kind will scratch and strip your cast iron. Avoid them at all costs.
Cast Iron Maintenance and Cooking Tips:
– Cook over medium to low heat to keep your cast iron in good shape
– Prevent scratches & gouges by using plastic or wooden cooking utensils
– Be sure to remove acidic foods from cast iron immediately after cooking, then wash shortly thereafter to prevent damage to the seasoning
– Never store food in cast iron, this will breakdown the seasoning
– Never submerge cast iron in water, this leads to rust
– Don't put cold water into a hot cast iron (or hot cast iron into cold water); it can cause cracking or warping
– Never clean your cast iron in the dishwasher
– Store in a dry, warm place to avoid airborne kitchen grease and lint
Cast Iron Storage Tip: We store our primary cast iron pan in the oven, on the top shelf. It even remains in the oven when in use (provided we have room for it). This way, even if it's not used all the time it stays dry, as well as lint and grease free. Being exposed to slow heating up and gradual cooling on a regular basis, it is constantly seasoning. On occasion we rub it down with a light film of oil to keep it well maintained. A little something we call a 'loving rub'. (Every hardworking pan needs a little love.)
Once you start cooking with cast iron you'll wonder what you ever did without it. We use the house favourite, a nine inch, deep cast iron frying pan, for every thing from wild mushroom potato hash to county cakes. For me, cast iron cooking is cuisine purity and simplicity.
Release your inner pioneer and get cookin' with cast iron.