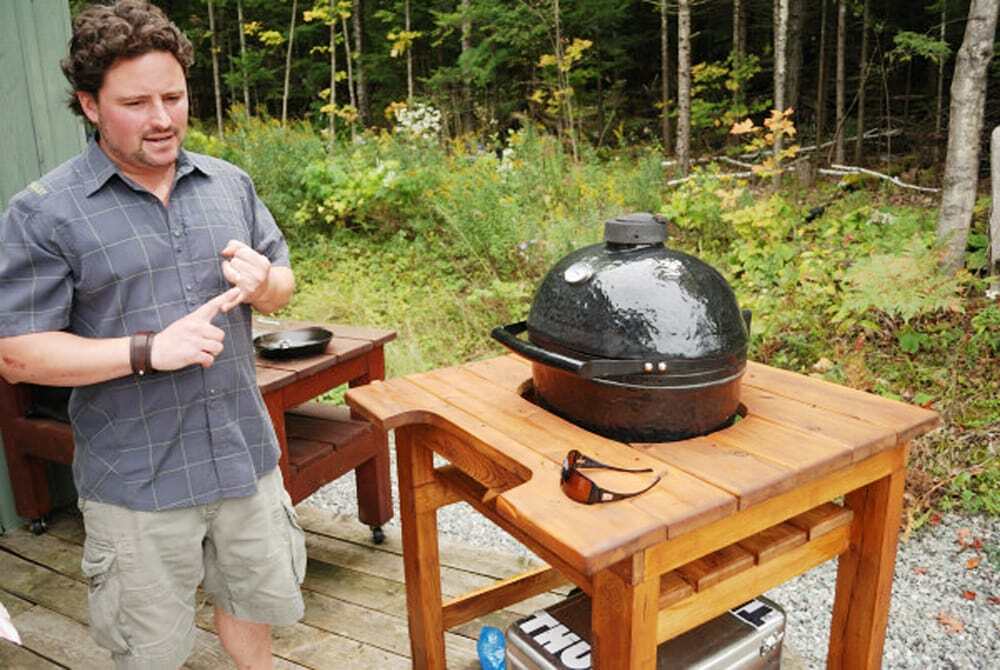 A Grateful Griller Christmas
Once upon a time, a nice boy from Quebec went shopping for a barbecue (went way over budget) and came home with a the Kamado Cooker. That was ten years and 20+ grills ago, now Michael Shannon (aka: The Grateful Griller/ GG ) drags heavy, dome shaped grills to your house so you don't have to.
But if he has anything to say about it… you will!
By his own admission, Micheal is obsessed with kamado cooking. He is on a one man mission to "educate and inspire people everywhere about this great product called kamado." His passion is contagious, his focus is singular. He has a take no prisoners approach to cooking, living, playing and the pursuit of his dream. Which might be why we get along so well. He's my kind of crazy.
"I just clicked over the big 4-0" he confides "I'd like to thank my sponsors, Oil of Olay because leaning over the grill for ten years, my face looks like a torn moccasin!" Ummm… I don't think so. His cheeck is smooth, his gaze is intense, he is a 5'7″ bundle of French Canadian ambition, with a mind that goes mach 20, Micheal Shannon is a grilling machine.
His casual obsession turned 'pro' in 2002 with sidewalk demonstrations. Soon he was on the deck of a local pub near his home in Wakefeild, Quebec spending every Thursday night for two summers cooking for fifty people in one hour on his Big Green Egg. Success was a lesson in logistics. How to juggle food and service on a small (2 x 2) cooking surface and still have fun?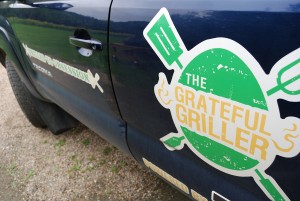 In 2008 Micheal Shannon, griller with a kamado obsession, became the Grateful Griller (GG) as he expanded to catering and backyard barbecues. Now he's a rolling food, fire and rock & roll show, looping in live music for a full, festival experience that is 'The Grateful Griller Party Experience'.
"Life is not a dress rehearsal" he says with great sincerity "tomorrow might not happen so rock & roll today! I bring with me that stadium rock energy to all of my events. I go all out, it's my time and I'm the performer. If it's the last thing I do I want to do it well.

I am not a chef, in fact I am the anti-chef. Not that I don't like chefs, I'm just not one. I'm punk-ass in my approach. I learned everything I know in the loving, nurturing environment of family and that's how I roll, cooking like a pro without the pretension."
Micheal's passion spills into the promotion of his business and, by extension, himself. His blog www.gratefulgriller.com has a tone that some might infer is a pathology; in fact, some have. "It's a beautiful thing. I'm perusing a dream and I make no apologies for that. Lady Gaga doesn't apologize. Madonna certainly didn't give a sh%t, why should I be any different? I'm building a brand, an identity. Make friends with the people who like you, that's how you stay focused."
He's a simple guy who loves to grill vegetables and fungus. "The simplicity of smoke and fire" is his mantra and his greatest gift is a natural curiosity that has lead to a lifetime of learning. He continues to hone his personal skills, to research, grow and expand.
"One of these days, I'm gonna' get signed!" It's his dream to be a spokesperson for the industry and everyday he hammers away at it. "I like to say that there isn't anything you can't throw at the kamodo. You can bake a cake or seer a steak."
Thus he is my go-to guy on the topic of all things kamado, an effective one-stop resource for this Food Gypsy (and a great friend and supporter). At the moment, GG has a collection of ten Kamoto cookers. His extensive research has lead to not just cooking on, but owning practically every reputable brand that exists today in the uber-nitche category that is Kamato.
So what would this uber griller suggest for the grilling obsessed this Christmas?
"Well, for the naughty griller, there's coal – or rather charcoal." His referred brand: Basque Charcoal ($24.00), a clean burning lump charcoal that starts fast and lasts long.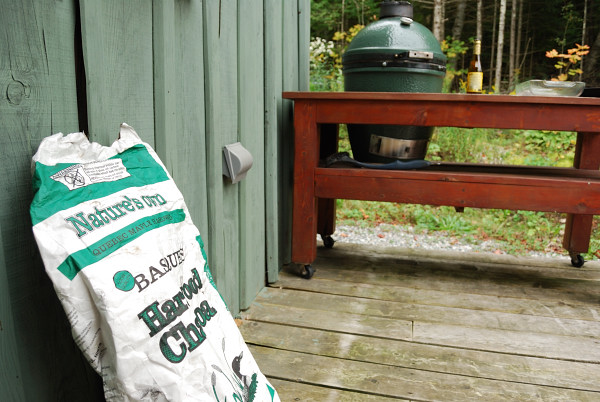 For the griller in need of inspiration, his favourite cookbook; Seven Fires by Francis Mallmann ($43.95). Argentina's Mallmann is one of South America's biggest culinary stars and this is a beautiful book, thoughtfully written, beautifully shot. "It never fails to inspire…" says Micheal as he hands it to me in his kitchen. (I now want to grill with hay…)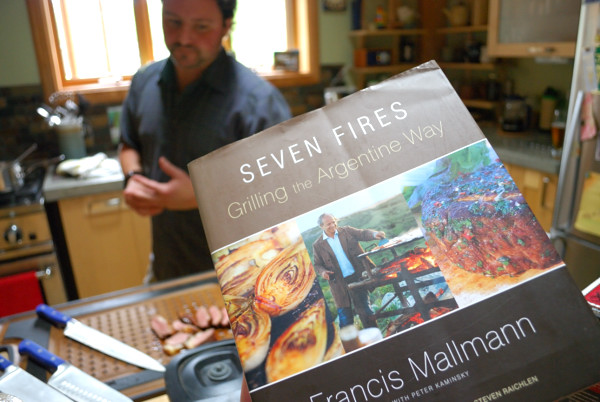 "For the slow starter, the Looftlighter ($89.95*). It looks like a big curling iron but it's not." This electric charcoal lighter will light you up in 45 seconds or your money back. It's heat is concentrated through the nozzle, you can clamp your hand around it and not get burnt. "Safe around kids and pets and guaranteed to light your fire!" ~ GG
And then of course there's the Kamado itself. "An excellent investment and let me tell you why…" (you knew he would) "this was my first Egg," he says pointing to the Big Green Egg ($500 – $1,500, this medium Egg; $900) on the back deck that GG calls the Grilled To Obsession (GTO) Lab "it's been outside, uncovered, in the woods in Quebec for TEN YEARS." It bears not a single mark, not a blemish, not a bump.
My grill has been outside for three winters, cleaned, oiled and swaddled and it is pitted with rust.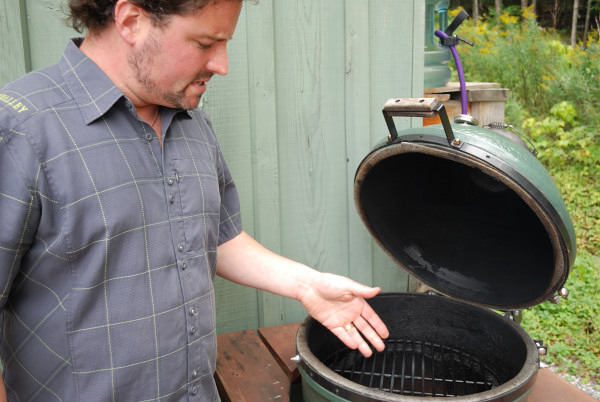 The units he hauls around from party to party all summer are XL Primo Grills ($1,500), the oval shape gives you great space and they have serious fire power. And, like all kamados, they will burn all day (that's 24 hours) on ONE bag of charcoal.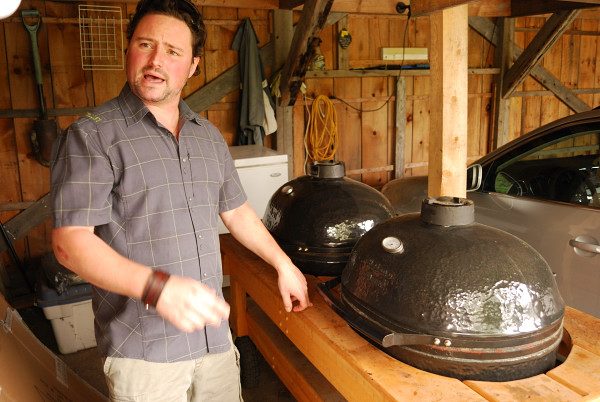 Then there is THE quintessential cooker, hand made in Bali, each cooker is one of a kind; the coveted Komodo Kamato ($3650-$3900 USD + shipping. They ship anywhere in the world). It's delivery required a tractor, a winch and a pulley system get it to its permanent home on the GTO Lab which first had to be reinforced to withstand the 600lb load. It's graceful curves are covered in multi-hued green ceramic tile and finished with details of brushed steel, it truly is a work of art.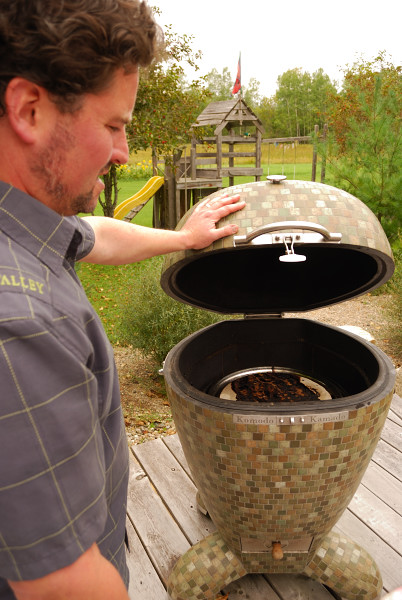 The Komodo is the only one of the cookers that Micheal admits an emotional connection to and the only one with a name "I'm not one of these people who gives names to everything, but the Komodo, for me was an emotional flood the first time I saw it. I call it 'Oceania Verde' (Spanish = green ocean) because it reminds me of the colour of the Pacific, in my favourite little comer of Mexico."
A Japanese cooker with a Spanish name, inspired by Mexico owned by a French-Canadian – now that's a cross-cultural journey worth taking.
"The kamado cooker, because of it's construction, expands and contracts as it heats and cools. It is a living, breathing entity, having one is like acquiring a new member of the family" says Micheal as his hands rest in grateful repose on the cool green tiles of the chosen child.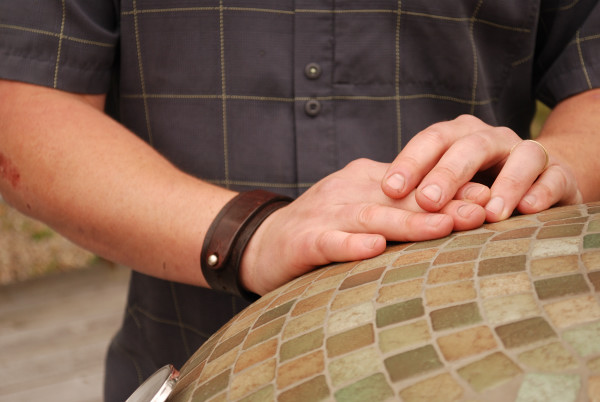 When I get mine I may have to send out birth announcements. "Delivered at 8:17AM weighting 192 pounds (leaning Primo) we welcome Sparky to the family… please send steak…"
Hell of a way to cook a turkey, wouldn't you say?! Now, if you're reading this Honey, don't get any ideas. We are not expecting a kamado. (I could adopt though.)
… and they all lived happily ever after. (Happy shopping.)