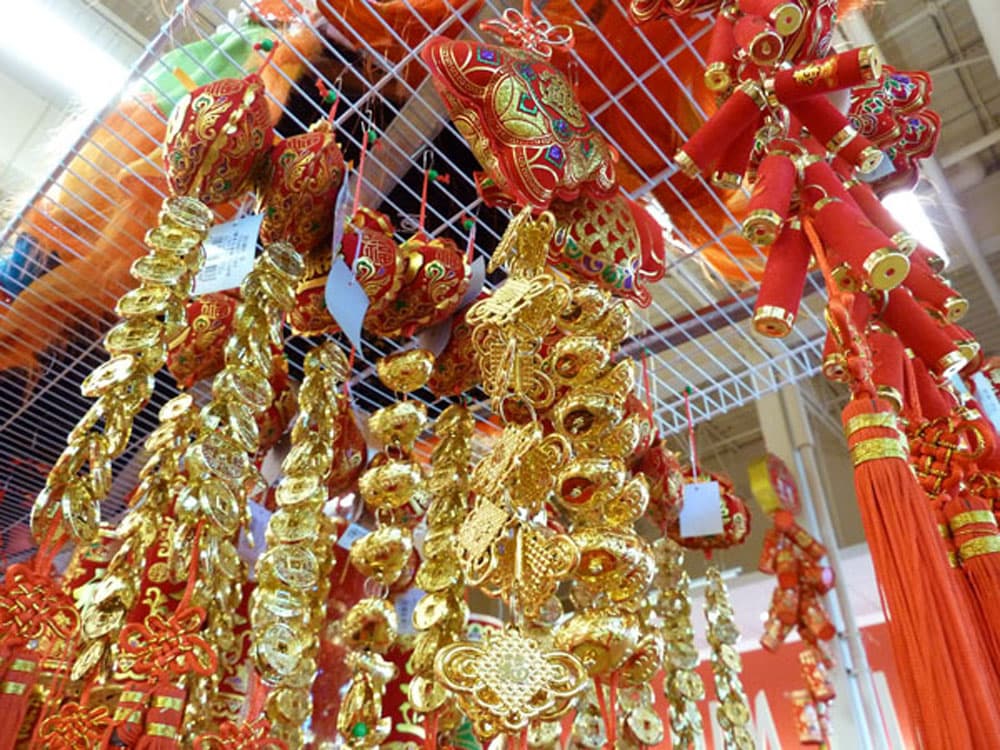 T&T Supermarket – "OH WOW!"
With Chinese New Year just around the corner, it was time for a family outing to the local T&T Supermarket for authentic Asian ingredients and an infusion of new ideas for the Gypsy Kitchen.
Decked out in it's new year finery, with colorful lanterns hanging overhead, T & T Supermarket was a special treat for the (almost) three year old in our life who's first words as we walked through the doors were "OH WOW!"

Bright good luck charms, gigantic lion heads and the lucky colour red, filled the space with life and excitement.
The global Asian community celebrates the beginning of the Lunar New Year on January 23, 2012 welcoming the Year of The Black Water Dragon. In the Chinese zodiac the Dragon is the ultimate auspicious symbol signifying success and happiness. Dragon holds good luck, magic and power and this Dragon has a hankering for Dim Sum.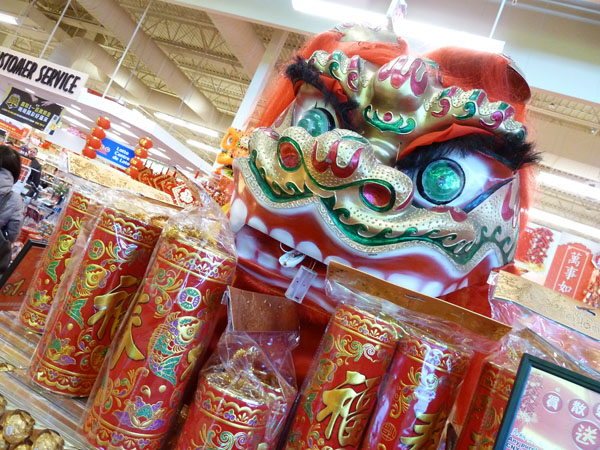 Born (under the auspicious Dragon) many moons ago in Vancouver, I grew up enjoying the benefits of North America's second largest Chinese community; it's festivals and traditions. I vividly recall the many trips spent wandering in and out of the tiny store fronts of Vancouver's Chinatown, with stores so full of merchandise it hung from from the ceiling.
There were shiny fabrics, colourful charms and most of all, food I'd never seen before, I'm sure my first words were "OH WOW".
Since then my travels have taken me to Thailand and Japan, but my taste buds have taken me further; Singapore, Korea, Vietnam, Cambodia. We're so lucky to live in a world where we can enjoy the interesting flavour combinations that other cultures bring to cuisine.
Nothing I love more than a day of Asian shopping, it's a great way to break out of a food rut and expand the senses. It's like travel without the expense, all you need is willingness and a sense of adventure.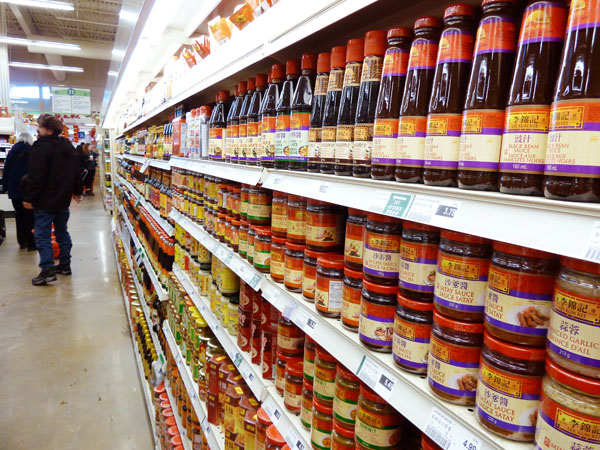 I'm no stranger to T&T Supermarket, having shopped them in Vancouver, Calgary, Toronto and now Ottawa. They have 20 stores across Canada (including Edmonton, for my Alberta readers) to serve a diverse Canadian-Asian community.
Serving a food culture that values freshness above all things, T & T can be an adventure for those used to North American supermarket shopping, because for all it's big modern size and convenience – T & T is built on the tradition of old world markets.
The fish section, in particular, is always a thrill; tanks of live fish, crab, lobster, clams, mussels, and even eels swimming until they're someone's lunch. There's often a crowd of kids gathered as fish and crustaceans are bagged and bought.
The staff appear to take particular delight in showing off the gigantic lobsters and if you're lucky you'll get a live lobster show. It was the first time our Peanut had seen live fish, or a lobster out of it's tank, amid more cries of "OH WOW!" (Winner: cheapest aquarium experience, ever.)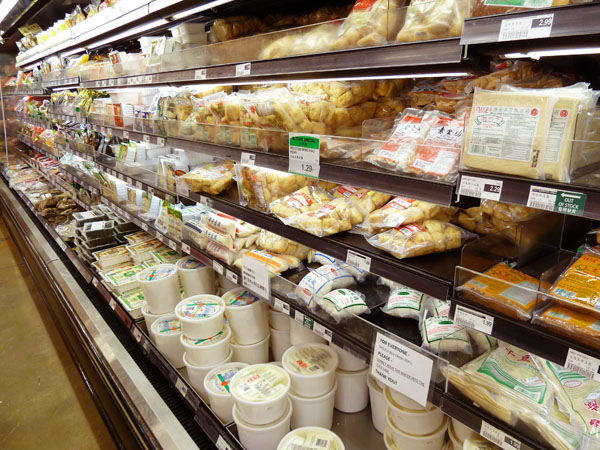 For lovers of tofu, T&T has an entire isle dedicated to tofu in all it's forms; firm, silky even smokey. A tremendous resource for vegetarians and vegans and an interesting texture to experiment with. I often add silky tofu to fruit smoothies for instant liquid protein, it has little flavour but a beautiful texture, like a good Greek yogurt.
The produce section is always an interesting experience, filled with many of the things you'll find in your local store at this time of year; citrus, apples, pears, potatoes, greens. Along with items you probably don't see; taro root (top right), purple yams (middle left), choy sum (middle right), Indian bitter melon (bottom left) as well as a wide selection of fresh herbs and chilies.
The long greens, such as choy sum are one of the lucky foods for Chinese new year, eaten to give one's parents long life. Long noodles are also lucky for living a long life, while oranges bring wealth and good luck. For even BIGGER prosperity, there is the pomelo said to bring "continuous prosperity and status".
But really, what could be luckier than bacon!?
One of my favorite items is in T&T meat section; the antibiotic free raw pork belly. Bacon in it's purest form, no smoke, no maple just pure streaky pork. (OH WOW!) You'll find it right beside the goat, which makes a terrific curry and not far from the blue skinned Silkey chickens. Prized for their black flesh in Cambodian, Japanese, Korean and Vietnamese cuisine as well as it's healing properties in Chinese medicine, silkies are rarely seen outside Asian markets.
Up front, along side a selection of eat-in and take out Dim Sum, main course items, sushi and baked goods; is a huge heated case of roasted meats including Peking Duck. Crispy on the outside & juicy on the inside its a treat at any time of the year and always served at weddings because duck is a fertility food in Chinese lore.
This week as I get ready for that new moon (cleaning house and feng-ing my shui) I'm trying my hand at a bit of home spun dim sum; a couple of different kinds of dumplings and a beautiful chunk of pork belly braised in black bean sauce. There'll be sticky rice for lunch, almond cookies for snacks, there's a polmelo in the fridge and an entire bag of baby bock choy. It's like heaven.
Welcoming 2012, we say goodbye to the year of the Rabbit, a year of caution and holding back and walk head up into the year of the Black Water Dragon – a time of magic, big, bold moves and power.
OH WOW.
T&T Supermarket, Ottawa
224 Hunt Club Rd Ottawa, ON
(613) 731-8113