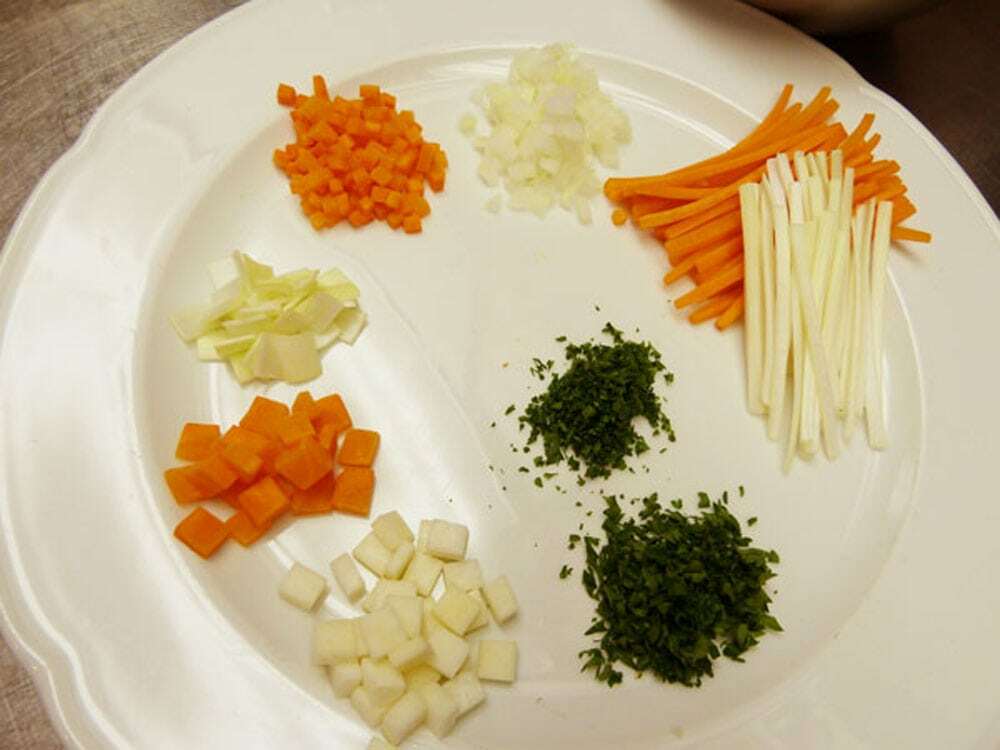 Le Cordon Bleu, Day 3 – "Listen, it sings…"
Day Three – Le Cordon Bleu, Ottawa – BASIC CUISINE. First day in the kitchen and our first day with new knives. Shiny, sharp knives in the hands of twelve novices making precision cuts. Millimetre by millimeter.
Blood is part of the work. Our instructor, Chef Benoit Gelinotte has first aid skills and when it's beyond him, off you go to the walk-in clinic. Thank God for Canadian health care. One classmate lost some skin today. Ouch.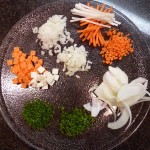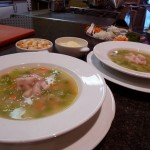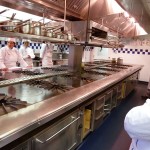 The pairing knife is wickedly sharp but it is nothing in comparison to the nine inch blade. Now THAT'S a knife! My Julienne needs work. Not consistent. Paysanne… too big, too small, too thick pick one. "It will get better" says Chef Benoit.
Tension. Pressure. The constant thought of… "Why the hell am I doing this?!" This afternoon I came home, had a huge cry and took then myself off to the supermarket with every intention of practicing my knife skills. But I was so weary of precision without results.
Today I cooked nothing. I cut for two hours. Carrots. Turnip. Leeks. Onion. Parsley. Julienne, Mire Poix, Ciseler, Brunoise, Emincer, Paysanne, Comcasser, Hacher and at the end had a bunch of raw vegetables. It was like sex without the finish line. Clearly, I was on my own for that.
So I came home with all the ingredients to what we didn't get to cook; Potage Cultivateur (cut vegetable soup) and started cooking.
Rather than be exact I got comfortable with that big steel, nice easy cuts. I let the knife LIVE in my hand. Then I gently sweated carrots and leeks and turnips in butter… and… I listened to the butter.
"In cuisine we do not 'cook on a stove' we 'play a piano'. Food is music," says Chef Benoit "listen to the butter, it will sing to you."
Tonight I heard the butter as it bubbled. It sang a melody about a people, living though war in the country side, a song about making enough to go around out of what little they had and making it – beautiful.
This was an austerity soup, root vegetables in a simple broth made with butter and stock, when they had it. Salt pork is a poor man's meat. Simple. Finished with greyer and croutons, a heel of bread and a bit of cheese.
It was a lovely little song. Comforting.
That lesson fed my neighbours and me. My simple soup was not as refined as Chef's but, the notes were just sweet. Threw in extra butter and pink rock salt, because hey, I gotta' be me! (Chef Benoit would approve.) A simple soup with a sence of grace, survival and community. It was – poetry.
I heard the butter, so long as keeps singing, I'm gonna' be just fine.