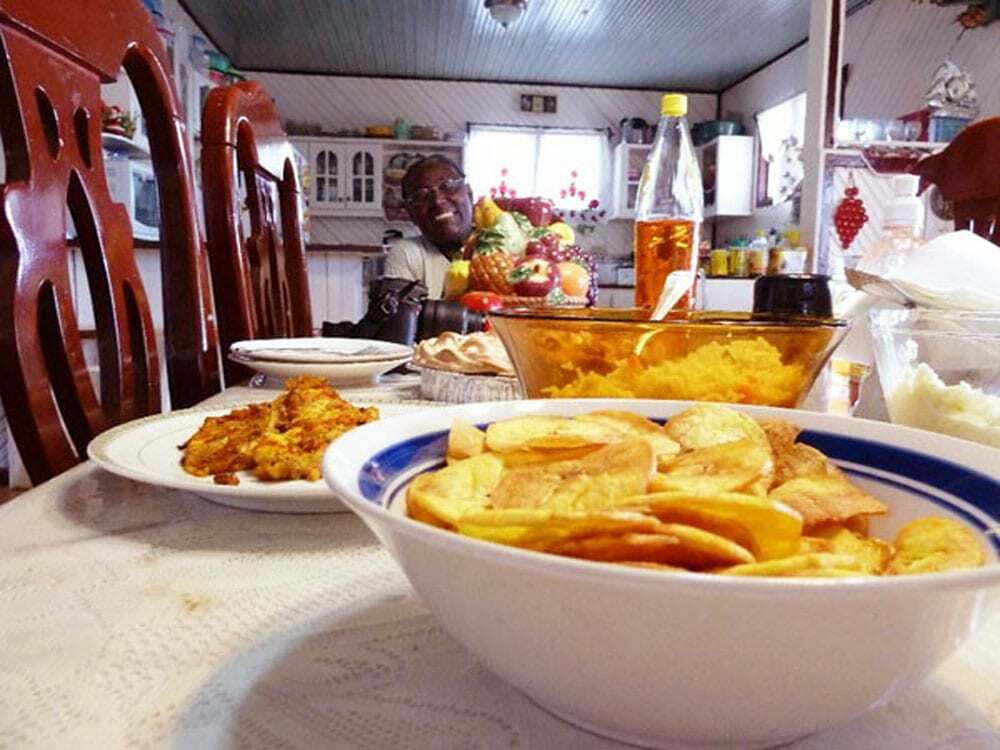 Roatan, Honduras – Island Cooking
Deep in the Caribbean in the Bay Islands off Honduras is a living gem – Roatan, Honduras. An island paradise. To the north is the island of Utila, backpacker haven, amazing coral, and if we turn east we find Guanaja with it's man made channels, they call it the "Little Venice" of the Caribbean.
Roatan is Jacques Cousteau country, a living paradise. There are few sites that compare to the rare beauty of the Bay Islands both above and beneath the water.
On my "Life from Scratch" tour Honduras was 'revelation'. After 'rest' in Mexico,' recreation' in Belize, 'resolution' in Cuba; Honduras was both a slap and an embrace. I arrived with a traveling companion, but in a sudden turn of events I quickly voted him off my island making Roatan officially – mine.
Just as I let go of one thing I found myself letting go of a great deal more… 15 pounds more… in about three weeks. Honduran spa? No, intestinal parasite. I often joke that I'm "only one intestinal parasite away from my goal weight"'. While thrilled with the results, not exactly a recommended weight loss program (trust me on that).
The Food Gypsy website launched as I locked myself in a small apartment, a sandy 500 meter walk from West Bay Beach, above a tiny strip mall that housed a deli and a coffee shop. These kind folks fed me (and cared about me) until I was well enough to return to adventure. And return I did, with enthusiasm. After all, I had to make up for lost time, in paradise.
In the last two weeks of a six week stay I crammed in as much diving, snorkeling, scooter adventure, beach time and FOOD as I could.
For a real taste of Honduran Cuisine, I took myself on an Adventure in Island Cooking.
The combined effect of turquoise water and sunny skies made it the perfect day in paradise, 28 degrees, palm trees swaying in the breeze; a day for Roatan adventure. My captain, Billy Conner, is a strapping island man; with a boat. It seemed like every time I saw Billy he was wet from mid thigh down, after anchoring his boat and wading to the beach. Like all Bay Islanders, he is polite to the extreme and was constantly apologizing for soaking wet clothing.
Don't worry… it's an island my friend, you're gonna' get wet.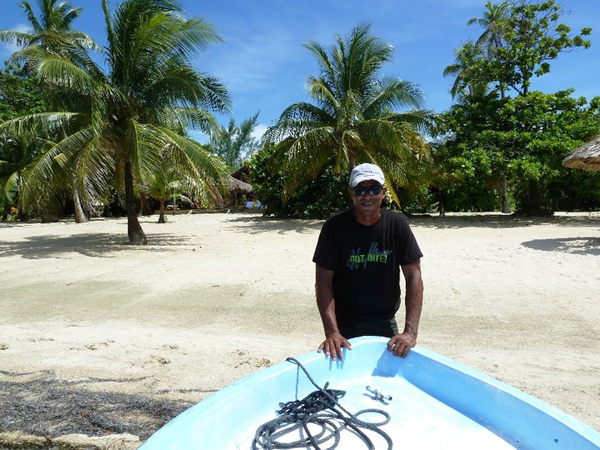 There are a cast of characters that work the beaches of Roatan; West Bay Beach and West End Village, snorkeling tours, fishing excursions. Groups large and small. Billy makes his living talking to tourists, selling his chartering business face to face. He's a big, kind hearted man with an easy smile, a gentle laugh… and a big family. It's a living, when business is good.
Billy's clients rave about his trips, the snorkeling is good. He knows where's he's going. He will sing to you, tell you stories, he's charming and funny. But lunch is amazing.
"You HAVE to go!" says Mark from Oregon, USA "that was one of the best meals I've had here!"
Why is lunch so special? Because it's cooked, at home, by Billy's Mom…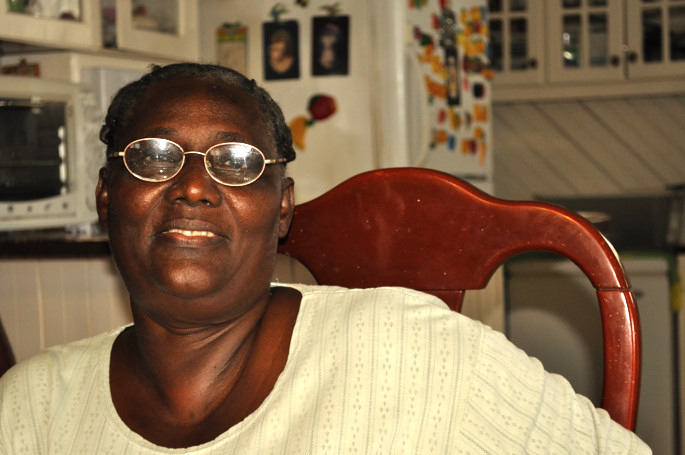 Mrs. Dolse Conner is an island cook of wide reputation. The cook for 25 years on the Palmetto Bay Plantation, she now cooks for Billy's clients and has the daily task of cooking for an extended family that exceeds twenty. Four generations under one roof. The laundry hanging to dry under the stilted house is a testament to how busy this woman is in her daily life.
"My Mom is a great woman," says Billy as we glide across the water on the way to Mom's after spectacular wreck snorkel on the shallow reef that rims Roatan "well, I think so but, she my Mom."
As we walk along the shaded path that leads from the dock to the village we're greeted by a mother hen with several chicks, free-ranging, a friendly dog or two and a group of chatty kids, running along with us, hamming for photos and leaning out of windows. We pass a group of men playing dominoes and Billy calls out to the neighbourhood children to introduce me. I felt a little like a celebrity.
Mrs. Conner is a devout Christian woman and before entering her home in Crawfish Rock Village (celebrity or not), one slips something more presentable over one's bathing suit and then one apologizes — for being wet. (It's an island thing.)
The salty smell of the ocean in my hair was overpowered by the sweet smell of bread, butter, thyme and curry. The dining table was filled with food. Black beans. Rice. Coleslaw. Fresh island snapper fried in butter with Mrs. Conner's "special seasoning" and plantain chips ("platanos fritos"), sliced so thin they're translucent.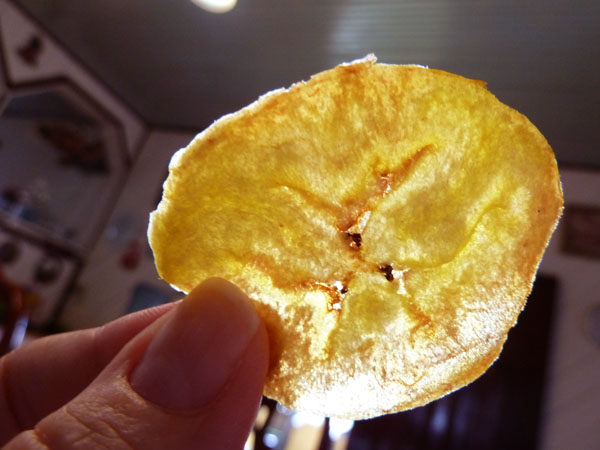 The food in Honduras is not so different from what we're familiar with in North America, on the mainland and scatted throughout the islands, you find many of the big chain fast food outlets you're familiar with – KFC, T.G.I Friday's – but in the islands food represents a particular challenge as almost everything is shipped in, making food an expensive commodity. No more expensive for a tourist (prices are reasonably comparable to other resort locations) but for an Islander making a very modest living, it is an entirely different scenario.
Island food is simple, every meal is accompanied by beans and rice served separately or together (one way to feed a family on pennies a day). Seafood is a truly essential part of the diet; if you can catch it, it's free. Living on Roatan, on the protected marine park however, presents it's own challenges. Those that fish must do so outside the limits of the park. Endless varieties of fish, shrimp, lobster and of course the versatile Conch are fished in these clear, blue waters.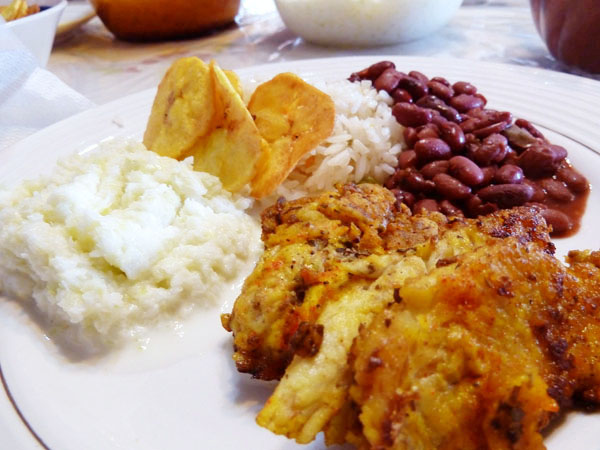 Today's snapper was caught in the early hours of the morning, before we set off for adventure, Billy was up fishing for his family. On this day Mrs Conner's kitchen fed 24 people, including me and several neighbourhood children come to Mrs. Conner's door for meals. The beans, mixed with onion and garlic, cooked to a thick stew; were tender and packed with favor. Her coleslaw was perfectly balanced and cold on a hot afternoon. The snapper was tender and flaky, cooked in butter and spice.
It was a magnificent meal, made even better by the key lime pie, made from scratch with fresh island limes and a sweet, delicate meringue in a flaky pastry, still slightly warm. Pure satisfaction. The children in the backroom, waiting their turn, peeked around the door's edge, eyeing the pie that remained on the table. I love pie. There is something so completely comforting about it that says: "you are welcome here."
After lunch we sat, chatting about food and cooking , me working my magic to worm her secrets out of her. Dolse Conner is a woman of great pride and few words, but she was more than happy to welcome me into her kitchen. (I respect a cook with five pressure cookers.) Each day she bakes enough bread to feed the many shining faces that come to her home. Dinner will be a pork stew (marinading in spices in the fridge) with black beans and rice.
"What's that gooey concoction in the corner?" I asked with one eyebrow up.

"That be my Guava Cake" said Mrs Conner with a smile and a nod.
Made with ground guava, flour, sugar, eggs and spices, it's more of a 'pudding' than a 'cake' reminds me of "Pone" or Sweet Potato Pudding that I loved so much in Belize, truly a Caribbean specialty. She immediately cuts me a piece. I just ate a HUGE slice of Key Lime Pie, how can I possibly turn down Guava Cake – right? That would be impolite.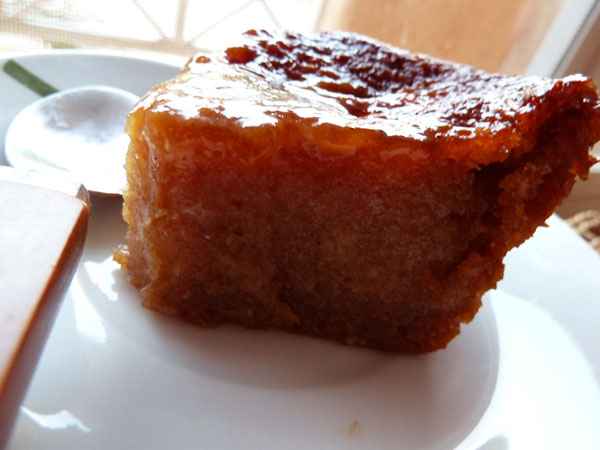 When pressed will she reveal her 'secret recipe' for the fish? I have been known to have a reasonably accurate pallet, often being able to replicate a dish after tasting it once… so I take a stab at the ingredients…"Thyme, curry (or cumin), salt, basil?" Mrs. Conner laughs. "No. No curry… no thyme… no basil…" Seriously, not one? Wow bad day for the taste buds. Did that horrid little parasite ruin my palette?
She leaves the room to jot down her recipe, while Billy and I chat. Her feathery writing on a scrap of paper reveals her secrets the first line reads: "half a cup of butter" (I love this woman) and then I smile knowing that my taste buds are just fine; her key ingredient is a seasoning combination very popular in the Caribbean called 'All Seasoning'.
And what's in 'All Seasoning'? I've already sleuthed the local spices so I know: thyme, cumin, salt, basil and MSG. Ha. Nailed it.
A day in the kitchen, is worth two on the beach. A slice of life on an island paradise that became home for a time, and a rare privilege to be a part of Mrs. Conner's extended family. And how was the Guava Cake? Sweet and sticky, served ice cold for breakfast along with a steaming cup of hot Honduran coffee.
Island living, is sweet.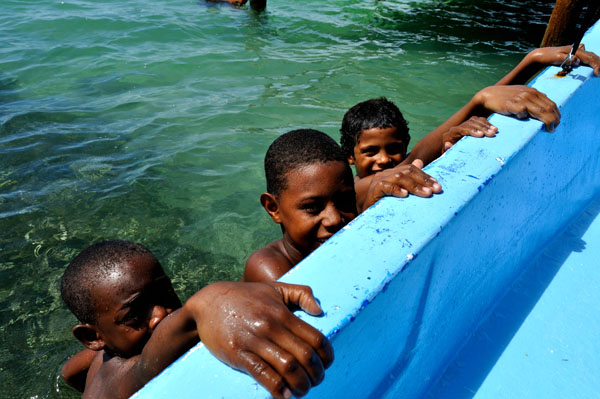 GYPSY TRAVEL NOTE: Wondering how you might enjoy Mrs. Conner's fine home cooking on your next trip to Roatan? Sorry, no website that I know of and no current phone number to pass along (IF the phones are working). My best suggestion is to take yourself to West Bay Beach, have a cocktail at the Thirsty Turtle (Bananarama Diving Resort) and ask the bartender where you might find Billy Conner. Billy does not work for Bananarama, but if you're lucky, he might be singing a song or two that night with the band, he'll probably be wet from the knees down, but he'll apologize for that. Tell him I sent you and give my best to Mrs Conner! (Updated: 2020)