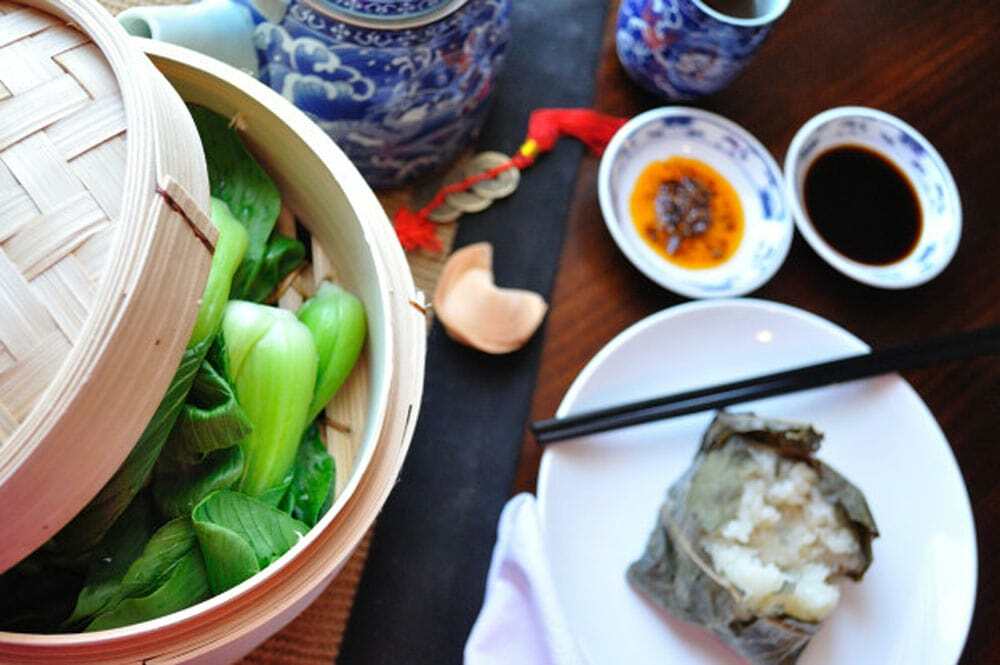 Feeding the Dragon – A Lucky Lunch
Among the things I find interesting about the culture of cuisine is the underlying symbolism behind food and no where is that more relevant than in Asia. Some call it superstition and cast it aside but I have long enjoyed the interpretation it brings to the kitchen, the table and the daily practice of feeding ones self; body, mind and spirit.
In a time when fast food reigns supreme, when so many are disconnected from environment and each other; why not take a moment to reflect on the energy long associated with food from a culture rich in history and ritual, at the start of a new year. After all, this is a people who have a God of the Kitchen.
The Story of The Chinese Kitchen God

Each year Zao Jun, the Kitchen God is assigned by the Emperor of Heaven to watch over each family and report on their activities. On the New Year, the Kitchen God returns to heaven to file his report.

In the annual thank you dinner to the Kitchen God, sticky rice is served because if his mouth is full of sticky rice, Zao Jun can't tell tales.
Born under the Chinese astrological sign of the Dragon, I have a big appetite for life and living large. Can't wait to spread my wings in 2012, the Year of the Dragon. As the lunar new year energy kicked into high gear this week, I've been plagued by unusual food cravings (thus my recent journey to T&T Supermarket). So I took a few moments and look up the Chinese symbolism behind each and see what is this Dragon is really has an appetite for.
I simply can't get enough rice at the moment. I'm not a big bread girl, I tend to opt for unleavened breads, but at the moment I am throwing over wheat all together and opting for rice, in particular, sticky rice.
In Chinese tradition, rice symbolizes fertility, wealth, luck and the link between Gods & Men. This is among the reasons you see a bowl of rice on alters honoring various gods & deities across many cultures. Rice, being such a large part of the Asian diet, represents life. A home without it is poor indeed.
At this time of the year, in Chinese households you'll find Nian Gao (Sticky Rice Cake) symbolizing the increasing prosperity of each year. I'm craving Lo Mai Gai, glutinous rice with combined with pork and Chinese sausage, mushroom and water chestnuts; wrapped in a lotus leaf and steamed. Often associated with Dim Sum, this sticky rice is all about family togetherness (and it wouldn't hurt to shut up the Kitchen God).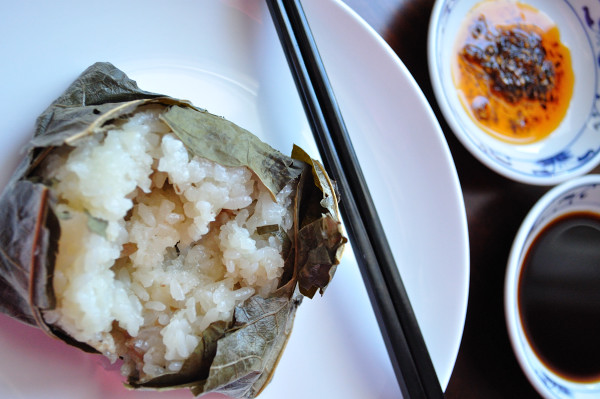 Oranges and pomelo keep coming home in big bags from the market. As it turns out, oranges represent wealth, good fortune and gold (we Dragons do love our treasure) and pomelo for abundance, prosperity, having children, good health and family unity.
Lately I just can't resist spouts; all sprouts and baby vegetables, just have to have them. Sprouts, in particular bean spouts, represent your 'heart's content' and symbolize a fresh start to the year. Theses delicate Singapore Bok Choy Spouts perfectly fit the bill, bright and fresh I just could not resist them, as it turns out this is more than just lunch.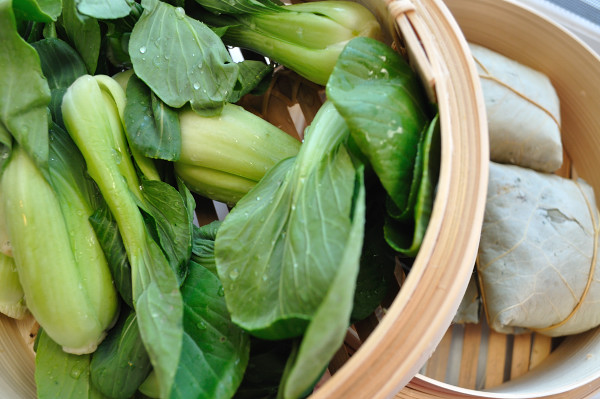 Life Speaks Through Food
Over the holidays, I got engaged to the Chef in my life. Along with him comes a 'bonus daughter' who is almost three and (of course) our two dogs (mine and his) — we are a rag-tag bunch of hooligans — but we are family. Joyfully abundant, sticky, but fresh and still juicy thanks to a generous amount of healthy stream.
After a long absence, steam is making a big come back in the Gypsy Kitchen, sure this will appease the Kitchen God (and keep him from seeing me sneaking those almond cookies between meals). Besides, it feels very Dragon to me.
Happy Chinese New Year to you, may love and life be filled with joy and a measure of magic. What does your food say to you?
Be sure to feed the Kitchen God.
Resources: Lo Mai Gai (sticky rice) & Singapore Bok Choy Sprouts found at T&T Supermarket
224 Hunt Club Rd Ottawa, ON
(613) 731-8113