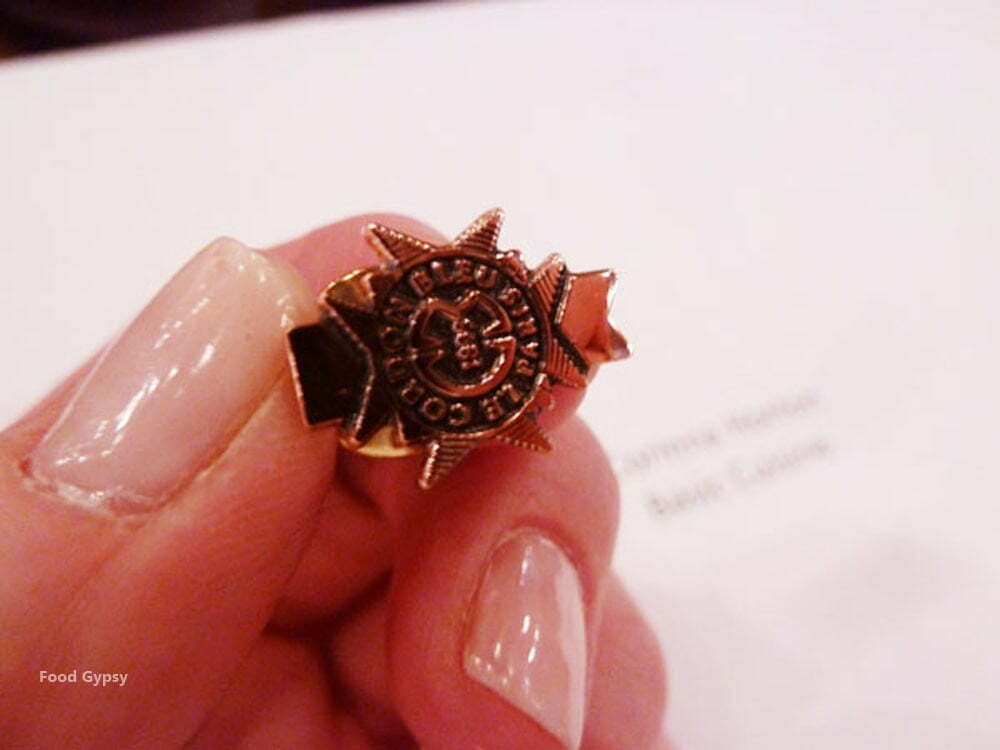 Le Cordon Bleu, Graduation Round 1
On December 17, 2010 we gathered in Ottawa's National Arts Centre as one, student body. We were fewer than when we began three months ago – wiser for the experience and slightly thicker around the middle.
As valedictorian Ashely Ndamvo put it (in one of the most eloquently delivered speeches I have heard in a very long time):

"…pre Cordon Bleu weight and post Cordon Bleu weight…"
On this day we shared a common goal; to walk across that stage and collect those tokens that mark this rite of passage. To say: "I am ready for what lies ahead."
For those receiving their final parchment, graduating from Superior, this marks the beginning of a new voyage. Stepping outside the Halls of Butter they will find their own way as Cordon Bleu Alumni. I wish you a safe, joyful journey and encourage you to stay in touch… share that path with us.
For those who remain, entering Intermediate and Superior both Cuisine and Pastry – there remains much to learn.
Graduation Day was not without sadness for me. I am so very grateful for those that gathered, the cheer that made me blink back happy tears from new friends, new confidants, new "family", new peers. But I could not help but feel a sense of loss for those faces I would have liked to have shared in that moment.
It is a sadness I let pass. That I have this moment to share is a sign of growth and movement in my life and soul. On so many occasions I could have walked away, I could have been broken and lost but instead I am so very found.
Found in community and a sense of belonging so deep that it moves me – greatly.
On those days when I have no will to believe in myself, I have you.
(… and butter.)
In this moment of cosmic in-breath, this long night of darkness as we move towards winter solstice – this time of reprieve as we move from one year into another – it is cause to reflect on a journey well-lived in one of the most powerfully uplifting years of my life.
The year I let everything go and let what was new… find me.
My "Life from Scratch Tour" an adventure of 20, 000 miles (and counting). In Mexico I was found by – Rest. In Belize, Recreation. In New York there was – Reunion. In Cuba I met – Resolution. In Honduras I was hit hard by – Revelation. Returning to western Canada my heart sored in – Reconnection.
But Ottawa, has been the most magical of them all, it is in this place that I found… REINVENTION. Or rather, it found me.
I like this new life… I made it from scratch. (I used lots of butter… and salt.)
This was as far as I planned… Basic Cuisine at Le Cordon Bleu's Ottawa campus. Complete. This next thing is all new.
The new term at Le Cordon Bleu Ottawa begins January 7th, 2011 and I will be joining my classmates as an Intermediate Cuisine student. Doors swing open, there is so much MORE to share, to enjoy and to tell. We will see where that takes us. I do not know the way from here.
Before we knew the earth was round explorers would use maps of the 'known world' and on the edges there was a notation: "Here there be Dragons." I have entered the land of Dragons.
So be still my Gypsy feet, beat well my Gypsy heart, unleash my Gypsy soul. I may steal your horse and your heart… you might get one back but not the other.
Let loose the Dragons… I am… home.