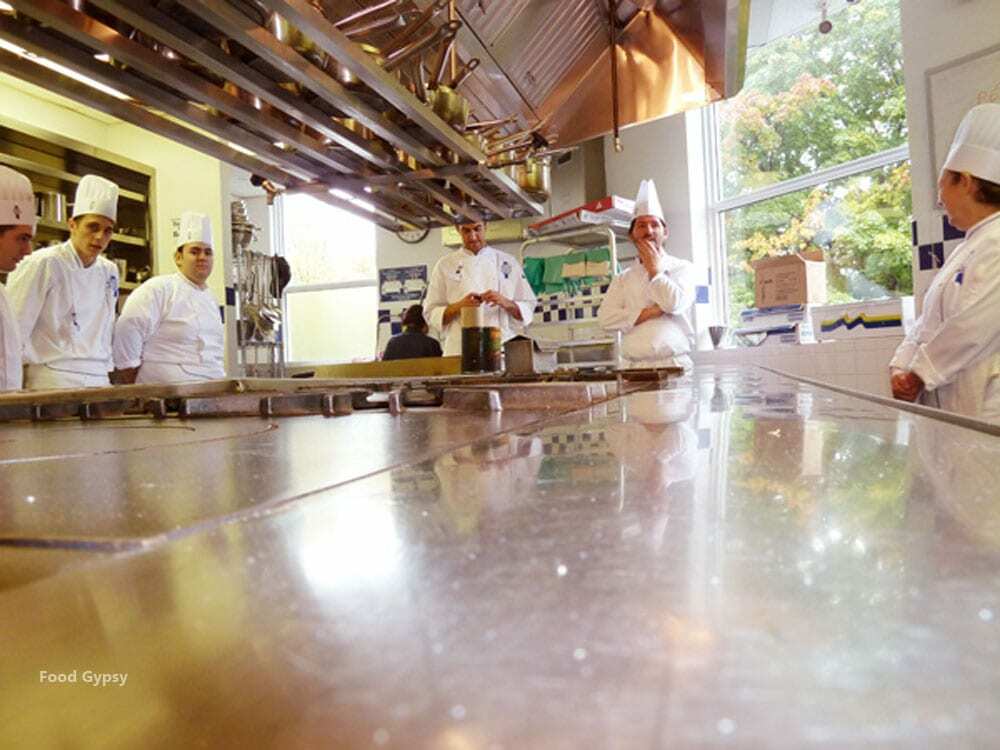 Le Cordon Bleu, Week II – The Warm, Buttery Halls
Week Two at Le Cordon Blue (Basic Cuisine) is decidedly different from the first. The first required nightly emotional bolstering and large quantities of wine. I found myself completely lacking in all those food stuffs that I 'stuff' with when under pressure… chocolate, ice cream, wasabi peas, ripple chips and big tubs of dip.
A problem easily solved with a journey to the grocery store, wheelie-granny-cart in tow. Now cupboards bulge with unhealthy choices, shelved for "real" stress because I took all the pressure off.
After hearing the music of butter (https://foodgypsy.ca/2010/10/07/day-3-%e2%80%93-le-cordon-bleu-listen-it-sings/) I decided to make this is much more enjoyable experience… for me. My extraordinary drive for perfection required tempering, taming and wisdom.
"No one is born a chef, we all learn and we are here to teach you." – Chef Christopher Price
Chef Christopher, who runs the school's Production Kitchen, is a large part of the reason I chose Le Cordon Bleu, Ottawa. He instantly made me feel… at home. And again, I am at home in his wisdom and comfort.
Thank you Chef. I am a student. Expecting perfection is ridiculous. So I dialled back. Instead of "this doesn't look like Chef's dish… I am crap!" I made my benchmark of success a little more attainable in those first classes… three things:
"No Tears + No Blood + No Catching on Fire = Good day in the kitchen."
Two out of three = "I'll be OK."

One out of three = "I'll be OK once I stop bleeding/crying."

None out of three = "Consider alternatives, once released from hospital."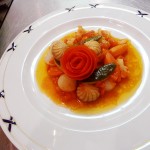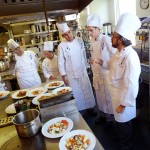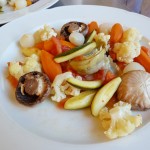 RELAX!
Lesson 3, practical, our turn in the kitchen- presenting Legumes a la Grecque (Turned Vegetables cooked in a Court-Bouillon); just barley got food on the plate on time. The result was marginal at best… ok, it just short of crap. Too much lemon, rushed in the end stages, not properly seasoned, soupy. Lesson learned. As I'd achieved my goals to that point, it was easy to up the ante and add:
"Food on the plate on time."
From there it was a short derivative to:
"Serving something that TASTES like real food."
And now… multiply all that by:
"Having FUN."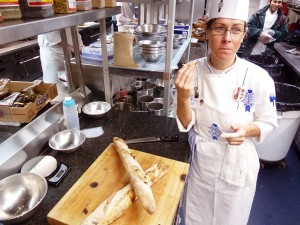 Now instead of pressure I feel the immense joy of a community of like minded souls.
Students from all over the world gathered in the warm, butter coloured halls of this hallowed institution of food and feast. Surrounded by passionate food lovers, fanatical pastry freaks, succulent cuisine fanatics.
These are my people.
Grand Diploma students in their final weeks, surging toward that bottle of champagne and piece of parchment. One of those students, Justin Foo, quickly became my friend. His Facebook post read last night read; "I want to crawl into a gas oven and die warm." Chilly night in Ottawa. A trifle overly dramatic? Yes. And you wonder why we're friends?!
The soul of an artist… expressed in the divinity of the food he prepares. (Not to worry I shall school Justin in the art of stress relief through wine. Mine is a decidedly French approach.)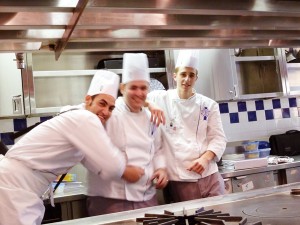 This is not a moment to discard. This is a moment to savour.
This is a moment to taste. To roll around in your mouth and let stand on your tongue and melt. This is a time to lick the plate clean and wring the last drop from the cork.
I shall suck the marrow from the bones of this experience and then use them to pick my teeth. I shall dance in it, I shall sing in it (whether my classmates like it or not!) and I shall revel in each personal best and toast to each complete disaster – and if that means more wine, so be it.
Should I have a kitchen melt-down (due to low blood sugar and lack of sleep), it promises to be a truly spectacular display; cursing and hurling of food, (pot and all) and (quite possibly) tools into the garbage, slamming of doors, withholding of affection, tears and heaving sobs, all boiling down to a whimper and a nap.
Nothing short of a passionate fight between cosmic lovers.
After all, I'm an artist too.
But for now… in this moment… I am not bleeding, there are no tears and I am not on fire.
In this moment; I smell butter… and salt.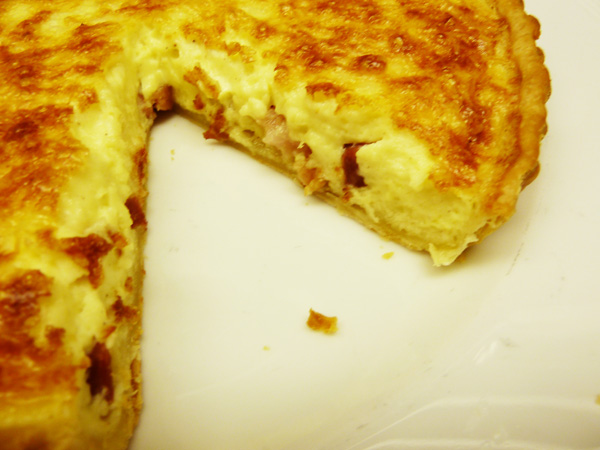 Gypsy Note: For (way) more on my daily Cordon Bleu experience check out the Food Gypsy Facebook page… http://www.facebook.com/#!/pages/Foodgypsyca/107532455975706