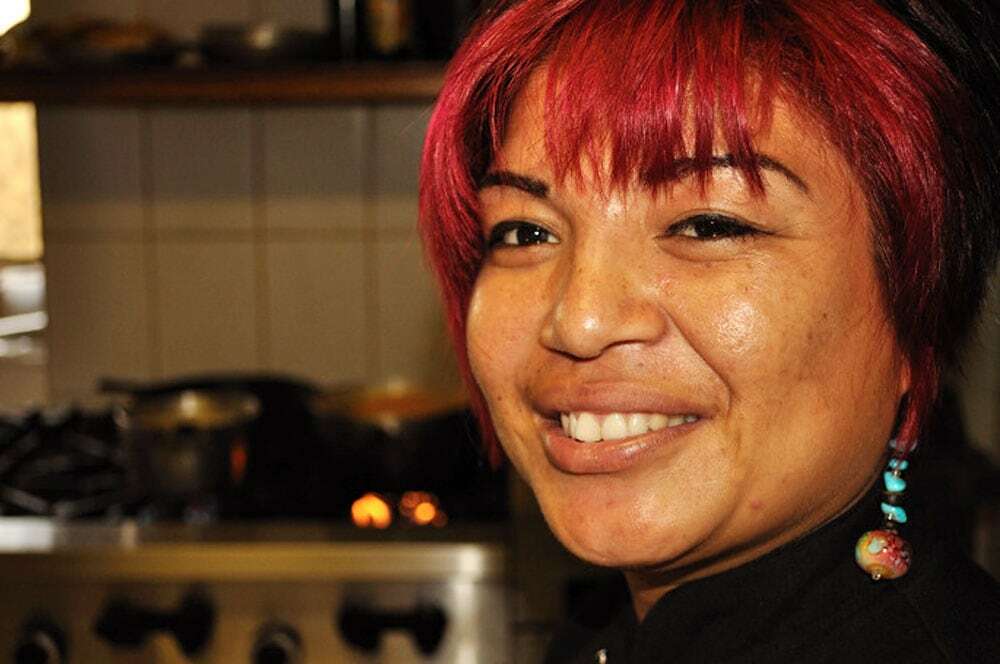 Treasure in Roatan – The Vintage Pearl's Island Chef, Endy Reyes
Roatan, Honduras. No plans. No reservations. No local currency and not a care in the world. I never travel like that. I'm a planner. I like to know. I like to think about it and savour it. Winging it, it's my new thing.
The journey of the unexpected.
Arrived in Roatan, hopped in a cab and said "take us to the best diving and the best beach…" Welcome to West Bay Beach and Bananarama Dive & Beach Front Resort, which quickly became home.
For a month the strip of sand at West Bay Beach was mine, for early morning walks and late afternoon cocktails. The St. Louis Family and the (very) attentive staff took care of me – even after moving up the street to a little apartment, Bananarama just seemed to fit.
The mix of casual atmosphere, funky approach, friendly staff, a full service dive shop staffed with competent professionals and the added decadence in their feature restaurant – The Vintage Pearl.
In our final days with the resort, a mix up in the reservations book upgraded us from our charming beach/bar front room to an amazing top floor 'Owners Suite', with a stunning mosaic tile bathroom, a DVD player, full kitchen but even better… it was located directly above the Vintage Pearl Restaurant & Wine Cellar.
So my style!
For those not just a stair case away, the Vintage Pearl is found up a short, sandy, tiki lit path from the beach, it's the smooth wood steps laden with sandals and flip-flops and a requisite foot bath – it is a "no shoes" establishment.
Shoes track in sand. Clean feet do not. Beach rules. Even servers walk barefoot, carrying trays of drinks, bottles of wine and hot plates.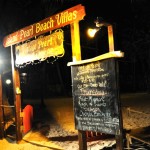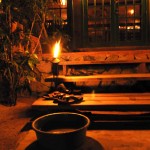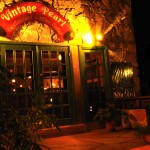 Don't let the lack of footwear fool you, The Vintage Pearl offers some of Roatan's finest dining and service. The atmosphere is dark wood and colourful linen with a wall of wine (they had me at "no shoes").
The wine menu is six pages long (Roatan's largest selection), while the dining menu was a verbal… featuring your choice of two starters, four entrees and three deserts… at a set price ($35 – $45), with an optional appetizer ($7 – $15). I love a tight menu, in any establishment it says one thing to me… fresh… both the ingredients and the effort that goes into it. A menu that keeps a kitchen on its toes, keeps reinventing.
To start I ordered a light salad, which was fresh, dressed in a tangy mango-vinigrette dressing while my companion had the Potato Soup which was smooth and rich. I swear to God I'm not lying when I say he licked the bowl.
I'm not. There were witnesses…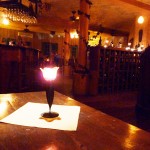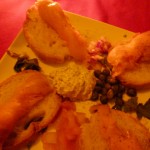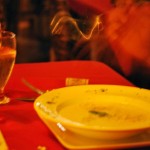 The appetizer was a Icelandic smoked salmon that melted in your mouth with capers, red onion & herbed cream cheese. A cold surprise in the heart of the Caribbean. Entries arrived, Duck in a Grand Marnier Sauce and whipped potato, perfectly prepared and plated, a thing of beauty. The second was a Chicken Brioche Grilled with Vegetables, served with steamed rice and a salty teriyaki (in the heat I crave salt, it was so welcome) and again, perfectly prepared.
For dessert – Five Berry Pie. Rich and dense, an intense berry flavour, not overly sweet – clean – on a short crust. Pure heaven. A meal to compare with any served in any fine dining establishment in any city. Just off the beach, on a tiny Island in the Caribbean.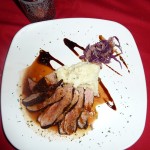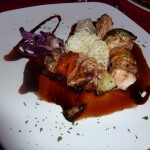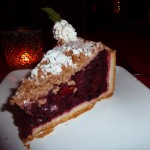 It made me ask "who's in the kitchen?!" and that was perhaps one of the best stories I stumbled upon in Honduras. The story of Chef Endy Reyes, Island Girl now Island Chef.
When the St. Louis family first took over Bananarama they found Endy cooking in a tiny beach front kitchen on the property with no oven, no fryer and no grill, and turning out stunning food. Now that, is talent.
They quickly moved her to the bar kitchen at the Thirsty Turtle Bar & Grill; short order, big menu and she quickly fell out of her groove. "Too much stress…" she says shaking her head, and little latitude to create in a set menu of burgers and pasta.
Previous employers had made the generous offer to fund her cuisine education – stateside – the opportunity of a lifetime and Endy's reply? A sound "No." "How can I leave my family?" she asked. How indeed.
This is a girl who wants to stay home, she has roots and family, so when the St. Louis family expanded Banarama to take over the neighboring Vintage Pearl (and suites), they wisely brought the training to her. A year under a trained Chef and she was running the kitchen like a pro. Later another professional was brought through to broaden her flavour profile – first French then Italian – and now considering a third to step in and teach pastry and desserts.
As a business owner, I couldn't help but be impressed. A brilliant investment in Banarama's people and Vintage Pearl's reputation.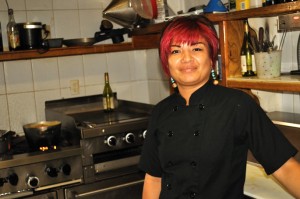 You could not ask for a more passionate Chef than Endy Reyes, with her fringe of shocking pink hair in her black jacket; making her Demi Glaze, at the market early in the morning searching for berries, crimini mushrooms and asparagus in the day's shipments, stalking the fishermen for the best product. Each dish is a labour of love.
And what's next for this Island Chef at the Vintage Pearl? What new things tickle her fancy?
"I like the fancy recipes" she says, eyes shining and then quickly adds "but I don't know a lot of recipes for chicken," holding the legs of the rabbit she's prepping for the evening's service "I know twenty recipes for duck and a fifty ways to do fish but I need more chicken."
Oh Honey. We should talk!
Chef Endy Reyes. A rare treasure at the Vintage Pearl, and the journey I never expected.
Contact info for your Roatan Adventure…
Open for dinner. Recommending reservations, just to be on the safe side.
http://www.bananaramadive.com/vintagepearl/index.html
GYSPY TRAVEL NOTE: Thank you to Louis and the amazing staff at Banarama for taking such excellent care of me. From the front desk for tracking down lost suitcases (NEVER flying TACA Airlines again, they lost luggage both coming and going!) to the bar and restaurant staff and the pros at the dive shop. (Hey Marco – great day, next time, more skills!) Thank you for making a bumpy bit of business – smooth – with kindness, good advice and a cash advance on my Visa (it's a bank thing people, take lots of cash). See you again, soon.