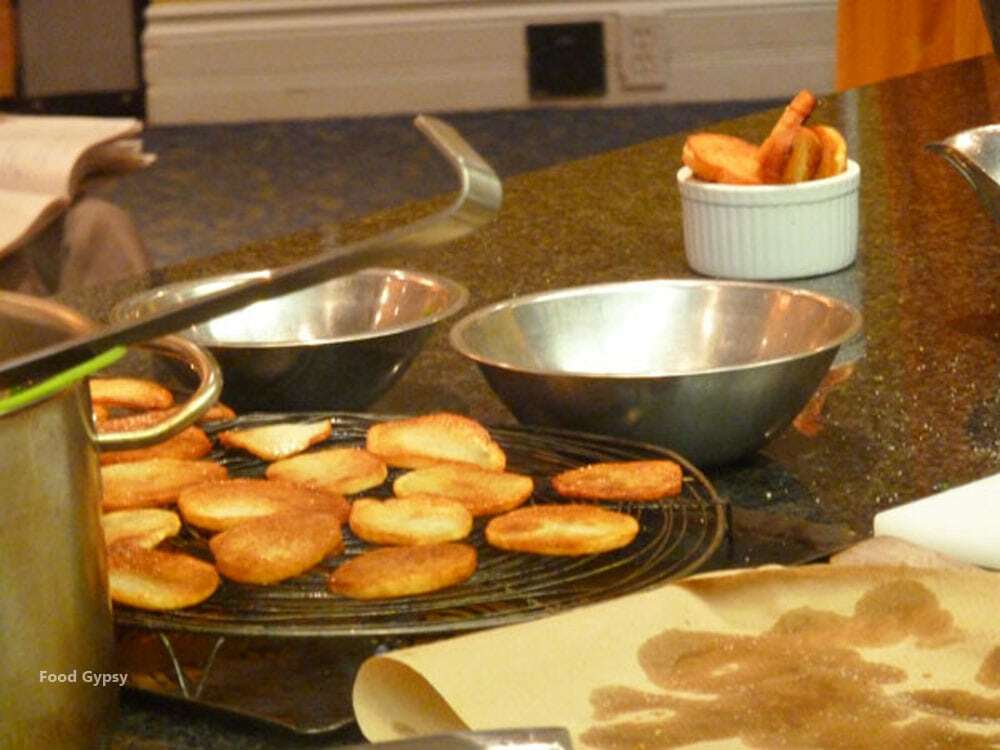 Le Cordon Bleu Week V – Le Petit Canard
There are few things more intoxicating than the smell of butter.
Melting, sizzling, baking, butter has been my great love for many years, along with its companion… cream they simply make life worth living. That is, until you are introduced to something even more addictive, more robust, more… decadent.
Duck fat… my new salacious affair.
This week, as part of my studies at Le Cordon Bleu's Ottawa's campus I had the opportunity to peek into the Intermediate Cuisine curriculum and it was there I was introduced ( for the first time) to the intoxicating aroma of… duck.
No, not just "duck"… duck… FAT.
I've known a few ducks in my time… but my experience is rather limited… to Peking Duck. Red, crispy skin, sweet and pungent, the taste of Chinese Five Spice the sweet aroma of duck flesh cooked low and slow. I still remember my first, in the heart of Vancouver`s Chinatown (many, many years aao), hot from the kitchen, slippery in the chopsticks.
This is not that duck. This is a duck… from France… the place that invented croissant.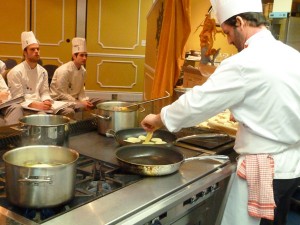 Never really liked duck as a kid… it's a fatty, dense meat and wrongly prepared it can be out and out greasy with a strong after flavour.
Welcome to Le Cordon Bleu… time to expand one's horizons.
First thing Thursday morning, I was wrist deep in cold duck stock, sieving through it with my hands, separating the jellied stock from the creamy fat. Slippery, fine grained it was unlike any other meaty smell I'd encountered.
Chef Jean Marc catches me in a moment of rapture as I (not so very delicately) scrape the fat from my hands into the waiting pot.
He smiles."Duck fat… it's good for the skin!"
No doubt. Wish I didn't have gloves on, my cuticles would love this stuff!
Little did I know what lie in wait for me as Chef Jean Marc proceeded to prepare… Duck Confit with Pommes a la Sarladaise, Cassoulet Toulousain (Cassoulet with mixed meat), and Pot au Feu de Canard (duck poached with vegetables in stock).
It wasn't enough to cook just duck and tempt me with the sweet smells of lamb and sausage and beans my very first in person encounter with a French cassoulet… no… then he had to go and fry potatoes in that sweet, bubbling, clear fat… adding slices of black truffle and fresh parsley.
I thought I might faint. Can one faint from the pleasure induced purely by the sense of smell alone?!
I felt my eyes roll back, my knees get weak… held onto the counter for balance.
Comments as the students were, likewise, drawn into this delicious moment… on the value of the 'good cholesterol' found in the fatty remains of the humble duck. That's right… it's a healthy fat! (It just keeps getting better!)
"Whenever I eat Duck Confit I always feel better" remarks Chef Jean Marc.
SEE!? Healthy.
Pots and pans rattle, heat and overwhelming aromas escape from the oven joining that crisp potato; soft beans, fall-off-the-bone lamb, tender sausage and delicate, crispy Duck Confit.
We are all ravenous at the end of class.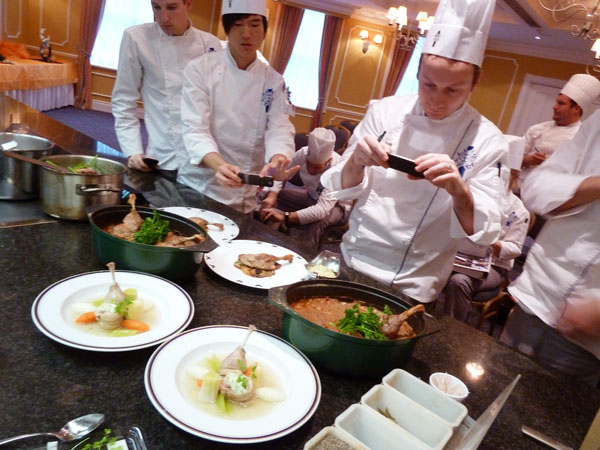 A question from a student: "Chef, what kind of wine would you serve with the Duck Confit?"
Chef Jean Marc : "Red."
"… and which red would you recommend Chef?"
Chef shrugs… "Any."

Spoken like a true Frenchman.
"Did you get enough to eat?" asks Chef Jean Marc as we clean the main teaching salon at the end of class.
My thought… 'No. Never. Give me more duck!' but my lips betray me… "Yes Chef, thank you." How can you express to someone, (who just changed your life) your ravenous intentions towards the food he holds in his hands? Another day, perhaps I will find the words, but for now… I want to go home and render a duck… and fry EVERYTHING IN SIGHT!
Don't worry butter… I`m sure it's just a passing obsession. Maybe.
You know, it dawns on me, I've never tried fois gras. (and I call myself a Food Gypsy!) Well, let's see… a French cooking school… might be in the right place for that.
Now… bring me a duck!