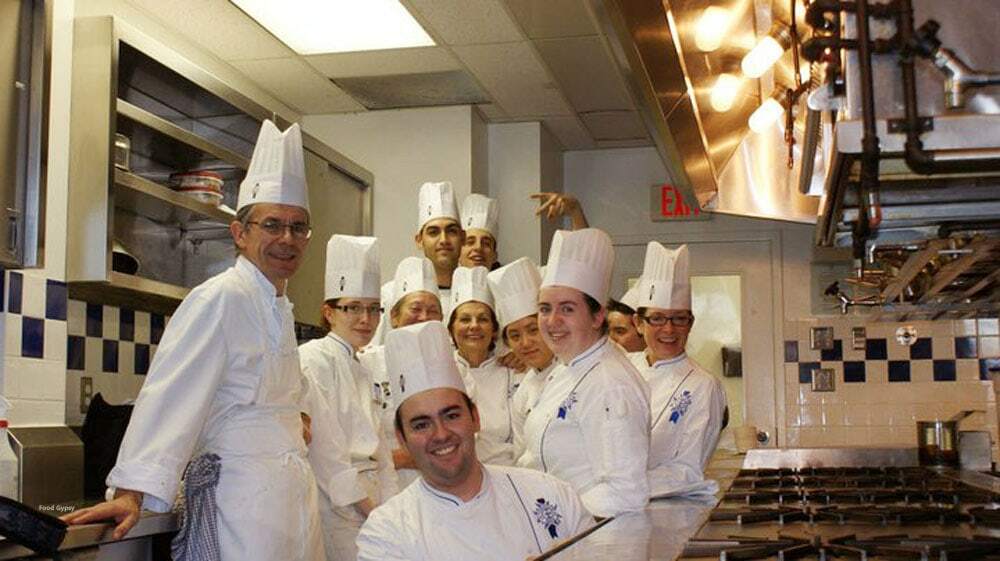 Le Cordon Bleu, Week X – BREATHE!
Forgive my (uncharacteristic) brevity. Had a horrid weekend as I cram for finals for Basic Cuisine, plagued with self doubt, when a friend reminded me –
"Gypsy, it's just cooking! Hell, you've done that DRUNK!"
So true… so true. In fact, I've turned out some extraordinary meals half in the bag. Do you think they'd mind if I tucked back a few before the final?!
Probably.
Instead. Practice. I intend to conquer vegetables. I have (perfectly) turned a l'anglaise potatoes on the stove and after turning them perfectly… I'm cooking them… perfectly. (Take that Chef Smarty-Pants.)
This week I find myself, muttering ingredients… holding my breath. Have to stop and BREATHE and be present. Stay focused.
I am about to cook dishes I cannot pronounce. Close is for horseshoes… and French.
As a result, taking short cuts this week on Food Gypsy as my studies have my full attention. Final exams on Monday. Two more classes… and… then what?
A few vague ideas come to mind. In a festive mood… but first we have a test to pass. Twelve recipes to memorize (22 if you're Juan Carlos!) and then it's time to cook.
These are my people, 'Basic Cuisine, Group A'. For the last ten weeks we've been in very close quarters… we are a group that likes to laugh. Thought you should see them all if you haven't been to our Facebook page.
From left to right… Chef Gilles, Brenda, Susan, Nicole, Amanda, Danica & Gypsy. Behind… Ali, Jordon and Jonathan. Up front… Juan Carlos.
We are a class schooled by many Chefs… Chef Gilles, Chef Claude, Chef Phillipe, Chef Jean Marc, Chef Christopher and Chef Benoit; all building our skills and our foundation. How solid is that foundation? Strong enough to build on? Time will tell.
It's time to pass the test kids… good luck to all the students in the halls of butter. Wish us luck y'all! (Send happy thoughts… )
Love, Gypsy