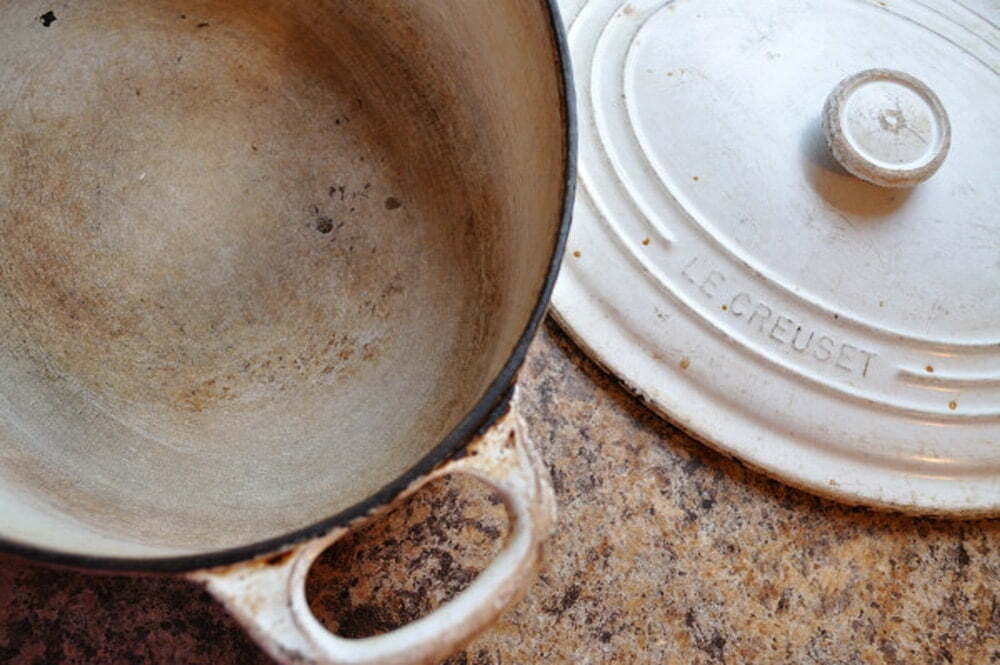 The Cocotte – A Gift To Last a Lifetime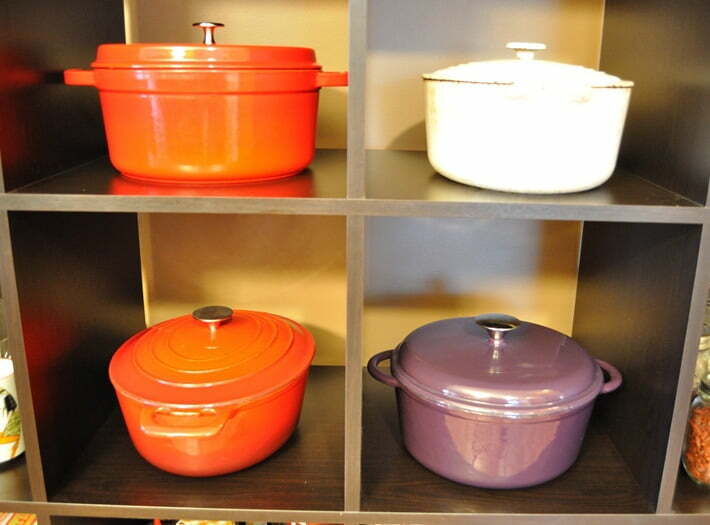 If you're looking for the perfect gift for the food fanatic in your life, look no further. 'Cocotte' is the French word for Dutch Oven; an enamel finished, cast iron pot with a fit fitting lid, prized by cooks for their ability to go from the stove top, to the oven, to the freezer.
In the Gypsy Kitchen we have four different cocottes, so we thought we'd give you our honest advice on what makes a great cocotte, because no kitchen is complete without one.
Cocottes come in several sizes, sizes and colours under different brand names – the selection can be dizzying. If you've ever considered buying one, or have one in your kitchen, you know they can be a sizable investment ranging anywhere from $400 – $50. How on earth does one decide? Do really you need a pot that is the monetary equivalent to a car payment or would one of the more moderately priced 'celebrity chef' models do the trick? That really depends on what kind of a cook you're buying for, but one thing's for sure, this is a gift that lasts and lasts.
In the above photo we've arranged our cocottes by price from highest to lowest, left to right, both hers & his.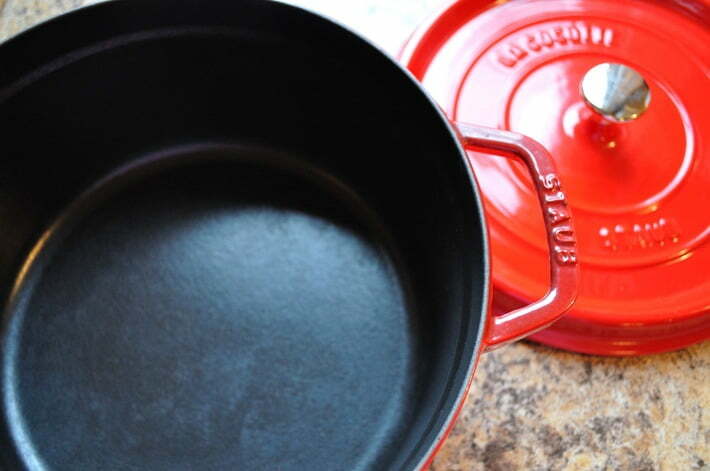 THE STAUB 10 inch (26 cm) 4.6 quart (5.2 liter), round, in cherry – her pride and joy. Retail price: $320
I snapped this puppy up when I saw it on sale for 70% off. SEVENTY PERCENT OFF. I don't care what it is, if it's seventy percent off, I'm buying it. In fact, I bought two, one for me and one for my best friend and Food Gypsy editor, Astrid. She has the navy blue, I have the cherry red. (It's a Canada vs. French thing.) I like the idea of having dueling cocottes, as she cooks across the country in Alberta and I am in my kitchen in Quebec.
The pride of France, Staub cast iron cookware feature a black, matte, enamel finish on the interior that makes them rather unique. It weighs over 15 pounds and it's finish is unusally shiny as tiny shards of glass are baked into the exterior enamel for a high gloss appeal.
This cocotte has been working in my kitchen for two years. It has been bumped and scrapped and it still looks brand new. I love it's depth, it makes a mean pot of chili and braises extraordinarily well. The inside of the lid has protruding bumps, that capture moisture and self bastes. The most coveted item in my kitchen, it's been held for random more than once.
Would I buy another? Yes, without question. (Now I want, the oval, the mini and the wok!)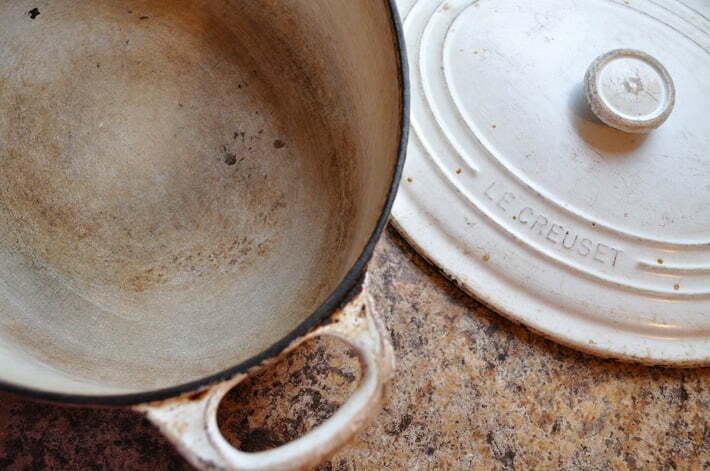 Le CREUSET, 14 inch (35.5 cm), 5 quart (4.3 liter), oval, in dune – his work horse. Retail price: $310
One of his first gifts when he began cooking professionally, this pot has been in Chef B's (Benoit Gelinotte) kitchen for almost 30 years. It moved with him from France and is among his most valued pieces of cookware, yet he frequently insist I shoot around it for Food Gypsy because it's stained and crackled, which is why I love it.
I cannot think of a more appropriate photo to exemplify the longevity of cookware than this one. This cocotte has born meal after meal from the oven to the table with grace and style. It has been dragged from household to household, been licked clean by a canine or two, and shows no signs of slowing down. There is a reason Le Creuset cookware is so well loved by generation after generation, since 1925.
Made in France, the oval fits a chicken (or, in his case, a duck) perfectly, on a bed of vegetables or potatoes Store meals in the fridge or freezer and never worry about food reacting to the porcelain finish. It's wide and shallow, perfect for soups and stews, simmering, poaching, braising or browning. Some never make it to the cupboard, they're so busy going from stove to oven, fridge to stove, to table from cooking, to storing and re-heating. This is the hardest working pot in our kitchen.
Would he buy another? Yes. (He has a standing order in for one in every colour.)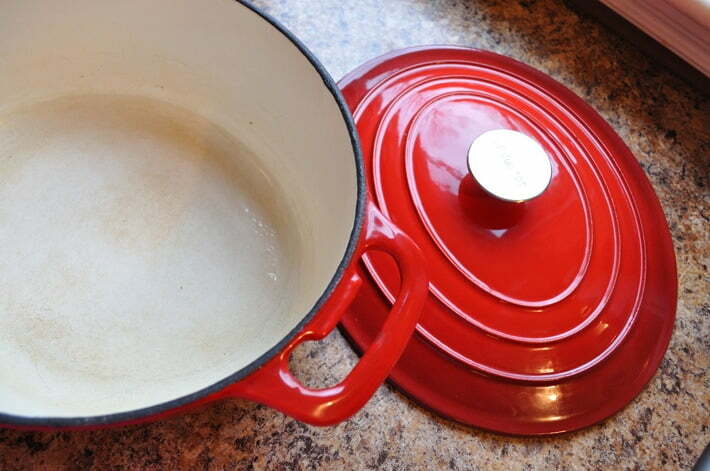 Le CUISTOT, 14 inch (35.5 cm), 5 quart (4.3 liter), oval, in red – her tough nut. Retail price: $130
The Canadian made equivalent to Le Creuset , Le Cuistot is quickly making a name for itself among the lovers of cast iron enameled cookware. The Montreal based manufacturer holds similar specs and releases in a dazzling array of warm colours, for about one third the price, in fact, I've seen the classic oval for as low as $90.
Side by side, it's hard to tell the two oval ovens in our kitchen apart. The weight is the same, the finish is similar, the only visible difference is the metal knob on the rimmed lid that reads 'Le Cuistot'. It has the same heat retention capabilities moves easily from burner to oven, back to burner then into the fridge. The enamel makes clean up a sinch, soak & scrub and voila, clean as a whistle.
This was my first cocotte and, my most used. The size often dictates it's use when I'm roasting a chicken, or making a big pot of borscht. Recommended for hardworking cooks on a budget and those that love style at a fraction of the cost.
Would I buy another? Yes. (Makes a great gift for the kitchen novice, and I love a bargain.)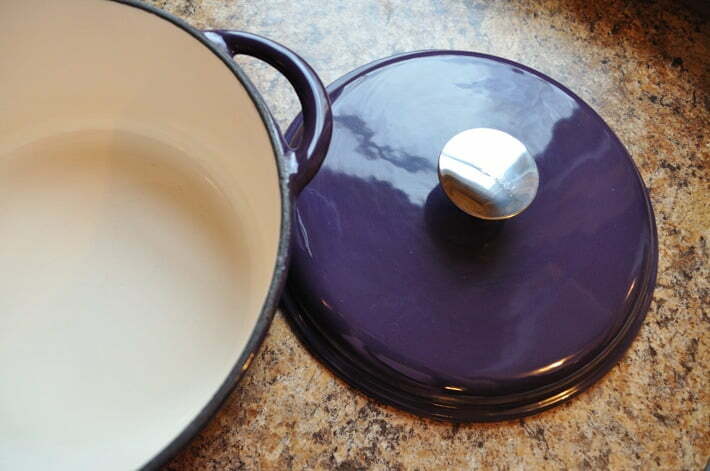 Wolfgang Puck, 8 inch (20 cm), 4.5 quart (4.25 liter), round, in eggplant – his little jewel. Retail price: $50
This was under the tree last year for him for Christmas, not that he needed anything new in the kitchen, but really what chef doesn't need a new cocotte?! We thought, in light of our dabbling with Food Gypsy it is always good to stay abreast of what the market is offering in terms of cookware.
A year later, I cannot find this article on line, anywhere under the Puck brand and we know why. Lighter than our other cast iron cookware, it's our most lightly used cocotte and yet it has three chips in it's enamel. This cocotte also does not clean easily, forcing me (on occasion) to really scrub to get it sparkling and showcase worthy. As a consequence, we don't use it much. The Puck eight inch cocotte is still pretty, but if you're looking for a piece that really works, avoid the celebrity chef brand and go with a brand real chefs USE.
Would I buy another (for him or myself)? No. A cocotte should work hard, not just look good.
The bottom line when it comes to a good cocotte/ dutch oven: buy quality. Buy the very best you can afford and then, take good care of it.
*Gypsy note: retail prices may vary considerably, prices quoted are average retail prices at the time of publishing.
Cocotte Care: Hand wash, inside and out with hot, soapy water. Do not wash in the dishwasher. Avoid caustic chemicals and abrasive cleansers, they will scratch the enamel surface over time and compromise the finish. Dry thoroughly before storing (if it ever gets a break) and this is a piece that will (literally) last a lifetime.
On that note, happy shopping. May the discount Gods be with you.