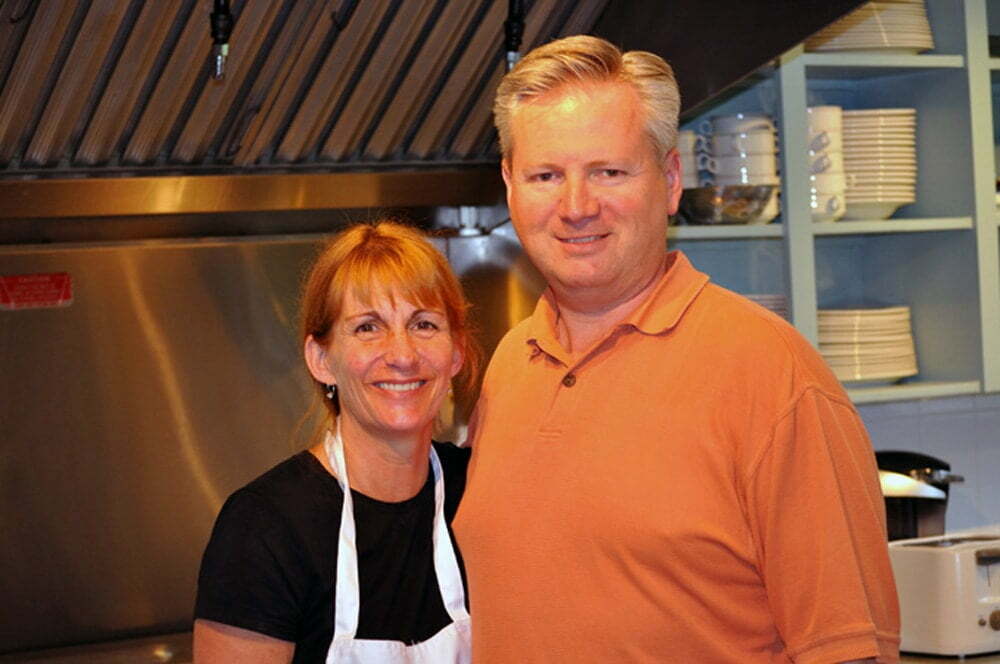 Kickin' It Old School, Historic Hillsdale House Inn – Bed & Breakfast
Guests enjoy a quiet relaxed atmosphere in the dining room; the Hillsdale House is everything a country inn should be. Elegant. Stately. Polished. A place to forget about traffic and deadlines, after all it is Nova Scotia.
The Maritimes is special niche in Canada's diverse patchwork of provinces and territories. Having driven it, coast to coast in January (always move across Canada in the middle of winter, that's my motto), one can reasonably say "it's big". Very big.
We are a mighty land with shining cities but it is the in between places that make Canada a unique nation. Small towns, villages, long stretches of open highway, lakes, trees, mountains, prairies and two coasts. Originally, I'm from the other coast.
Canadians are few. Thirty-eight million of us (give or take), scattered about in this BIG, wide land – we like our space. When I first moved to Nova Scotia in 2005 I discovered a new term for outsiders; they call us "come from away". That is to say, "you weren't born here, Sonny Jim".
I soon learned that there were many like me, looking for a way of life that fit both inner values and outer ambition, it's a hard marriage to make and it is, I believe, the underpinning attraction that many have to Nova Scotia. It's easy to love.
Nova Scotia is beautiful to the extreme. Safe. Quiet. People go home at 5 o'clock to have dinner with their family. Keeping your lawn mowed is mighty important, almost as important as your garden, your community and going to church. It's 1956, in the best possible sense.
Like me, Val Peterson came from Calgary to visit and moved, lock stock and barrel to be a Nova Scotian innkeeper. Ten years later everything in her life has changed except for one thing, her title "Nova Scotian Innkeeper". In her fifth season with the Hillsdale House, it is a love and passion for her. Val is such an overachiever she even makes her own bread, which guests love as fresh cut toast, first thing in the morning and which she shares with Food Gypsy (Val's 'Old School, Nova Scotia Brown Bread' – click here).
"I just can't imagine my life without it now" Val says of inn life, flitting back and forth in the kitchen checking waffles as we chat "I guess the biggest surprise was the fact that it's not all about drinking wine with guests in the afternoon."

It's not?!
No, it's not. I speak from experience, the volume of cleaning and laundry is enough to make anyone shudder, but the rewards are so validating you hardly think about those things.
Fresh waffles, free range eggs, Nova Scotia berries and maple syrup all in the larder at the Hillsdale House. Val has a fetish for wild blueberries, which she shares with guests. (Such a delicious berry to bake.) Plates fly out of the kitchen as we chat, more coffee to brew, more waffles to make as breakfast comes to a close.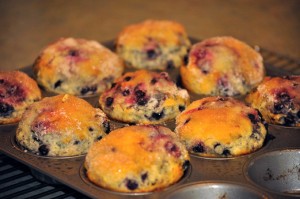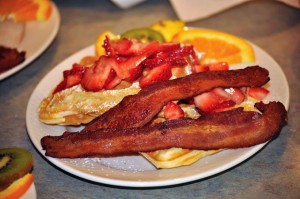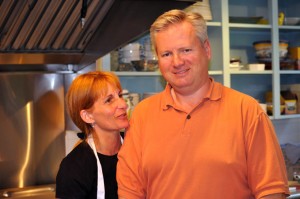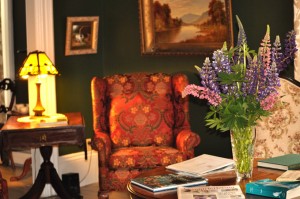 "And what are the moments that matter?" Val smiles – it's an easy question to answer.
"Last year we had a mother & daughter from Washington, DC, stay with us for several days. When they left there was a two page letter from 9 year-old Lindsay, written in felt pen… with pictures and stars all over… all about the fun she'd had, how cool it was, with a big 'Hillsdale House Rocks!' in the middle.

It lived on our fridge all season long. Having a bad day? Look at the fridge. 'Hillsdale House Rocks!' That's all that matters."
Val's partner in life and business, Nova Scotia born Paul Stackhouse is the quiet type, the kind of man you know is thinking all the time. Checking on the coffee pots he laughs as Val tells the tale of Lindsay's 'rockin'' letter and poses for a photo in the kitchen. He gives Val a little squeeze… "we do rock" he says smiling. She laughs and shrugs "Yeah, I guess we do".
With Hillsdale House Inn taking home such honours as Nova Scotia Innkeepers of the Year (2010) and the Travelers Choice Award 2010, from Tripadvisor… yes, they do rock.
04/11/11 Gypsy update: this just in; TripAdvisor recognizes Hillsdale House Inn with a 2011 Travelers' Choice Award placing it among the top 10 B&B's/Inns in Canada. This is the second consecutive year that the Inn has been honoured with this award. Once again Hillsdale House Inn is the only recipient east of Ontario. (full story)
01/10/21Gypsy UPDATE : The Hillsdale House still stands under new ownership, but Val & Paul have moved on. First to BC and then back to Nova Scotia, where you'll find them (most days) at the beautiful Digby Pines Hotel.
519 St. George Street
Annapolis Royal, Nova Scotia, Canada
Toll Free: 1-877-839-2821
http://www.hillsdalehouseinn.ca