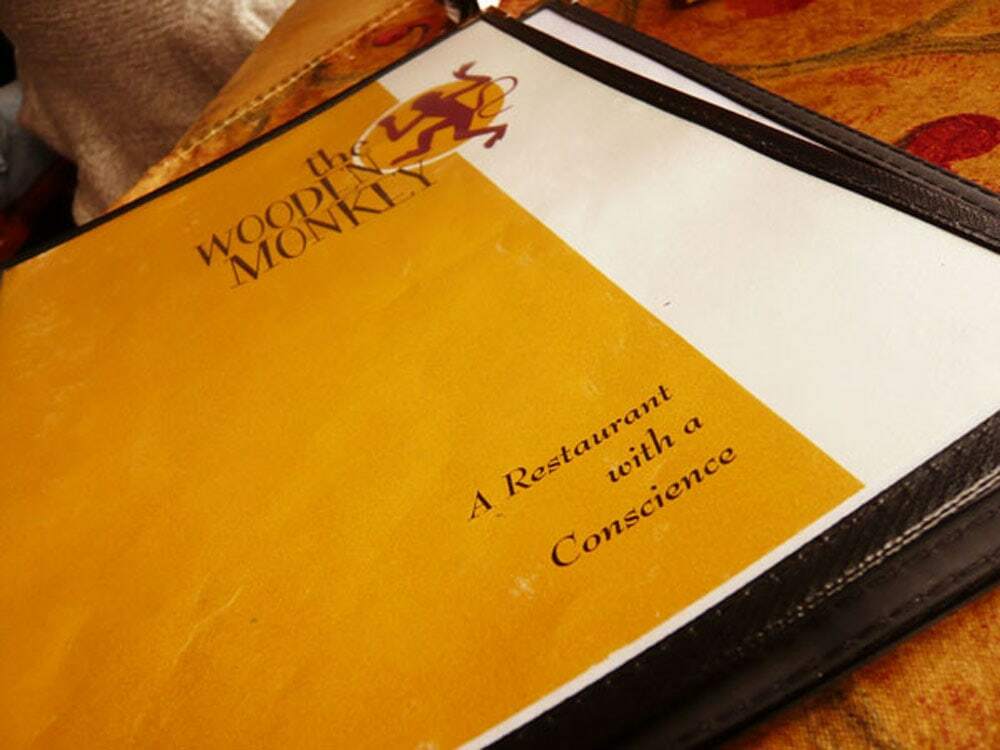 Tasting Nova Scotia, The Wooden Monkey – It's Good for You
It smells good. No, strike that, it does not smell good, it smells fantastic. With a kitchen this creative and ingredients this pure, the Wooden Monkey thrills the senses from the moment you walk through the door.
Over the last 5 years, as the proprietor at the Dragonfly Inn in Nova Scotia's Annapolis Valley, I've been advising travelers on the best eats in Nova Scotia. Before setting out on my new life and the Central America leg of the Life from Scratch Food Gypsy Tour, I took some time to visit a few of my favourite foodie hang-outs so that I could pass them on to you.
The Wooden Monkey, in the heart of Halifax, simply cannot be missed. Just off infamous Argyll Street, where food competition is stiff, the big yellow and brick building on the corner of Grafton & Prince stands out, even on a foggy day.
It's a popular spot, so it never hurts to call in advance. The cuisine is far from haute and the clientele like it that way. We are a casual bunch, borderline groovy. University students on lunch, a group of women celebrating something (when, as women, are we not celebrating something?) and me out for lunch with Mom.
Come to think of it, we were celebrating something also. Sort of. (If you don't have a birthday, you don't age, right?) Never turn down a free lunch and, never turn down lunch at "The Monk".
The menu at the Wooden Monkey is based on organic, macrobiotic, and locally grown, fresh ingredients; they take my 'health' seriously. I love that they do so with cream and cheese and sauces of every description.
I feel healthier already.
One evening, while waiting for a table at the upstairs bar, I asked the bartender if they had "organic vodka" for that dirty martini (there may have been a hint of sarcasm in my voice). That's when I learned about their selection of organic sprits; vodka, gin, rum, brandy and liquors as well as several juices and sparkling beverages, which augment the extensive organic wines selection.
Organic booze. It has to be good for you.
Our server Melanie, like all the friendly Monkey staff, had a solid grasp of the food and technique behind the menu. Every question we asked she answered, even if she had to go to the kitchen to find out.
Good food takes time. Give yourself a little extra time at the Wooden Monkey; the food is worth it. Sometimes I like to watch the plates come out just to see the special, or something I've never tired before. "Hi, my name is Cori, I'm a food voyeur."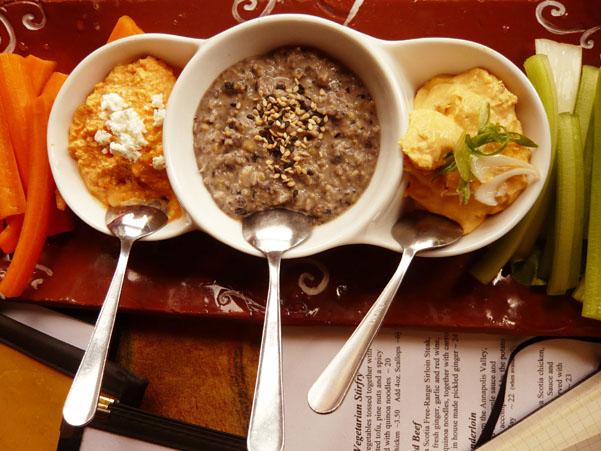 It's a colourful way to begin.
Their trio of house made dips; hummus, a roasted red pepper goat cheese dip, and a sweet potato chipotle served with pita wedges is a solid start. The black bean hummus is creamy and garlicky against the spicier red pepper and the sweet, smokey potato.
As we enjoyed our appetiser, the sun broke through the mist on this late spring day to flood the dining room and illuminate the saffron walls, highlighting the eclectic art collection, including a quirky assortment of… wooden monkeys.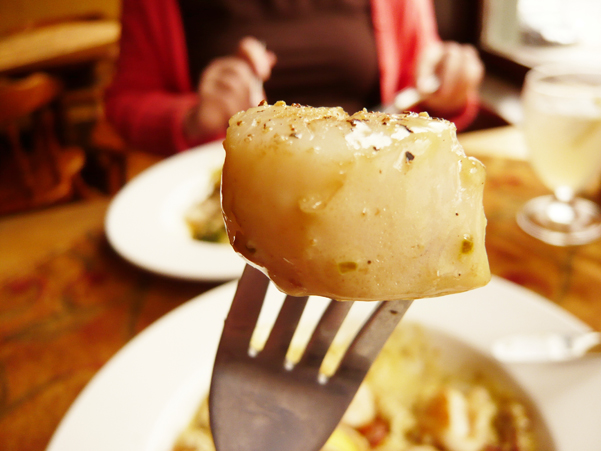 When in Nova Scotia, eat seafood.
The Scallop and Sun dried Tomato Pasta is heavy with roasted garlic, mushrooms, onions, basil pesto, and served on organic brown rice noodles and finished with a dash of cream and parmesan cheese. Health food. Gluten free and everything!
One of my favourite menu items is the Sesame Crusted Haddock, seared, served with organic brown rice pilaf, finished with an organic orange reduction and crispy leeks. Savoury, nutty, crispy, salty and sweet, it is a candidate for the perfect bite. The added karma; fish that's hook & line caught! Add 'sustainable' to the list of food attributes.
Regrettably Dear Reader, on this occasion we were entirely too satiated to even consider dessert. I can, however, vouch for their Chocolate Tofu Pie. Equally regrettable, they do not feature this recipe on their website, maybe they will share it with Food Gypsy. You never know. Made with non-dairy chocolate and silken tofu on an almond walnut cinnamon crust, the Chocolate Tofu Pie is the most amazing surprise. Rich, smooth, creamy. It bested many a mousse. It made me want a whole pie.
What?! It's tofu. That's… a bean. Add cocoa, that's… a bean. Clearly then, the Chocolate Tofu Pie is… a vegetable! Even sugar comes from plants. Vegetables. They're good for you.
Eat your vegetables.
Taste Nova Scotia at the Wooden Monkey.
1707 Grafton Street, Halifax, Nova Scotia, Canada (902) 444-3844 www.thewoodenmonkey.ca