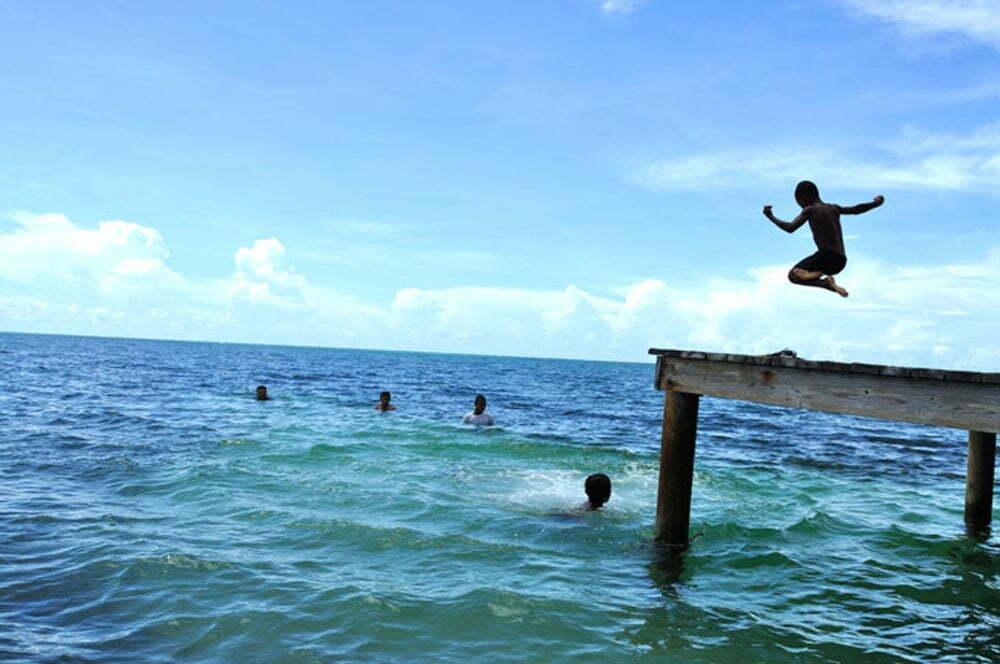 The trinket men arrive by bus just after 6 AM, hauling large beige sacks on their shoulders stuffed with tourist swag; jewellery, wooden bowls, snorkelling gear, t-shirts and fridge magnets, to set up shop on the beach for the day.
The sun is thin, rising behind the mountains to the east that are the ridgeback of Roatan, a 40 mile stretch of land surrounded by reefs. The home beach – West Bay Beach is a sunset beach, shaded by the mountain in the early morning, it makes it a cool walk, swim or… run. It has been my practice for the last two weeks to go to the beach as the sun comes up and… move.
Before the ATVs churn the sand, the beach men emerge with long rakes and divers load tanks into waiting boats – life begins anew with the ocean at our feet.
It's simple. I like simple. Actually, it's easy I really like… make things as easy as possible.
There is elegance in island life. A simple rhythm that finds itself in 12 hours days balanced by 12 hour nights. Equality.
For the last 3 months I've been asking myself the same question: "Am I brave enough to move… to paradise?"
When I moved to Nova Scotia I often joked that it was as far as I could go, without leaving the country. Now, with the flood gates open to new opportunity, do I know what I want?
Yes. It's a simple life… well lived. A life filled with joy and love (a decent kitchen) and… it's warm.
Last night I barely slept, tossing in thoughts that make me uncomfortable, dreams that made me sweat. Rather than run or walk… this was a morning for the water. Floating on my back in this crystal clear bay of the Caribbean I heard a new question…
"Can you live without this?"
New answer. No. No, I cannot live without the life I've found. I need it.
It's a part of me, the part of me that longs for quiet and relaxed… and fun. The part that naps in hammocks and cries at long distance commercials.
My heart is at home…
Can I live without a certain amount of first world comfort to live in a setting that brings me great peace? Yes. Can I live without warm waters and sandy beaches? No. Does it have to be this beach? No. (I think I prefer to move around a bit, travel light – a year here, 4 months there, and 6 months there – Atlantic, Pacific, Indian, and Mediterranean… so much world to be explored.)
On Saturday I depart for Mexico, and then back again to Canada. I leave behind… a little over ten pounds which fell off me in two weeks, like stepping out of a fat suit. I leave behind… a shell necklace, a gift from an artisan in Cuba, it broke on the terra cotta floor after a day in the ocean, I think it's best to give it back to the waters it came from… a gift to a new life.
One I just can't live without.