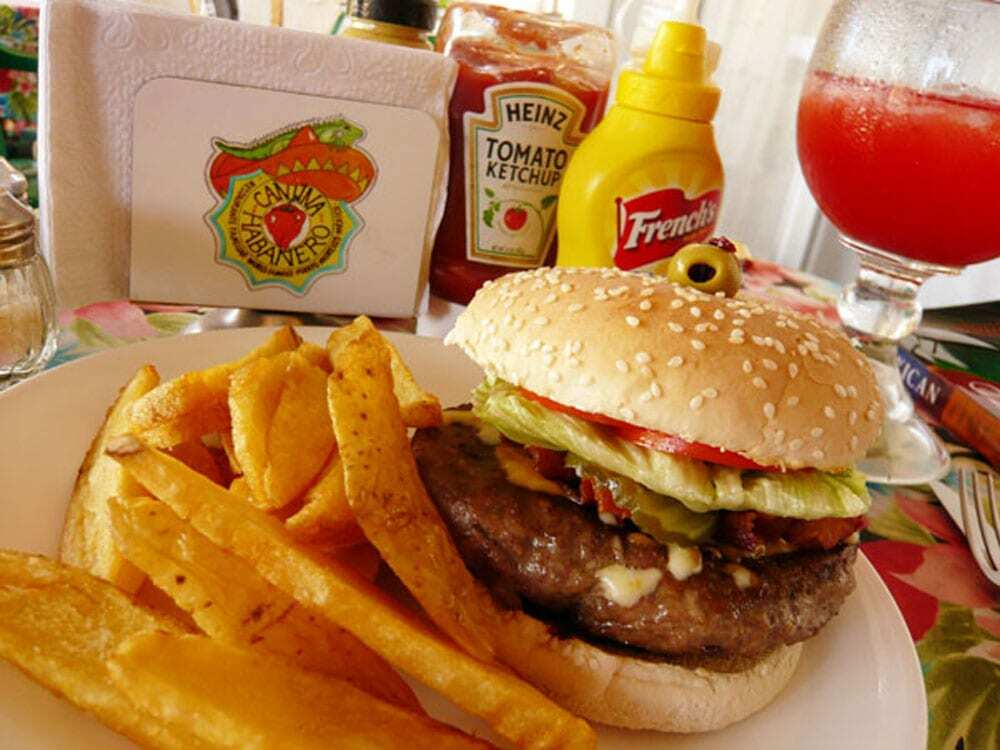 Mexican "not-so-fast-food" – Cantina Habanero
Just off the beaten path and worth every step (or stagger); Cantina Habanero boasts the best burger in Puerto Morelos, Mexico. South of Cancun on Highway 307, Puerto Morelos is a cozy fishing village developed enough to be convenient yet small enough to be Mexican; where I stumbled upon a vision, in search of a cure.
One sign reads "slow food" another "save the earth, it's the only planet with mole". License plates from Texas, Alberta, Florida and Saskatchewan line the walls and classic rock completes the vibe. The place hums with x-pats now at home in Mexico here (as it turns out), for a taste of home as only an American can make it. Welcome to Cantina Habanero.
Have a burger.
Just the way you like it; stacked. Real cheddar. Smokey bacon. Juicy beef. The perfect tomato. Fresh lettuce. And all the condiments you want – even mayo. (On behalf of Canadians & Europeans – I thank you.)
Accompanied by thick, home fries done to perfection. My savior in curing one wicked hangover. (Note to self: pace yourself. This is not a race. There is no 'first place' with tequila.) Reasons why I lost my keys and slept in a hammock. Hamburger – best cure in the world. (It's science people…) The meat, the cheese and the fries all react with the chemistry in your brain and flips that switch suddenly taking you from "ouch" to "oh!"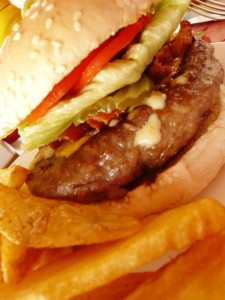 This is the single burger. It is not a ladylike act to eat one. The menu lists a double, now that I'd like to see. Must need some kind of support apparatus to stay upright, scaffolding maybe.
Nothing I like better than toasted buns. Crisp against all that juicy meat, cheese and goo, which runs down your hands, if you let it. This is a burger lover's burger.
A testament to great food, it's fresh but it's not fast. It's quality and famously slow, yet another sign, a giant arrow pointing the way to the kitchen "SLOW FOOD". Who's in a hurry? It's Mexico, relax have a beer – no, no tequila for me, thanks. I'm good.
A place to be lost, or found, Cantina Habanero's patio is often packed, there's a reason it's so popular with the locals and those visiting. A must-do in Puerto Morelos.
Great staff, ice cold beer (and other lethal libations), a proprietor who cares about his business, his food, his customers, live music… and… did I mention the enchiladas with either green sauce or a wicked tomato-chili gravy (go half and half). Almost moved in.
What's not to love?!
http://www.tripadvisor.com/Restaurant_Review-g240327-d1197801-Reviews-Cantina_Habanero-Puerto_Morelos_Yucatan_Peninsula.html