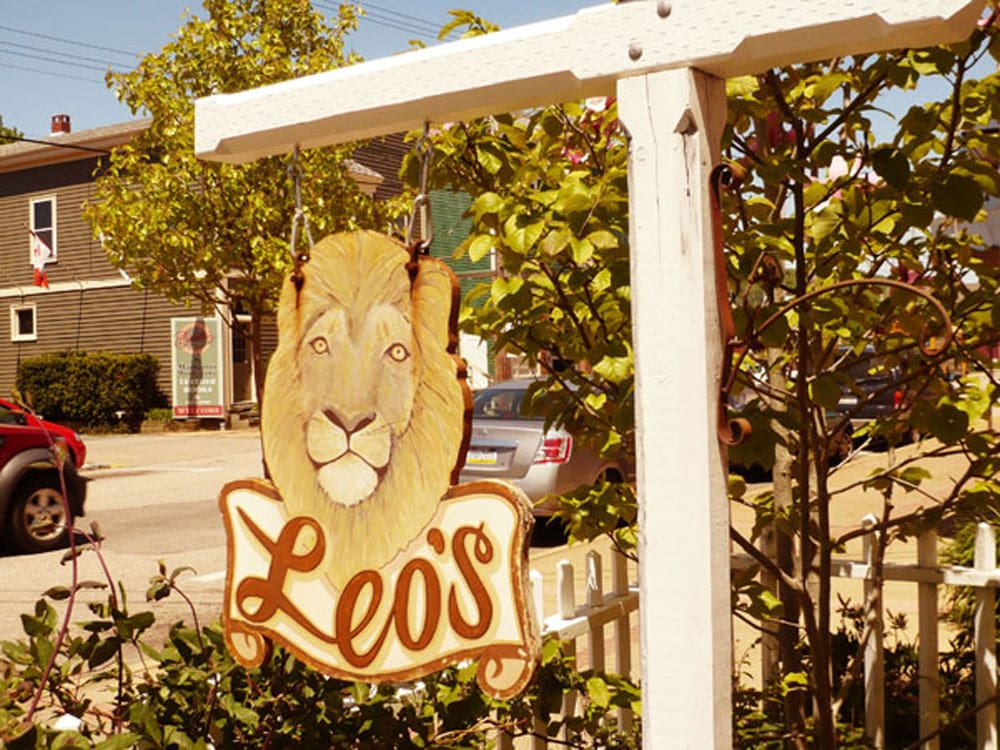 Tasting Nova Scotia, Leo's Cafe – There's pie!
A little sign under the glass top table reads: Soup is Love. It's safe to say that love is a key ingredient in everything that comes from the kitchen at Leo's Café – Annapolis Royal, Nova Scotia.
For the last 5 years, as the Innkeeper at the Dragonfly Inn, Annapolis Royal – I've been advising travelers on the best eats in Nova Scotia. Before setting out on the Central America leg of the Life from Scratch Tour, I took some time to visit a few of my favorite foodie hang-outs, so that I could pass them on to you.
One of the great treasures in Annapolis Royal; Leo's Café serves lunch. Period. Doing one thing and doing it well for over 15 years, the ambiance is everything you'd expect from Nova Scotia – casual, relaxed, comfortable – and the food is everything it should be; consistently good.
The open beams overhead are hand hewn, marked by time, much like the town itself, a tiny piece of Canadian history. The dining area is homey, shelves are lined with jars of mustard, chutney, preserves, spices and teas, plus a selection of knives and handy gadgets for the food fixated among us. Chef and proprietor Paula Buxton stocks her shelves with quality, hardworking products that last. A tremendous resource for Nova Scotia cooks.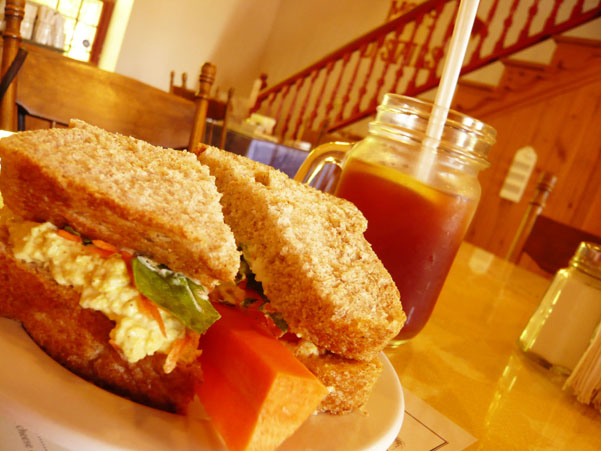 The kitchen starts its baking early, with loaf after loaf of fresh bread. Leo's is famous for it's bread, fresh sandwiches are served on hand-cut, fresh-baked, Nova Scotia brown bread. The menu is simple: sandwiches, "signature" sandwiches, soup, salads, desserts. Salads are crisp and sharp and the daily soups – one a vegetarian option – are the perfect warm-up on a cool day.
Among their "signature" sandwiches the Café Club reigns supreme. Real cheddar, smoked bacon, sliced chicken, lettuce, tomato and real mayo. Nothing is pressed, nothing is fake. Layered on three toasted slices of that homemade fresh bread, it's so big it's a chore to eat… not that we mind. Some do it with a knife and fork.
To each their own.
Some might call it salad between two pieces of bread; Leo's "Famous" Veggie Sandwich, made with sunflower spread, piled high with cheese, tomato, cucumber, and mushrooms, topped with alfalfa spouts is a huge hit with vegetarians and omnivores alike. The sunflower seed spread is addictive. Nutty and slightly salty. Leo's feeds that obsession… they sell it in bulk.
My best tip for Leo's remains: "Do not leave without dessert!" CIA (Culinary Institute of America) trained chef and Paula, bakes fresh daily. Killer brownies. Snowballs. Chocolate Pecan Pie. Apple Gingerbread. German Plum Cake. Rhubarb Pie. Skor Cheesecake. Strawberry Shortcake made with Nova Scotia's old fashioned strawberries and real whipped cream.
All fresh, all made with seasonal, local ingredients. Don't expect to find strawberry shortcake if it's not strawberry season, or a pumpkin pie if it's not fall. The dessert case is jammed with sugar laden treats listed on the chalkboard above. On the rare occasion when there is one piece of pie left… order it before someone else does.
Trust me.
Paula is a Goddess with all things sweet. Her "Mile High Lemon Meringue Pie" is worthy of engineering specs. How does she do it? Maybe one day she'll tell me her secret. Until that day, I faithfully eat my greens so I can have dessert.
Leo's Café caters for local events just give them a call. For those who love a great picnic, with a little advance notice, they can whip up a picnic lunch and with absolutely no notice at all, they'll wrap that Chocolate Pecan Pie to go. You know — just in case.
A true taste of Nova Scotia.
Leo's Café– 222 St George Street, Annapolis Royal, Nova Scotia, Canada ( 902- 532-7424)
SEASONAL (April – November) Open 6 days a week: Monday – Saturday 9AM – 4PM, (licensed)