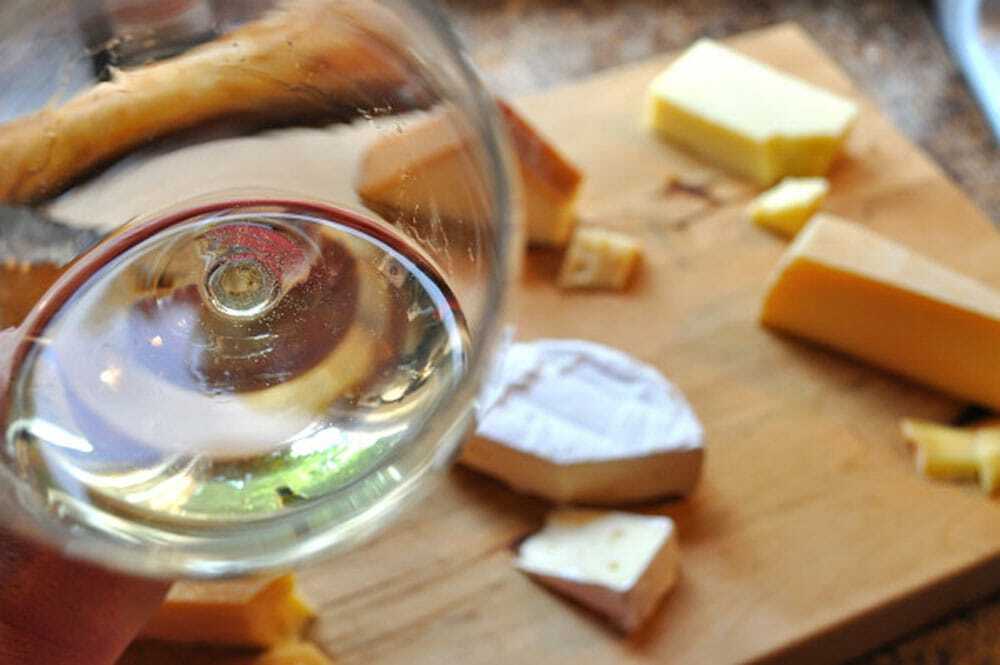 Eat, Drink, Google Plus – Canadian Wine & Cheese with Natalie MacLean, Part II
The conversation on Canadian wine & cheese continues this week with Canada's premier wine writer, Natalie MacLean. A follow up to last week's successful taste & tweet event, this Wednesday, July 25th at 8PM EDT we gather under the wing of Natalie MacLean in another format, video chat on Googel Plus. Explore Canadian wine & cheese pairings and connect with new tastes, in this BYOB social media invitation.
Last Thursday's taste & tweet on the same topic (#CdnCheese) trended at number one on twitter, included sharp insights, candid opinions and sassy moments from our band or merry makers and several tweeps who joined in the fun with their own recommendations.
Natalie has collected a group of sommeliers, writers, journalists, food lovers for these conversations that include; Bethany Harpur of Second Ferment , Jason Solanki from Vintage Wine Picks, Nina Syas from the blog Nina's Food & Wine, Dan Trcka who's opinion can be found at Grape Selections , Susan Desjardins, Allie Hughes from Hughes & Co, Dawn Montgomery read her at Dawn Mongomery Presents ,Gaby Israel, Holly Burns wine-ing at Wine Out Loud and this Gypsy. I extend my invitation to you, of course.
This week's video chat will be featured later on Natalie's site, so I guess I should do something with my hair! Oh, the fashionable summer ponytail.
On the tasting menu for this week's event: 2009 Le Clos Jordanne Village Reserve Pinot Noir, 2007 Jackson-Triggs Entourage Methode Classique Sparkling Brut, and 2008 Flourish Vidal Icewine plus six stunning Canadian Cheeses that carried over from last week.
1 Year Old Cheddar Île-aux-Grues, Fromagerie de l'Île-aux-Grues (Québec), Avonlea Clothbound Cheddar, Cows Creamery (Prince Edward Island), Apple Smoked 2 years Cheddar, Bothwell Cheese Inc. (Manitoba), Albert's Leap Brie, Quality Cheese Inc. (Ontario), Niagara Gold, Upper Canada Cheese Co. (Ontario), and Alfred Le Fermier, Fromagerie La Station de Compton (Québec).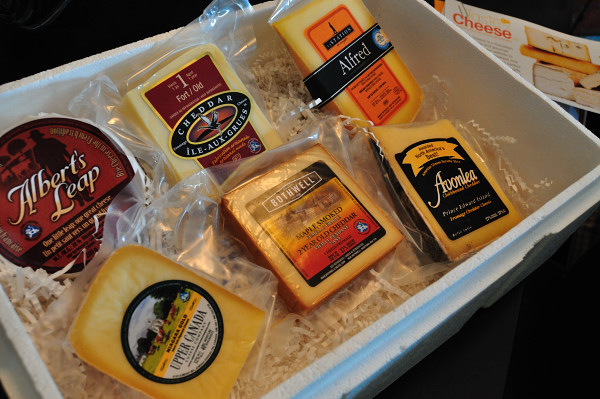 Sharing with you a few notes from last week's selection and our favorite wine & cheese pairings from this selection. The four bottles from we tasted last week from Canada's Niagara, region represent a cross section of grapes from Central Canada, with varying levels of acidity and sweetness. Each vintage is linked back to Natalie MacLean's review page, with reviews from the panel as interested members from Natalie's community at large, and Natalie herself. You can add your thoughts at any time.
Everyone has a different nose, and palate what is favored by one set of taste buds may be foul to another. As a general rule I like to gauge wine reviewers by checking their tastes against a vintage I find particularly appealing (read my current favorite) chances are if we find common ground there, they might be able to offer more to tempt me. Best rule of thumb, of course, is try it yourself. Yes, that could mean hours of tireless research and bottles and bottles of wine. ( Oh, the hardship…) Do it for love, do it for vino.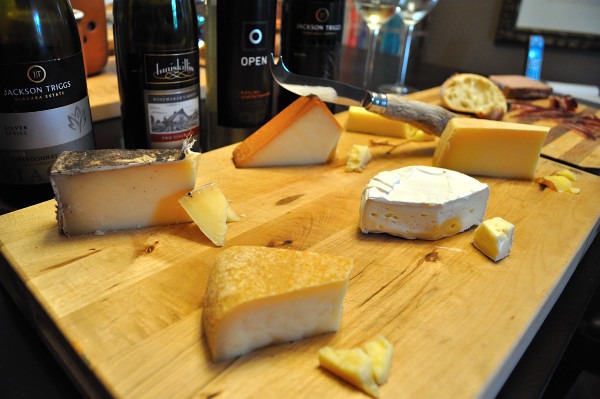 2011 Open Riesling Gewürztraminer, Niagara-on-the-Lake, Ontario
A hint of sweetness, a nose full of flowers and a lychee undertone. The Open has the pear of riesling and the peach gewurztraminer in a bouncy little blend that makes a great opening point for the palate. A light, summer treat, this is a wine I might serve with a dish that features sweet and savory notes, or a gigantic green, garden salad. It says "fresh" but in a whisper and not a roar. Gypsy scorecard: 89/100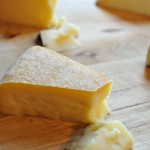 Paired best with: Niagara Gold, Upper Canada Cheese. This is a sweet and complex semi-ripened cheese that found a heightened flavour and benefited from the Open's sweetness and floral notes. It was a smooth continuity of flavours that helped to find the undertones of both.
Jackson-Triggs Silver Series Chardonnay 2010, VQA, Niagara-On-The-Lake, Ontario, Canada
Sat for 15 minutes just inhaling the Silver Series' scent: pear and plum, with a hint of coriander & saffron spice. The warmer it became the more fragrance it released, in fact I believe it was best cool and not cold and certainly benefited from 30 minutes of breathing. Surprisingly leggy for a chardonnay with a healthy bite (13.5%) and pale golden colour. Hints of dried fruit and bread replaced it's oaked opening refrain, with a lingering nutty finish. Gypsy Scorecard: 88/100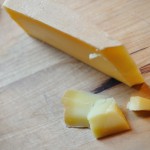 Paired best with: Alfred Le Fermier, organic, raw milk cheese. The wine's natural acidity against the high fat content of the cheese was the perfect balance of butter & maturity. I am extremely fond of this cheese in general, its raw milk base brings out the very best in nature's product.
Inniskillin Winemaker's Series Two Vineyards Riesling 2010 – V.Q.A., Niagara Peninsula, Ontario, Canada
The faint whiff of lemon and pear did not prepare my mouth for the shock of this riesling's acidity. I found it overly effervescent in the glass which leads me to believe it may have been bottled too early. The colour and nose were right, but found I it overly herbaceous and lacking in maturity. That said, a few drops of creme de cassis and it made the most amazing Kir. That touch of sweetness toned down the gasoline notes and reveled the fruit. Gypsy Scorecard: 85/100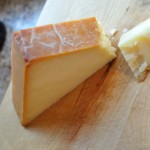 Paired best with: Bothwell's Maple Smoked Cheddar, this is a cheddar that needs a strong lead, the riesling grape, renowned in Germany for it's complimentary value against a heritage rich in cured meats, this was a win-win pairing. This smoked cheddar is such a strong cheese it can take over a room and this is a wine that will not back down from such strong smoke. (The bacon of cheeses!)
Jackson-Triggs Reserve Series Meritage 2010 – VQA, Niagara-On-The-Lake, Ontario, Canada
The nose intrigues, notes of cherry, pepper, almond and burnt wood. Two hours of breathing and it opened up beautifully to reveal a black fruit driven, caramel creaminess that was much more in keeping with the winemaker's direction I'm sure. Three words of advice on this vintage: decant, decant, decant. It's a wine that takes it's time. Gypsy Scorecard: 86/100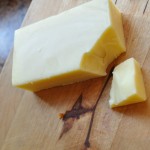 Paired best with: An aged cheddar, like 1 Year Old Cheddar Île-aux-Grues, for a mellow, easy falvour combination for the masses. A red blend with cheddar, not really a ground breaking find here, but it is one of those combinations that is a hit with most palates.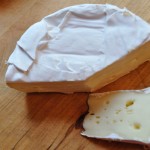 Just as tasty but much more subtle, the Albert's Leap Farmstead Brie, rocked with the Maritage, the fruit accenting the bloom you could really taste the milk, the grass and the farm but not the barn. The tannins cut the cream nicely leaving you without the gluey sensation of soft cheese in your mouth.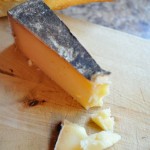 The Avonlea Clothbound Cheddar from PEI's Cows Creamery did not find a match with us among those selected for this conversation, I first tried it against a sauvignon blanc and it wowed. It's earthy taste and mealy, dry rich texture is not everyone's cup of tea. It has the sent and flavour of potato and the red iodine earth of the Island itself, which comes from the potato sack it's aged in. I love it, dying to make gooey-cheesy scalloped potatoes with it and dedicate it to my childhood hero, Anne Shirley. Our local Frenchman, Chef B on the other hand declared it "only good for cooking". Which means, more cheese for me!
If you would like to try any of these cheeses for yourself, or host a Canadian wine & cheese party of your own, check out the Canadian company TasteofCheese.ca who delivered this selection, chill packed, to my door. (You have no idea the joy this brought to our humble home.) A great gift or party idea for the cheese nibblers in your life.