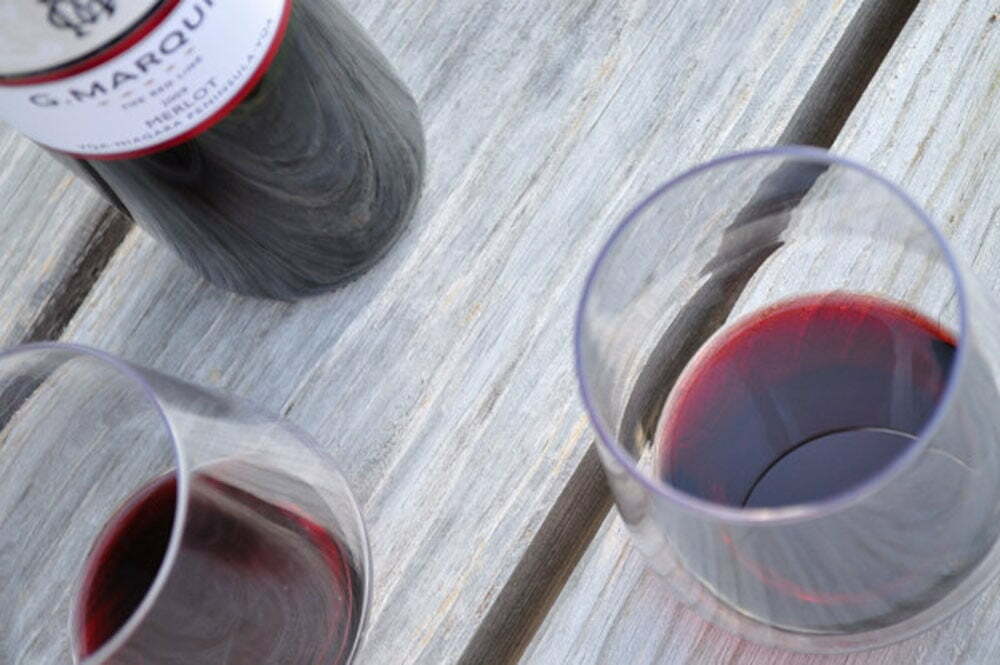 Five Ways To Improve Your Wine IQ
Tips on being an educated wine consumer, here's five ways to improve your wine IQ and two terrific bottles from G. Marquis to test it on. Don't fake it with wine anymore!
Yes, I often write about wine. No, I'm not a sommelier. I do not profess to be an expert on the subject of wine, but like many, I have a great love for it. Over the last dozen or so years I have been exploring both wine and food on deeper levels, expanding my palate and taste vocabulary. Day after day, glass after glass, I try on new tastes and experiences and do my best to share them articulately with readers.
For years I infamously (read drunkenly) declared "white wine is for cooking!" I was young and I had absolutely no idea what I was talking about, I was faking it and I knew it. That was before a former co-worker, an educated man much my senior, sat me down for a little 'wine education'.

"My dear," he said to me kindly, looking over his glasses while opening a ripe savingion blanc "you are squandering your palate and what I believe to be a brilliant mind."

What followed was a tutorial on wine (and life) I will never forget.
It was an afternoon of poetry and discovery. He taught me to close my eyes and feel the wine as I inhaled, suddenly what once was cryptic nonsense on the back of bottles began to make sense as he taught me to taste through all my senses. First the eyes, then the nose then (and only then) the mouth. He spoke of grapes and aging, beauty and refinement, grace and wisdom. He too was not a sommelier, but a man with a deep appreciation for the art of great wine. He generously passed that love on to me, so now, let's spread it around, shall we?!
Five Ways To Improve Your Wine IQ:
· Take a tour –Whether it's your first or one of many, attending a wine tour is a real world way to expand your knowledge and see wine making at work. Learn about wine regions, grapes from around the world and food pairing. You may even have a chance to personally meet the winemakers behind your favourite wine. In my experience, the world of wine making is filled with colourful characters; eccentrics, academics, business minds and passion makers – it's worth the trip.
When I travel I make every effort to take tours, or plan whole trips around vineyard excursions, it can be a marvelous way to spend a day and bring back a unique gift. No need to go to Europe or California, there are some truly great vineyards in our own backyard – from Ontario's Niagara and Prince Edward Country regions to Nova Scotia's Annapolis Valley and BC's Okanagan – explore a taste of home.
· Compare notes – Taking notes will not only help you remember the wines you tasted but will help you evaluate aspects of a wine including wine colour, appearance and aroma. This helps guide your analysis of wines and keep them consistent, without missing details. And for your notes you'll need some new words to help you describe what you're seeing, smelling and tasting, here's a link to a simple wine glossary. I like it because it's detailed, alphabetical and easy to use.
I have a rather fun wine journal, where I began documenting vintages and the often tipsy conversation it spawned. This then morphed into more detailed reviews of wine on my site. More than anything, taking notes helps me recall a taste experiences, as well as the vineyard and vintage, because I'm terrible with names, but I never forget a label.
· Attend local events – Attending wine events and conferences you can connect with thousands of fellow wine enthusiasts and industry professionals. Wine tasting classes help to further explore the topic with the help of a knowledgeable guide; discussing emerging wines, introducing you to an array of information that will increase your wine IQ on the spot.
· Stay in the know – Take the time to get to know the staff at your local wine retailer and share your preferences. You'll not only get the chance to discuss various wine options but they can also introduce you to new and interesting wines every time you ask. There is always someone who knows more, and the beauty of wine is that it is so share-able.
· Keep an open mind – While you may prefer only reds or whites from a particular region, but keeping an open mind and being willing to try new wines is a great way to compare and contrast your preferences, some of which may surprise even the most skeptical wine enthusiast.
Case in point; last month I explored the wines of Ontario in much greater depth, and was mighty impressed. Spending my teens and early twenties in the Okanagan, I'm no stranger to Canadian wines, but when I head to the liquor store I find myself in isles marked France or Spain. Why? Because I am a creature of habit that's why. July brought me back to Canadian wines once again with many a "wow" moment of national pride including two terrific choices from Niagara's award winning G. Marquis.
2010 Riesling VQA – The Red Line: A refreshing opening refrain, a wine to open the palate and cleanse the mouth. A nose of honey, ripe pitted summer fruits and a hint of lemon. It has an almost herbal quality with a fresh, green finish. Perfect for garden parties, and seafood appetizers, it will brighten the spice of curry and stood well as a companion to a long, hot afternoon. Gypsy Scorecard: 89/100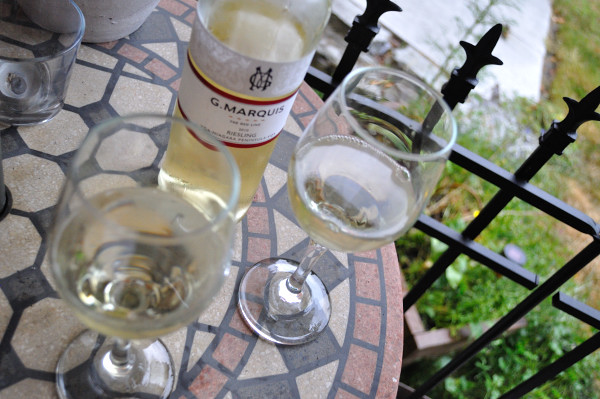 2009 Merlot VQA – The Red Line: I adore this merlot, the colour and clarity are magnificent, look at it here, in the sun; it looks like a jewel. Big, spicy grape notes and solid structure lend balance and give it a long, dry finish, this is my kind of wine. I didn't need to pair with food to enjoy it, but dam if it didn't make a simple pasta dish sing. Gypsy Scorecard: 90/100
Relax, let the wine speak to you. Some will whisper, some will shout, but each has a story that's unique. You may discover that certain tastes do not appeal to you, and rather than offer a three year old's excuse of "me no like it!" you will be able to say "I find the oak a little strong, the barrel overpowers the grape" and then you will drink it anyway. Grapes died for this.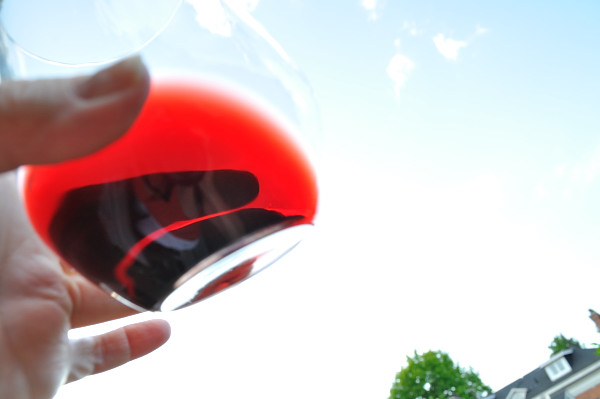 Many years have passed since that afternoon spent in semi-inebriated wine education. My wise tutor has long since passed away, but his legacy to me remains every time I read tasting notes, take a tour vineyard tour, crack a wine book, take a short course and taste something new. For me it is the slow unearthing the long line of love that moves from earth to vine, from vintner to bottle, from bottle to glass.
Let's drink to that.