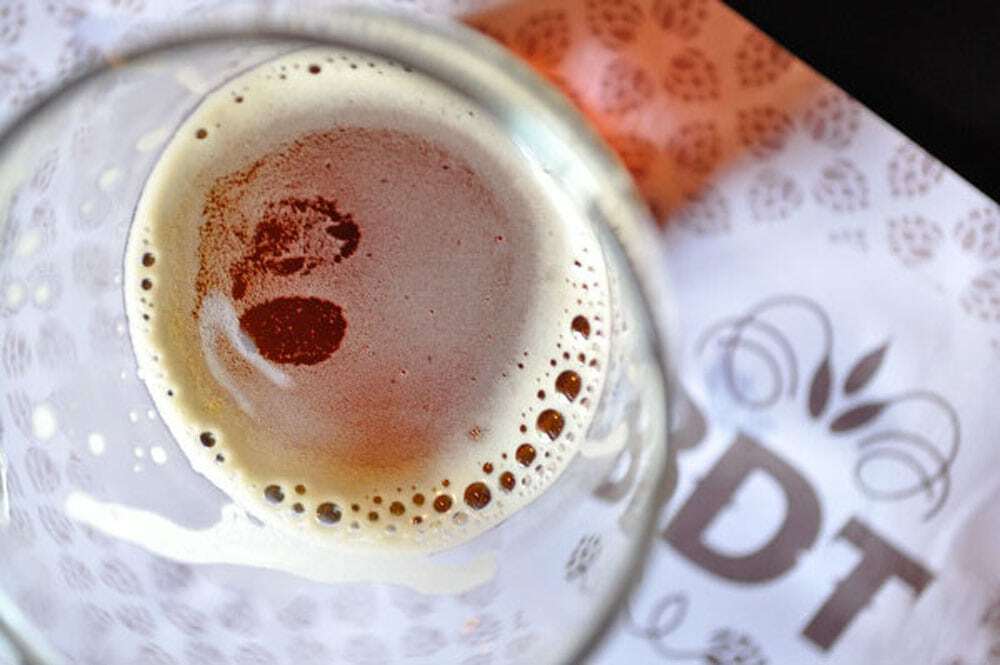 Les Brasseurs du Temps – A Great Canadian Brew
In the heart of historic Hull, Québec lays Les Brasseurs du Temps a mico brewery, big on taste, with an eye toward European tradition. It's our Food Gypsy Oktoberfest pick of the month for a dam good pint, a bit of brew history and a nibble or nosh on the side.
We are frequent visitors to Les Brasseurs du Temps (BDT as it's known in familiar circles), on the site of one of the region's first breweries, now restored to embrace it's colourful past. A big open concept room, centered around the brew pit, with rows of comfortable chairs, a gigantic patio along the river, a kitchen behind glass and on tap, a bevvy of beautiful beers. Here, fine crafted beer takes center stage, without the stuffy pretense attached to so many modern mico breweries. It's a working man's brew, friendly to calloused hands and the developed palates that appreciate the beauty of beer in many different hues; blond, brunette & redhead.
The man in my life, Chef B, dearly loves his beer. I believe the car to be pre-programmed to take us directly to BDT on laid-back Saturday afternoons. Once arrived, he samples their wears like the connoisseur he is, often opting for the four ounce sample size to taste, tally and uncover new favorites without a big commitment. This has lead him to many a vocal opinion, much lip smacking, and a favorite or two.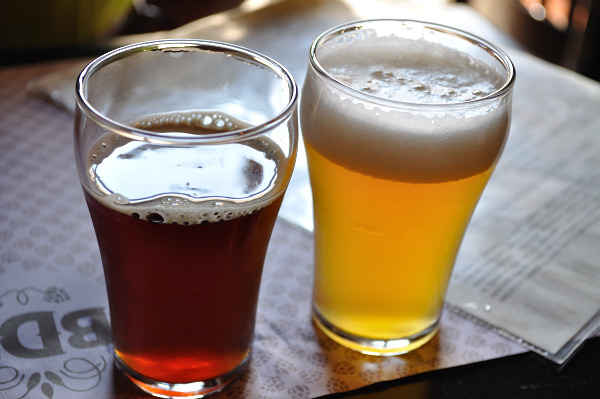 Chef B's BDT's Brew Picks:
La Saison Basse – A seasonal beer with a complex and heady nose of cardamom, vanilla, nutmeg and mint. "Smells like shampoo you'd find at a really fancy spa that you wish you could drink." An unlikely review if I've ever heard one but there you go, fancy drinkable spa shampoo, in beer form.
Obscur Désir – BDT's imperial stout with a mouthful of hops, coffee and dark chocolate. At 9% alcohol Chef B calls this a "kick-in-the-face beer. Dark, chewy, filling, warms to your toes". It's rare for him to like dark beer, he's more of a light bodied beer kind of guy, but he found the nose so enticing and the taste so inviting, he felt compelled, adding that it's aptly named. The draw back to full bodied beers like this one; so dense nutritionally, that they fill you up fast. A meal of a beer.
La Diable au Corps – Their dry-Hopped Imperial IPA, with big citrus, cherry and woodland notes, stuck Chef B as too sweet at first but the finish is bitter and full, winning him over heartily "Oh, now… here we go! *glug, glug, glug*… Ahhhhha." Another heady beer at 9.5%, among his favorite picks, and it looks like he's in good company, La Diable au Corps won a silver medal at the 2012 Canadian Brewing Awards.
The Gypsy BDT Brew:
La Pommée – An apple ale with a light caramel malt to back the fruit, it has a nose of ripe, red apples and dried fruit. Herbal and lightly floral, it's flatter than a cider, with an appealing apple aftertaste. This is the first small brewery I've found to offer non-beer drinking cider lover like me an an in-house alternative that's tart and tasty. First beer I've ever liked – ever. Rather high praise.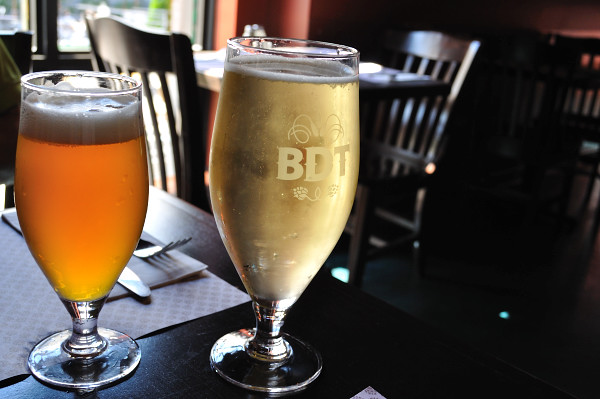 Served along side a great brew is a creative menu, with rustic flare. Current features include Braised Lamb Shanks Flavoured à la Dumduminator ($22), Duck and Hops Burger from Île du Grand Calumet ($17) and a Tennessee Jack Beef Burger ($17). I wish I could say that the food in every way meets the superb quality of the beer, but unfortunately I can't. While the menu is enticing and locally sourced, it's often sloppily executed and slowly expedited, resulting in average results, served lukewarm. Often… but not always.
We have had some very, very good service and some very, very good food at BDT and we've also had some mediocre food and almost non-existent service. Simply a case of inconsistencies, a shame really. Case in point, the Québec Lamb Burger ($17), seasoned with coriander and mint, with red pepper hummus, and house made lemon confit cream cheese spread (below) arrived barely warm, with a side of warm, wilted greens. Flavours that should have been bold were bland and it was cold where it should have been hot and warm where it should have been cold. What I can say is consistent is the price, which is always on the high side.
We usually opt for the tapas menu (photos above); their scaled down offerings on the weekends during the off season, with a bit of this and a bite of that and a big-ass cones of fries ($6) finding it delivers more consistent results with less of a drain on your wallet, leaving you more money… for beer.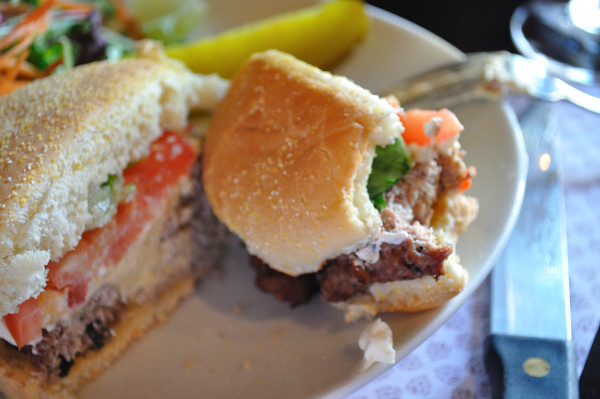 We keep going back, because on a good day it's good food in a casual room with beautifully crafted beer and the kicker that makes it our Oktoberfest pick is it's marvelous Brewery Museum.
Les Brasseurs du Temps boasts a well crafted, thoughtfully put together look at the history Canadian brewing history in the belly of this historic building, in both official languages. Covering everything from hops to Hockey Night in Canada; the two hundred meter hallway loops around the center vat room for a one-of-a-kind historic tour of beer through the years and the 160 year tradition that shaped the township and the region.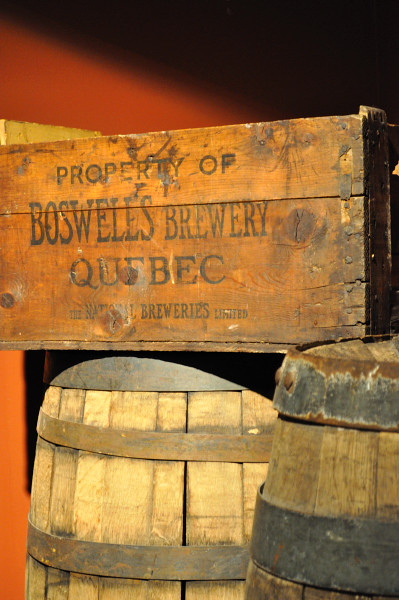 We are Canadian and man, we love our beer! Worth the visit alone, the museum is free to Brasseurs du Temps patrons and open for self-guided tours during business hours, simply grab a beer and take a wander, or call in advance and arrange a tour for a group of friends and educate yourself on the science or brewing. Be sure to sample liberally and — take a cab. Those Québec beers will knock you so hard you'll think you're speaking perfect French as you slur though your vowels and start singing 'Frère Jacques', loudly, with (what you think is) tremendous diction. This is generally frowned upon by the locals, trust me on this.
Empty glasses, light heads, full bellies. Saluté.
Les Brasseurs du Temps
170 Montcalm st
Gatineau, Québec, J8X 2M2
Telephone: (819) 205-4999
www.brasseursdutemps.com