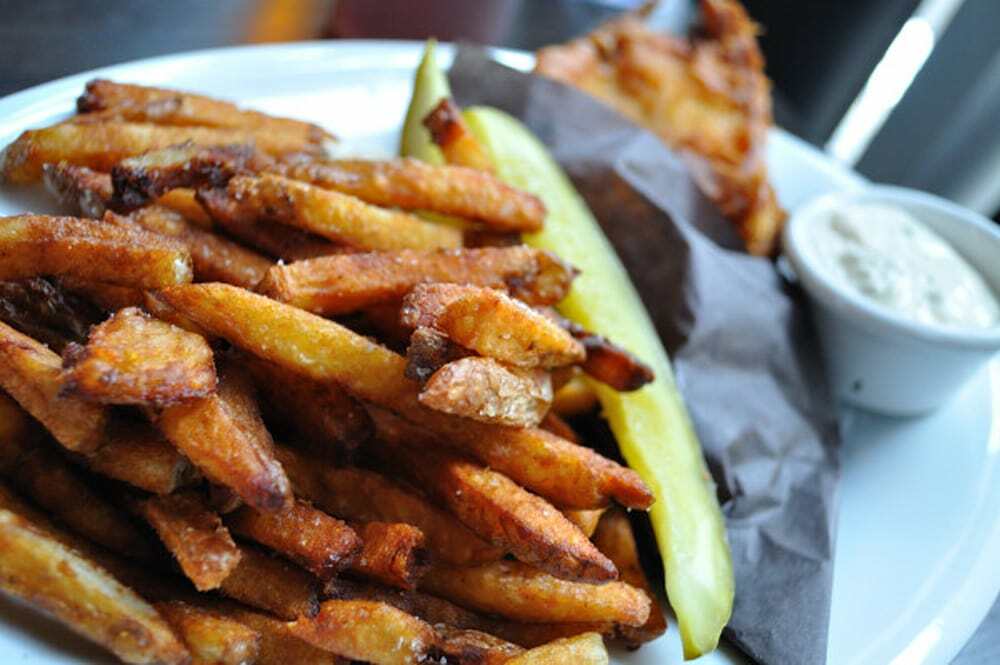 Mill Street Brew Pub – Old & New & A Bit of Brew
The city's newest brew pub, Mill Street Brew Pub hit the ground running early this year with a big, splashy opening. Located in one of downtown Ottawa's historic buildings, once the home of Thompson-Perkins & Bronson Gris Mill along the river's edge; it's spectacular location attracted a great deal of attention from curious folks (like me) who were eager to see the end result. So once all the fuss died down, we ventured out for an early lunch on a Sunday to take a peek.
Just minutes from Capitol Hill, a piece of history was given new life as scads of moolah was spent on construction, installation of gigantic gleaming beer brewing apparatus and a sleek, yet casual interior design. The look is old meets new, with a floor that looks like it could be original, polished and weathered, comfortable modern seating, hints of muted colour and big windows that look over the river and grounds below and feature glimpses of the original stone construction. One of our servers confided that a patio is in the works for the summer, and there is a whole upper level of dining space I haven't seen – this place is huge.
The parking lot has a bus parking lane and between the location, the stunning veiw and plentiful seating, I'll wager The Mill Street Brew Pub will be a popular tourist destination in the height of the season. The service was courteous, though a bit green, our servers had a good general grasp of the menu and the kitchen's strong points and anything they didn't know, they scurried off to ask.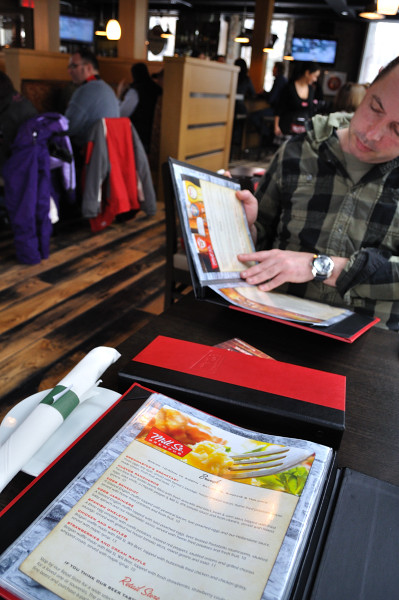 The Mill Street menu emphasis cooking with the brew they make, everything from the Tourtiére to the Chicken Tikka Masala is made with some form of beer. They make a dam decent pile of fries along side a single piece of Original Organic Lager battered fish – but at $14 that's one mighty pricey fish & chips. Sadly, my fish was a touch over cooked and dry, it bore the telltale marks of the bottom of the fry basket. If you read Food Gypsy regularly you'll know I'm a pretty picky fish patron, but this little hiccup won't stop me from returning for another visit.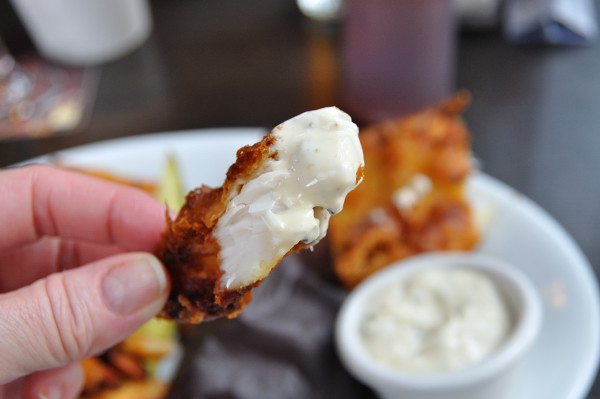 Food voyeur that I am, a couple items floated past that made me want to give it a second chance: the sweet potato fries are served in a cute little copper bucket (it's shiny, I want one). The flat bread pizzas, which use spent grains from the brewed beer in the dough, look amazing. The portions are enormous, so you're not going to go hungry at the Mill Street Brew Pub, but you might come out with your wallet a little lighter, as pub grub goes, it's not exactly cheap.
A couple of pluses for families, they have a kid's menu that doubles as a colouring sheet, and for the young (and young at heart) the house brewed Mill Street root beer or root beer float is to die for. I didn't indulge on this visit, but it is a Mill Street favorite, I prefer it to actual beer. It reminds me of the root beer my Mom used to make when I was a kid, that would occasionally burst the bottles if left too long.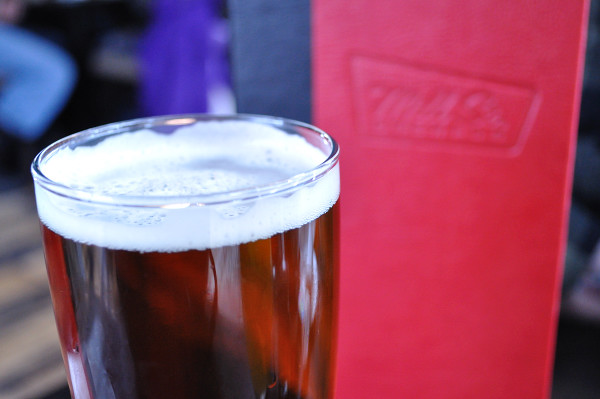 The Chef in my life is my official beer taster (a job he does with great gusto) but the in house Chaudiére ($7) did not encourage him to delve deeper into the brew on our first visit. A big, hoppy brew, it had a great nose; hints of apricot and gorgeous colour, but I don't think I've ever seen him shake his head and gag on a beer before. "Bitter…!" he gasped as he reached for water, sucking air, tears welling up. It was the best bitter-beer-face I've seen in years, but that didn't stop him from drinking it. He said it kind of grew on him and was better with food.
With fourteen beers on tap, there are lots of options of the beer drinking crowd; try the sampler or take a brew-master tour and explore many bevvies at once. The tour intrigues me, I'm putting it on my list of stuff to do this summer. I find the beer making process fascinating and who knows, one might even develop a taste for the stuff (if not one can always wash one's mouth out with root beer). For those serious about their beer make note: Monday through Friday tours are lead by Adam Rader, Mill Street's Head Brewer, check the Mill Street site for details & times.
My take on my first visit to the Mill Street Brew Pub is that they have a couple of bugs to work out, which often comes with territory of creating something new. Once the trendiness wears off and it settles into a nice comfortable groove, I believe Mill Street will find a steady stream of locals comfortable in it's historic walls.
So I'll give Mills Street Brew Pub a couple more months to get their operation down to a smooth, effortless grind and pop back to try the brunch menu, I'm a sucker for Chicken & Waffles and he's a sucker for beer.
Mill Street Brew Pub
555 Wellington St.
Ottawa, ON
(613) 567-2337
www.ottawa.millstreetbrewpub.ca