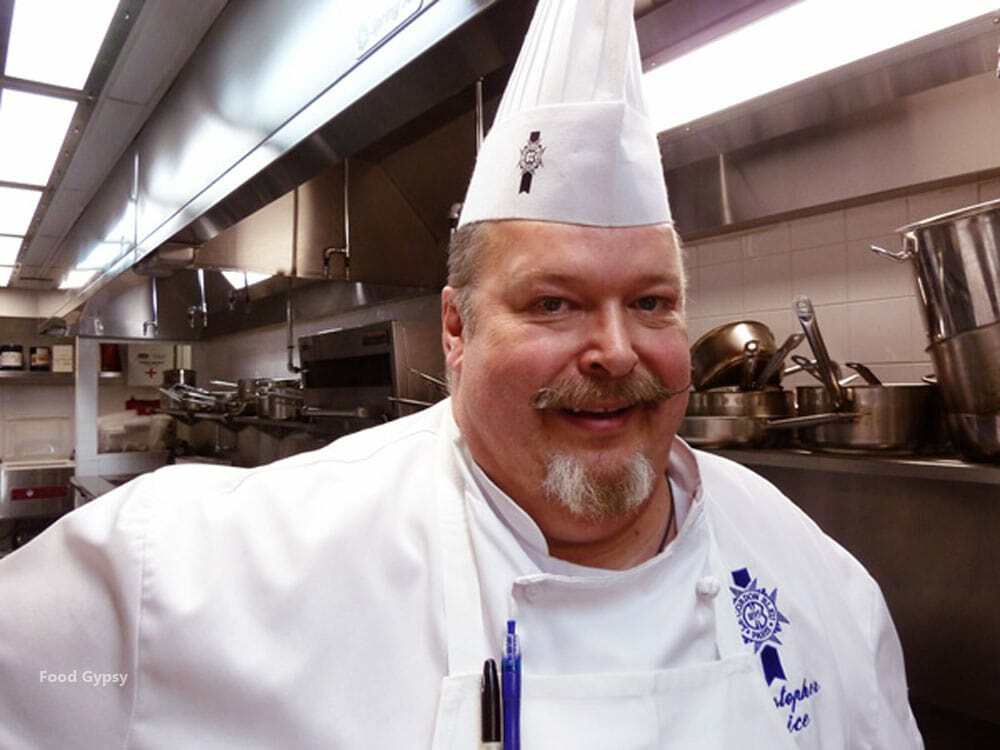 … In conversation with Chef Christopher Price
Good Morning Foodie Gypsies! More Food Gypsy TV. In Part II in our Real Life. Real Butter. Series we take you behind the scenes Le Cordon Bleu Ottawa; in conversation with one of my favorite Chefs; Chef Christopher Price in the Production Kitchen.
(They're all my favorite just in different ways.)
In my research before choosing a culinary school I considered several factors; the structure of the program, the depth of the instruction, the caliber of the instructors, the stability of the institution, its reputation within the industry, what students (past and present) say about that institution and finally, I visited my top four picks to see how it "felt".
Top four picks: Culinary Institute of America (CIA, New York, USA), French Culinary Institute of America (FCI, New York, USA), Pacific Culinary Institute (Vancouver, Canada) and Le Cordon Bleu (Ottawa, Canada)
First impressions count for a lot, each was welcoming (though some, more so than others) they were interested in me and my goals, and each offered a program of intensity and depth.
What I found surprising in these visits was not what was present (they all have similar buildings and kitchens) but what was missing… the smell of something cooking!
The FCI smelled like… bleach. Must have a great cleaning crew but it was rather off-putting.
Wafting down the halls of the CIA… nothing, and I do mean nothing. Is the venting system that good or was the class schedule such that I was not there during 'cooking' hours? Life's little mysteries. No chance to ask, I got the impression that unless I was writing a cheque right there and then I really was not important.
The two exceptions in 'the nose test' were the Pacific Culinary Institute and Le Cordon Bleu Ottawa.
The Pacific Institute held the aroma of seafood, garlic, and ginger, distinctly Asian… then the warm, easy scent (just down the hall) of vanilla. Both sugar and salt are equally represented. They took a great deal of time with me. Vancouver is my hometown and the influence of Asia is so dominant in their style, I thought we might be a good fit.
From the moment I walked through the doors at Le Cordon Bleu, smelled like BUTTER. (thus my fond little nickname "The Halls of Butter") As I walked past the demo kitchen – beef. As I walked into the pastry class – chocolate.
A student passed me a chocolate, I began to fall in 'like'.
We are very different in style, Le Cordon Bleu and I – where I am casual and loose in my approach – it is precise, extremely so. I honestly did not expect to find a fit here but the longer I stayed the more I began to desire a measure of precision. In it, there is structure, discipline, and foundation.
Descending the stairs to the Production Kitchen there was the heady aroma of all things delicious; bread, pastries, (more) butter, and lobster. (It smelled like I cook, but better.)
Chef Christopher looked up from his desk covered in paperwork and spent a half-hour in conversation with me that day… food, the industry, training, timing, opportunities, and… Nova Scotia. We have the Annapolis Valley in common, he even knew my big, red house (The Dragonfly Inn).

"Oh, the one down by the train station? I love that property!"

Colour me surprised. "Yes Chef, that's my garden!" (I miss my garden…)
It was in this conversation that I realized the opportunity in front of me. The Production Kitchen is a place to sharpen your skills and work in 'real-life' conditions – for a student at any level. All culinary colleges offer the restaurant side of practical application but that is only open to intermediate and superior students.
The Production Kitchen is open to anyone… just volunteer… show up and LEARN.
Once the scullery kitchen of the great mansion that is now Le Cordon Bleu Ottawa, the Production Kitchen has a feeling of 'belonging' of 'service' of 'commonality'. It has become one of my favorite places to spend my spare time. Because I love to learn.
Hope you enjoy this brief vignette with Chef Christopher, who is a lovely, well-spoken man.
Tough and demanding, but fair and kind. He will push you, he will ask you questions, he will test your skills, support your efforts to improve and he will demand your very best. And that is why we love him. If you ask nicely he will even share his bread recipes with you, they make about 20 loaves. (I'll do some math and get back to you.)
A little "behind the scenes" peek into the Halls of Butter.