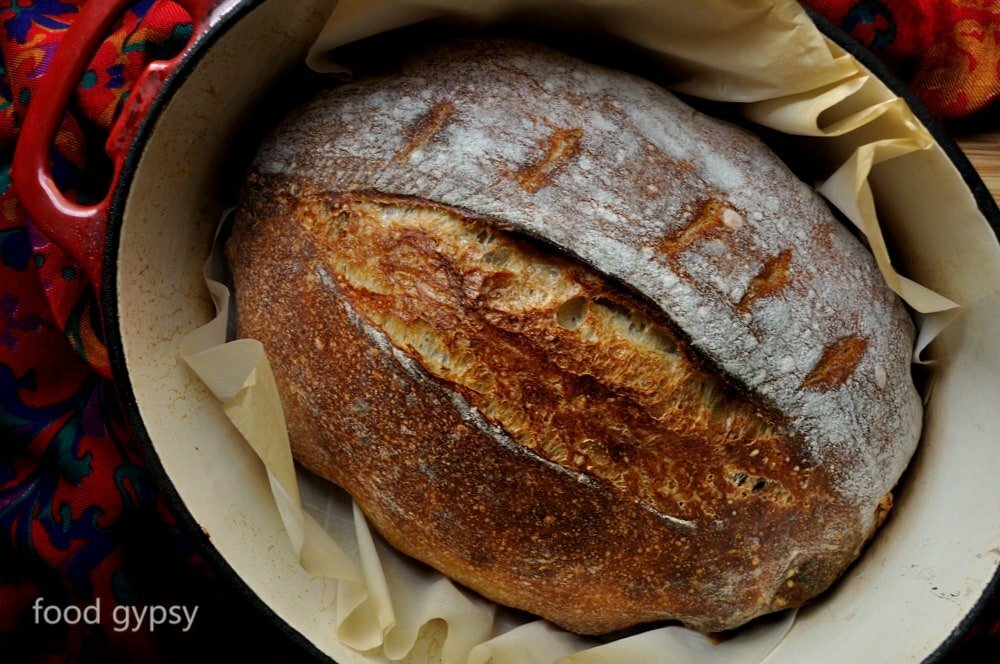 Sourdough Bread – A Resource Guide for Beginners
New to sourdough? Completely confused? Are your fingers caked with dough? Did your starter "die"? Does your bread look like a large pancake? Is your dough so stiff you have to call in support? Did your sourdough bread split all over the place? Is your crust soft and spongy instead of crispy and light? When you asked someone for help did they start speaking a language you did not understand? If you answered "yes" to any of the questions above then you've come to the right place my friend.

In this post we pull back the veil of 'artisan-ship' just a smidgen to reveal the simple essence of sourdough and the phenomenon it's created.
To be clear, I am not a sourdough bread expert
An industry professional with 15 years under my belt, a dam good cook and recipe developer. I'm good with a flavour profile, able to replicate dishes after tasting them with tremendous accuracy. I'm a solid baker but I am relatively new to sourdough, just like you.

What I am good at is finding and working with resources that move me in the right direction.

Over the last month and a half I've been learning the ins and outs of sourdough bread, hands on. I've had every question listed above, found resources to address them and every week the bread gets better and better. Passing on those resources to you.
They're all free and easily available on line. If you have a favourite resource, please add it on the comments below. More is good!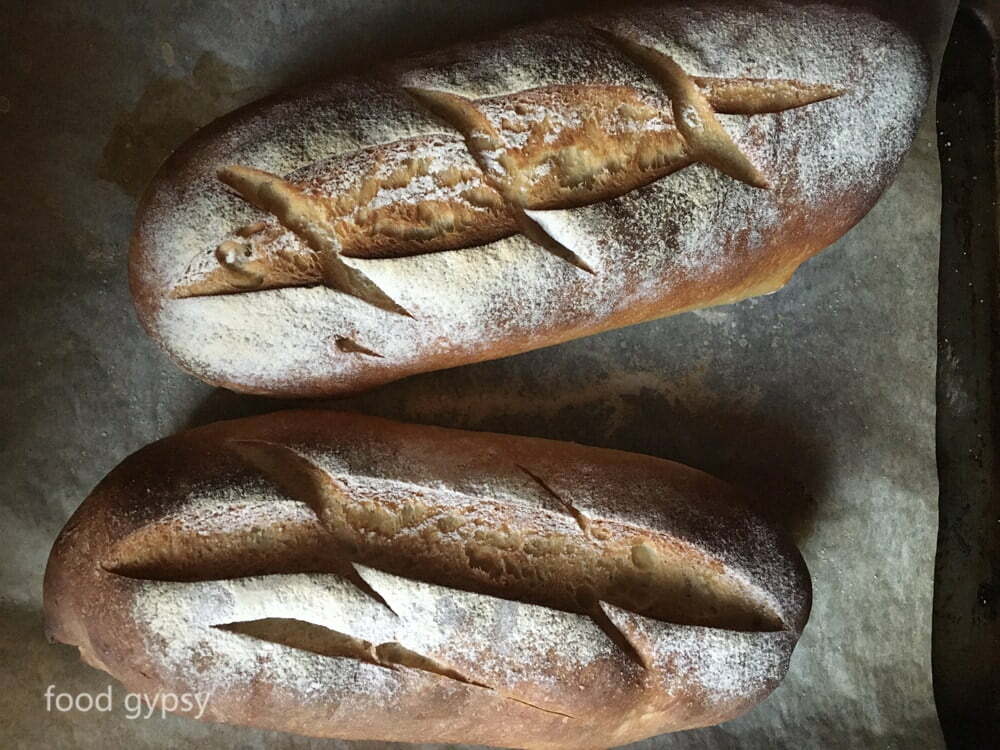 Sourdough, A Bread Adventure
Cleverly avoided sourdough for years until one day, in April, during lockdown, while everyone and their dog is baking sourdough, the chef in my life willfully accepts the gift of a chunk of starter along with explicit directions on care and feeding. He abandoned the project after the first bake. (So much for developing patience!) But he knew I couldn't allow something living in my fridge (that I had affectionately named) to die.

Being the resident "care & feeder" it wasn't long before that task and soon the entire project, fell to me. Didn't stop him from having an opinion, and occasionally meddling in the process though.

While enjoy a great bread, it's nothing compared to his complete OBSESSION with it. Not the baking of it, the eating of it. His was a simple request, the replicating of the bread he grew up on in a small village in Burgundy, France.

Le Bâtard: a French loaf that falls between a round and a baguette. Literally translated as 'bastard' – the bread that's neither one thing or the other. A Bâtard is old world French sandwich bread. It was a hard no on round loaves, thank you very much.
Him: Remember the bread at Schwartz's in Montreal? The size, the shape?
Me: Yea…
Him: Like that, but not rye.
This was my original creative direction. I've branched out a bit since then. We now have a 'his loaf, her loaf' thing going on and everyone's happy.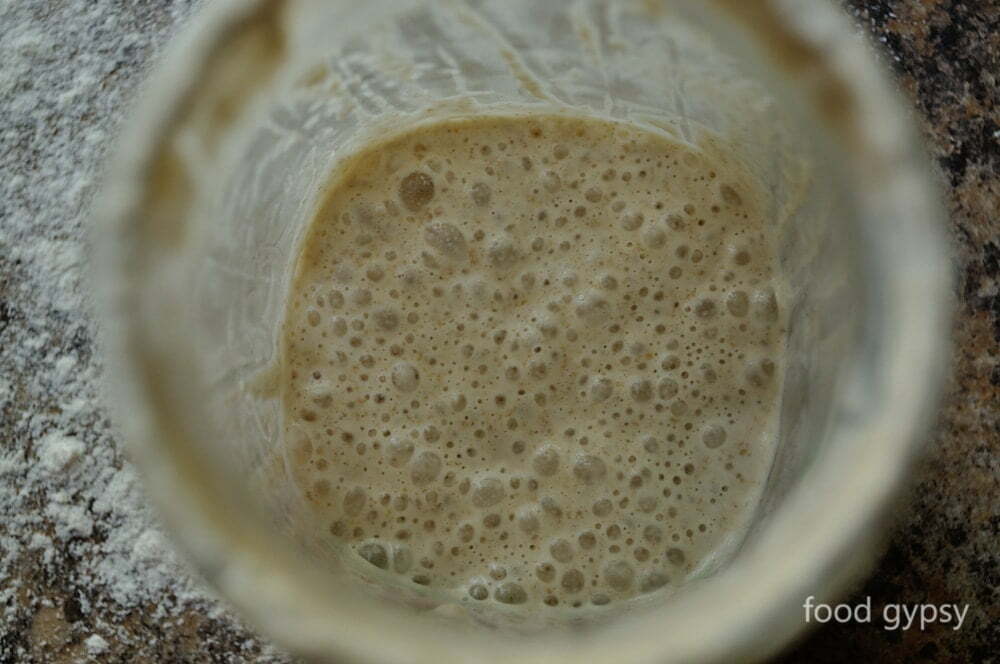 Start with Starter
May as well start at the beginning. "My starter died, HELP!" I've already fielded multiple questions on starter, so let's get you going in the right direction right off the bat. This is a great graphic from I Love Cooking Ireland, it's simple and easy to follow. I highly recommend the Sourdough Bread Master Class video on I love Cooking Ireland as you get more deeply into the process. But a great place to start is with your starter.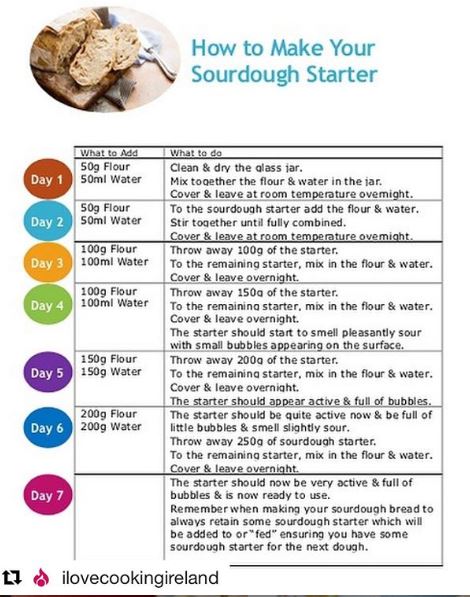 Once it's growing and feeding it's piggish little self (because a good starter can be quite the monster), a myriad of things can go awry. Here's two great resources for that.

Mary's Nest is a great resource for the home cook. She gives practical, real world sourdough starter fixes and advice without a lot of jargon. Best of all, her fixes work and you don't have to wade through a 14 page monologue on beauty baking bread in the misty mornings of wherever-ville. Just straight up "this is the problem and here's how to fix it". Mary is also a good source if you don't have a scale and all this weighing in grams nonsense is not for you. She'll breakdown your bake in cups and measures.
For industry pros, and kitchen geeks (like me) get your food science fix at Cultures for Health. Not only will you find sourdough and the dueling yeasties/bacteria of fermentation with all your best fixes, but you'll find other culture cooking tips too. Kimchi, yogurt, cheese, kombucha, crème fraiche, tofu, kifir and even sprouting. Love this site. Talk science to me, Baby!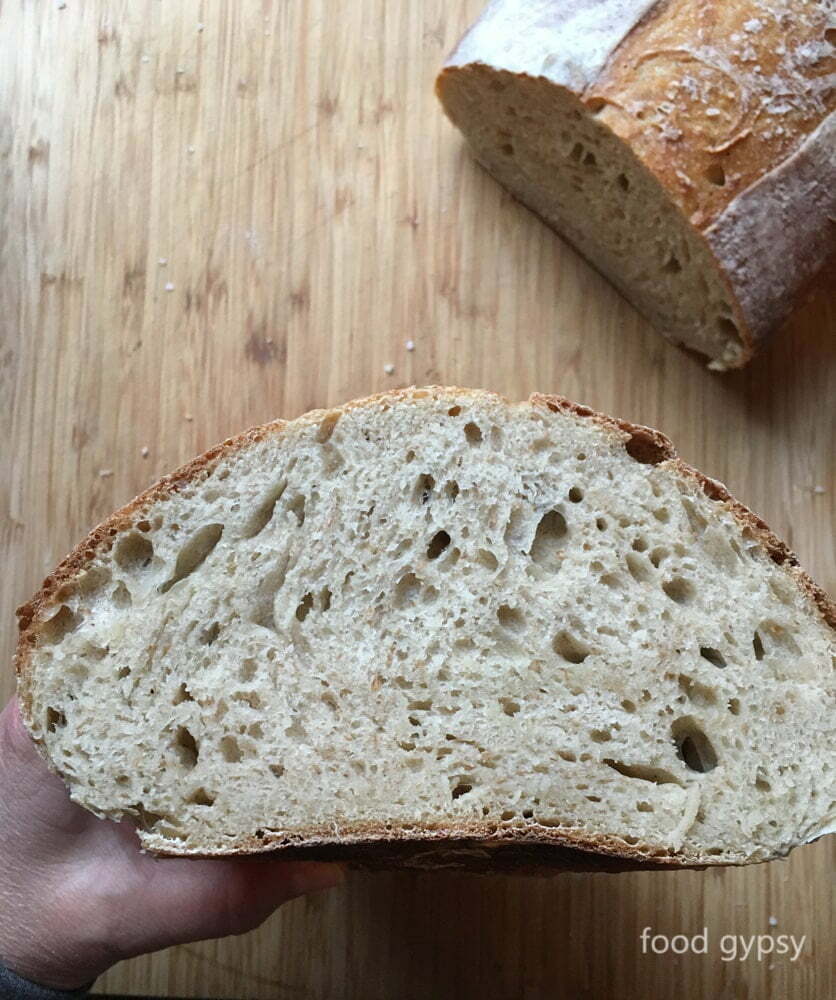 "Crumb" – the pattern, or size, of holes inside the bread
The Secret Language of Bread
Every culinary subset has its own language; cuisine, pastry, saucier, and boulangerie (bread baking) is no exception. Culinary terms help us to communicate complicated ideas and processes in short, concise manner. Here's a complete breakdown of all the most commonly used terminology in sourdough bread circles, also from Cultures for Health.

This will get you started:

Humidity: The amount of water used. Example: this is a 50/50 loaf, rye to bread flour at 80% humidity. (Translation: the amount of water used was equal to 80% the weight [or volume] of flour.)
Ratio: The amount of one ingredient in reference to another, in this case; flour vs. water vs. starter. Simple math.
Crumb: Refers to the pattern, or size, of holes inside the bread.
Autolyse: The process of premixing your base ingredients – flour, water & salt – before adding your starter.

Do I autolyse? Yes, I do. I find it a more efficient and effective way to manage my timing and build a good dough.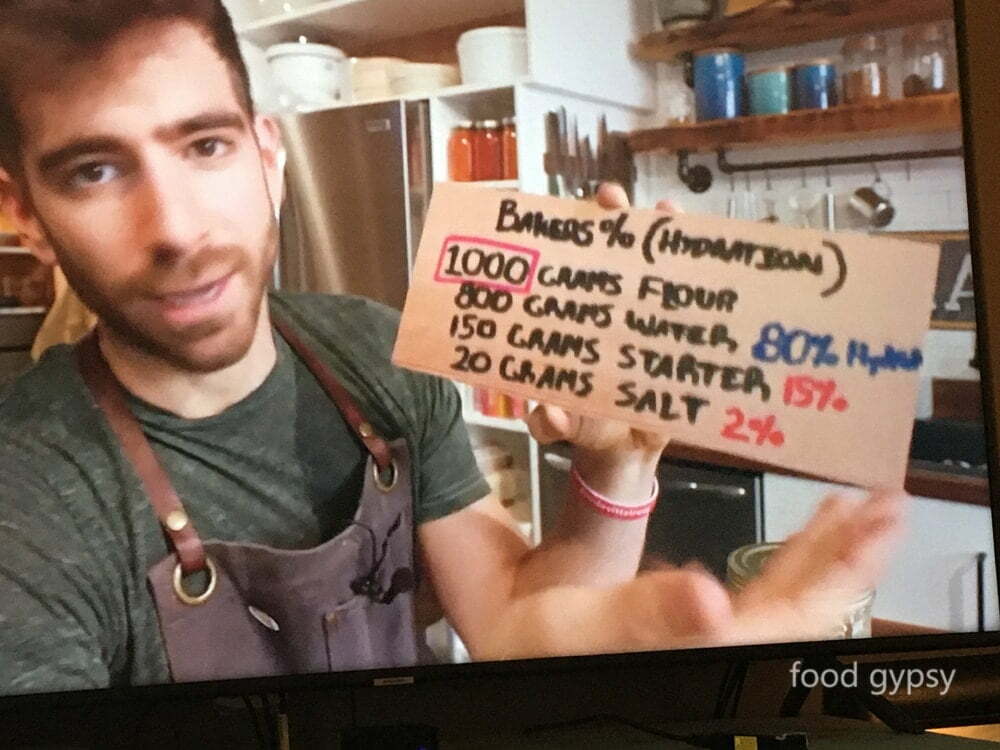 No, You Don't Need To Knead
Knew we were off to a bad start with the first dough when I had to call in Mr. Muscles because the dough was so stiff I couldn't work it myself. I got the recipe from a very well reputed site that specializes in baking. It was well reviewed. Having made sourdough bread with my mom growing up I knew that sourdough should be loose and sticky. This, to me, underscores the need to find resources that work.

In the world of sourdough bread, there's no need to knead. Some pinch and stretch, while others slap and fold. I don't know about you, but reading about technique and watching technique are two very different things. Visual learner that I am I fell hard for this video "15 Mistakes Beginner Sourdough Bakers Make from Mike Greenfield at Home Pro Cooks. Less than 20 minutes long, it's a tight and concise guide and the source of the base recipe (to follow soon) that I've been modifying slightly, week to week.

Another video you might want to check out on Pro Home Cooks is "Can I Make Sourdough Bread with No Baking Equipment?". The short answer is "yes". Check out Mike's tips, he won't set you wrong.

We're pretty well stocked in our kitchen, but proofing baskets? No! Some magically appeared at our door the other day (Happy early birthday to ME!) but up until then I've been making due. No need to spend a fortune.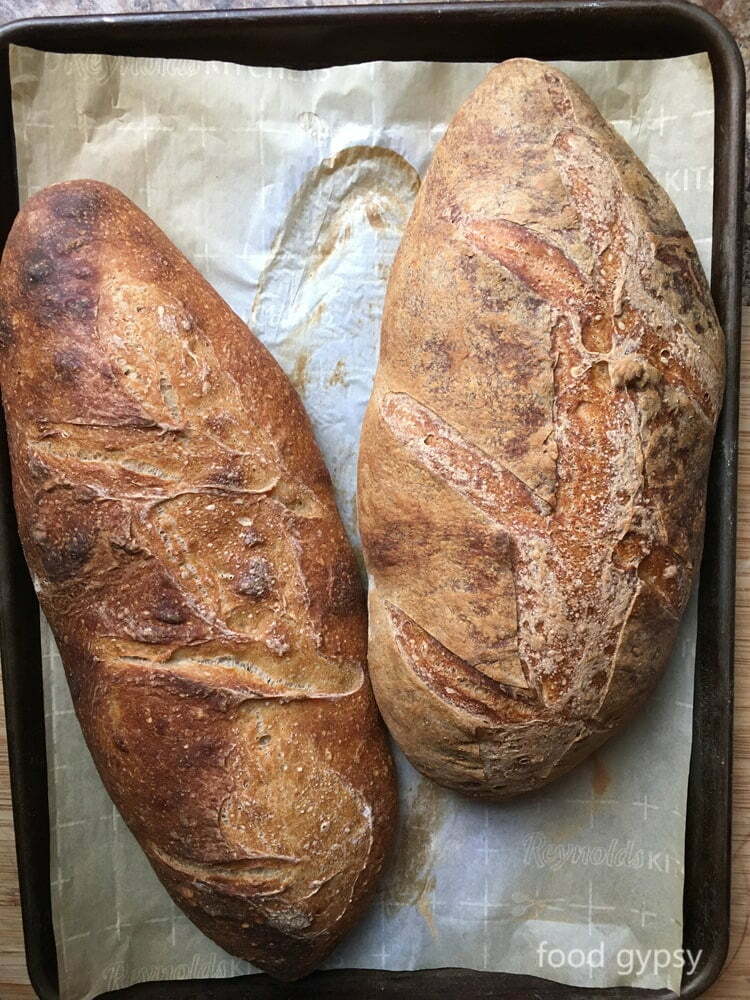 Tips on Getting Crusty & Crumby
One of the hurdles you're libel to encounter is getting your crust and crumb, just right. "Why doesn't my bread have a nice, crispy crunch?" "How come it looks different than all those amazing bakers on Instagram?" "Why is it so dense?" "Why does it have such big bubbles?"

Oh, I feel this one. Had this issue myself. There are solid resources on crust and crumb in all of the above links. But sometimes it's good to open a live back channel to a good source you follow. Locally, in Ottawa Canada, I actively follow Anne Waters. Anne makes AMAZING bread. She's been at it for a couple of years now and is very generous in sharing knowledge, resources and a good laugh.

I also learn a great deal by popping by Tara Jensen's Instagram feed (Baker Hands) or website and scrolling through her posts and featured stories. Part poet, part gifted sourdough muse living in the heart of Southwestern Kentucky. I particularly enjoy that Tara cheers you on with "You're doing GREAT!" encouragement.

Other voices in sourdough that I follow are Andy Rappaport, and the Instagam feed from Tarine Bakery is masterful inspiration. Word to the wise; please don't pop by a master baker's feed then give up because you bread looks nothing like theirs. PLEASE.

Did you ride a bike on your first try? No, you fell down and you got back up and you did it again. It was sooooooo hard. Maybe you cried. Maybe you thought you'd never get it. But you did. Now it's automatic. Keep at it and soon sourdough will be as automatic as riding a bicycle.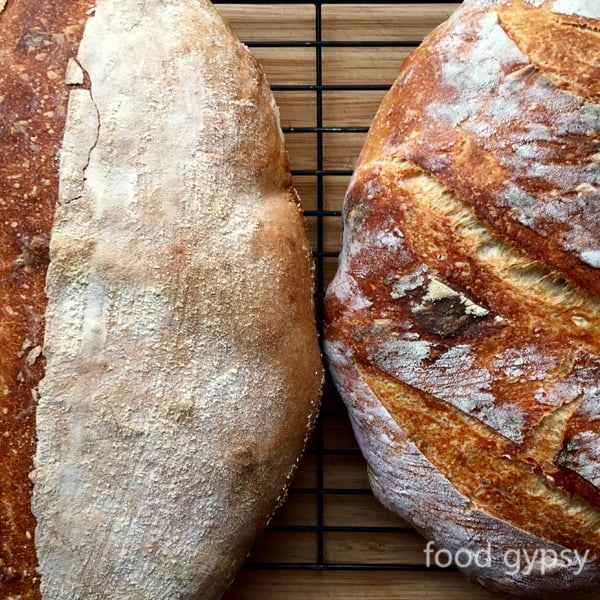 The Practice of a Lifetime
This marvelous little hobby has spawned a number of side benefits (aside from the bread that my family eats LIKE MONSTERS) including the quality conversations I've had with my Mom on the subject. Every one is a glimpse into old world practice. Mom learned from her mother, who in turn learned in her mother's kitchen and my great-great-grandmother learned sourdough bread at the knee of her mother. This is not new. The first known sourdough dates back to 3700 BCE. Sourdough is an ancient practice.

If you'll bear with me, I'll share my best takeaways from those conversations with you.
Don't be afraid of it. A friend recently shared her first loaf of sourdough with the caption "20% whole wheat, 80% humidity, 100% anxiety!" which made me laugh out loud. (I prefer stress and cursing in mine, but everybody's a little different.) It's okay, it's just dough.
Wet hands don't stick. That's right, wet hands. Not dry floured hands. WET. You might note that many bakers work with a bowl of water next to them. No more dough covered hands.
Sourdough will not be rushed. Period.
Time is your friend. Soon you'll learn to speed things up or slow them down as needed so your dough babies don't boss you around. You're the boss… mostly.
Let the bread teach. I love this one. It allowed me to relax and let go of my need for perfection and become immersed in the process of it. You'd be surprised that you can learn from a loaf of simple bread.
Let go, and listen to the bread. Happy Baking.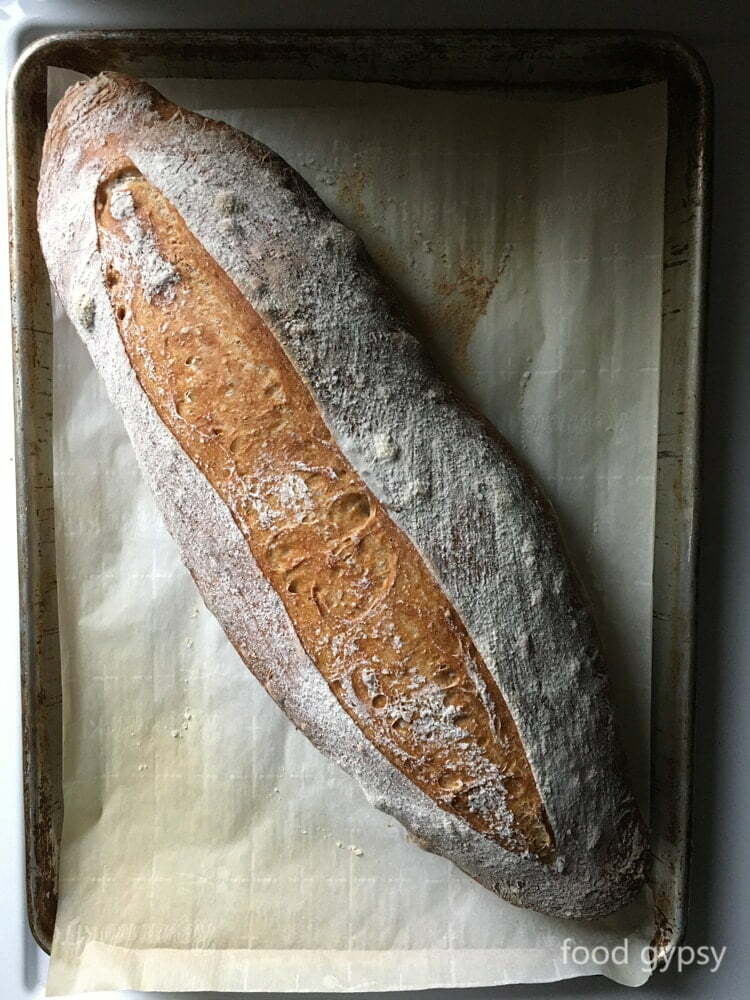 10.
Sourdough Bread – A Resource Guide for Beginners