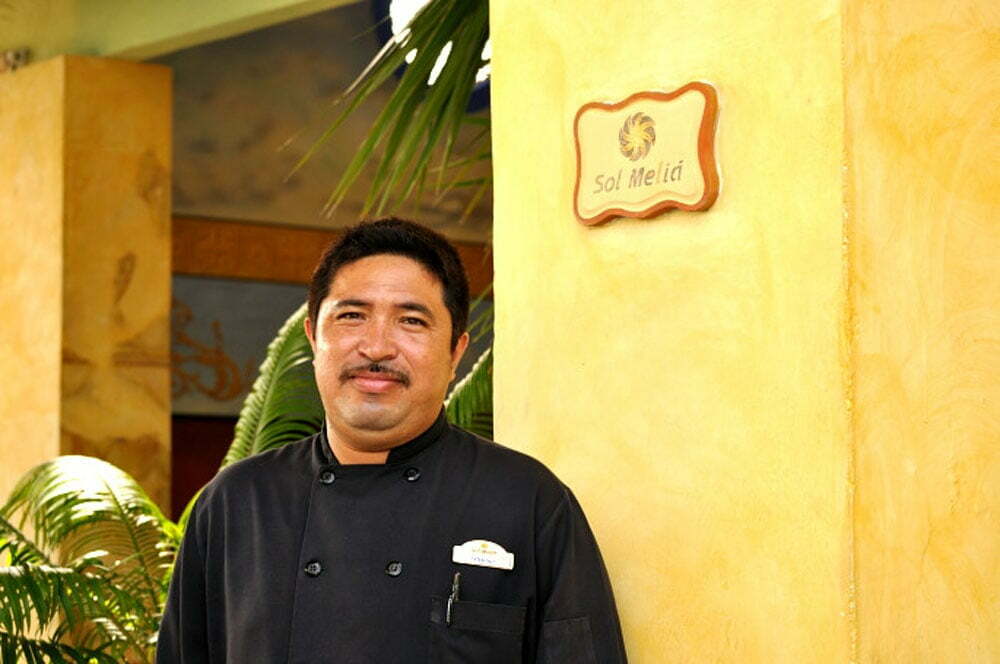 Chef in Profile: Executive Chef, Silvano Cruz – the soul of Sol Cayo Largo Cuba.
On the shores of Cuba's Cayo Largo de Sur – a tiny island in the Caribbean off the south west coast of Cuba – stretch miles of sandy white beaches. A haven to tourists; I was warned, "if you're offended by nudity, this is not a place for you".
Good news. I'm not offended by nudity. Let freedom reign. Get your knickers off and jump in the ocean, lie in the sun and be one with nature. Which way to the beach?
In need of 'ease' after a few potholes in the road between Mexico and Cuba, I found myself doing something I don't usually do… an all inclusive resort.
Sol Cayo Largo – a four star resort spreads over several acres, centering around two large saline pools with winding pathways linking dozens of two story units, that look like wooden sided buildings but in reality are made of solid concrete. It's safe to say that hurricanes hammer this little strip of land with regularity.
Land crabs scurry as you walk, followed by feral cats and the occasional tiny lizard. Black humming birds dart among the hibiscus, salt fills the air and sticks to the skin on windy days as the surf pounds against the shore.
We arrive via Russian prop plane from Havana, it's loud, bumpy and dark, I'm grateful a short trip. Forty-five minutes start to finish and we arrive, to tropical heat, Cuban music and dancers in skin tight pants.
Herded on to buses it's minutes to the resort and… I'm staved. Up at 4AM running only on Cuban coffee… this is a gypsy who needs snacks. We check in and make our way to the main buffet for breakfast and suddenly… I'm impressed.
Tables of steaming chafing dishes filled with everything from bacon and sausage to French toast, cold trays lined with cheese and meats, cereals and yogurt, platters of fresh fruit, a table mounded with bread, another brimming with pastries and along the back wall, hot stations serving omelette's made to order and crapes – fresh and fast and fresh. Coffee and juices served table-side and in minutes I'm fed and happy.
This is home for four days. Eat. Drink. Lay in the sun. Swim if you want. Watch World Cup Soccer at the bar. Have a nap in the shade. Then do it all over again.
We came for the SCUBA but never made it in the water due to high seas and heavy weather, we made due instead sipping rum at the swim up bar and indulging in a bit of people watching.
Blue-white Russian tourists burn the first day, it takes two days for them to emerge again. I practice my bad French and my worse Spanish as staff speaks Spanish, French and Italian before speaking English it's a decidedly European atmosphere.
Lunch is an option of 'Las Dunas', the snack bar by the pool 'Lindarena' at the beach I choose beach, every time. The large, open air thatch building looks over a rocky shore lined by a strip of sand like icing sugar. A cold buffet, salads, pickles, fresh breads meats and cheese a choice of soups and a light, tight menu from the busy grill – grilled whole snapper, a burger, a rotating meat choice often another fish and a lovely fresh calamari; crisp, gently seasoned, perfectly battered then deep fried.
Naps. Beach. Drinks. Calamari. Salad. I could get used to this.
Dinner. Les Trinas, Sol Cayo Largo's la cart restaurant requires reservations – the Food Gypsy in me opts instead for the main dining hall and buffet, where those same steaming dishes brim with curries, rice, fish, savoury meats, a perfectly roasted hip of beef/pork or grilled salmon and trays of vegetables.
Cold trays of cheese and deli re emerge, platters of fresh tropical fruits watermelon, papaya, cantaloupe, pineapple, a dozed varieties of fresh breads, cakes, pies, tarts, trifles and puddings. Drawn again to the back wall I find three hot stations with fresh pastas, stir-frys and seafood. I wait and dig into giant shrimp doused in garlic and lime.
It's easy to eat… everything!
So when I met the charming Silvano Cruz, Executive Chef along the path one bright day I could not help but ask what it takes to feed this small army of people without a care in the world, wandering from pool to beach from meal to bar on this little barren piece of limestone rock.
Something you just don't think about on vacation… the people working.
Chef Cruz is a Mexican Chef working in Cuba. Originally from Acapulco, cooking is in the blood, growing up in both his mother's kitchen and… his father's. Silvano followed his father's footsteps into the kitchen and never looked back.
Educated in California, Cruz has worked resorts throughout the US and Mexico and now finds himself and his young family on the Caribbean, where his great indulgence, his solace from the heat and hurry of the line – is his garden.
Growing under black protective sunscreens you find fresh herbs; basil and thyme and row upon row of mint… for the hundreds of Mojitos served every day. He is currently replanting, loads of manure at the ready and young plants, peppers and tomatoes just waiting to be loved. He examines tender leaves, turns over the soil in his hand, the gentle hand of a gardener.
This is his favourite place, where he does his thinking, his breathing, his talking to nature. All great cooks talk to nature.
Chef Cruz smiles as he tours me through a labyrinth gleaming white hallways; huge locked pantries stacked to the roof with supplies and guarded day and night, cold freezers and meat cutting rooms, rows of stainless steel counters and scrubbed stations that are the inner workings of this gigantic kitchen.
Everyday forty-six chefs report to work baking, cutting, filleting, chopping, stewing, braising, roasting, saucing. Every day this team feeds up to a thousand people, both gusts and staff – three meals a day – and anything in between.
Every day there is a new meal plan and every day there are challenges to be met in a place where there are no stores, very little is gown and everything arrives by container by sea.
Fruit, vegetables, pork and seafood from Central America, beef from Argentina, salmon, bacon and yes, maple syrup from Canada.
Weekly shipments arrive with every possible necessity… sometimes. Therein lies the challenge – what replaces ginger when the meal plan calls for Ginger Beef – and no ginger arrives. Nothing is sure.
"That is my greatest challenge [here], how to stay creative working with what we have." He shrugs, and smiles. "We always think of something."

We all do.

"It breaks my heart when we try so hard and guests are upset" he says looking away with that familiar pain behind his eyes, smiles and looks back. "I know what you mean" I say, and I do. That is a look I know well; it is the look of one who lives to feed, who pours his heart into every meal. It shows, the adaptable menu, the freshness, the lean to satisfy every taste.

"It's all about the guests, we do it all for them."
Sun. Salt. Sand. Afternoons by the pool. An all over tan.
My memories of Sol Cayo Largo are fond… thank you Chef Cruz for making it… all about me. I loved every bite!
Hotel Info: http://www.solwayscuba.com/hotels/cayo-largo/hotel-sol-cayo-largo/?gclid=CJLLmMW3yaMCFZxo5Qod9QMmug